Apple OS X Mountain Lion: Top 10 Features and All You Need to Know [VIDEO]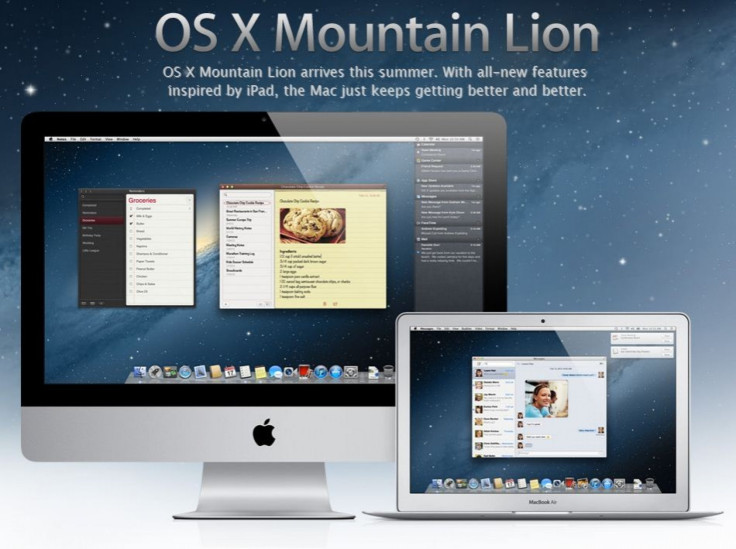 The release of Mountain Lion (10.8), the new version of Mac OS X announced by Apple Thursday, brought an end to the seven-month-old lifespan of OS X 10.7 Lion.
As Apple itself has said Mountain Lion is an amalgamation of many key features from iOS and OS X. It's a move inspired by iPad, suggesting that the Mac just keeps getting better and better.
According to Apple's claims, the ninth major release of the desktop operating system brings popular apps and features from iPad to the Mac and accelerates the pace of OS X innovation. This essentially sums up what users' expectations from the OS can be: iCloud integration, Game Center, Messages, Reminders, Notes, Notifications Center, Twitter integration and many more.
Let's explore all these:
iCloud: Mountain Lion is the first OS X release built with iCloud in mind. Apple claimed that over 100 million users have iCloud accounts, and Mountain Lion makes it easier to set up iCloud and access documents across devices. Users just need to sign in once with their Apple ID and iCloud automatically sets up photos, contacts, mail, calendar, messages, FaceTime and Find My Mac. Any changes to an item on Mac will appear on other iOS devices like iPad, iPhone and iPod touch.
Messages: The Messages app in the Mountain Lion replaces iChat, allowing users to send unlimited messages, high-quality photos and videos directly from Mac to another Mac or iOS device running iOS 5. Users' messages are always in sync, so they can start a conversation on their iPad and continue it on a Mac. Messages will continue to support AIM, Jabber, Yahoo! Messenger and Google Talk.
Reminders: If you have multiple things to do, you can list them in Reminders. You can make as many lists as you need and add to them further. If you set due dates, you'll get alerts as deadlines approach. There is more to it - thanks to iCloud, your reminders will be up to date on Mac, iPad, iPhone and iPod touch.
Notes: Similarly to Reminders, Notes helps you create and track your to-dos across all your devices. It's a notes-taking app that works with iCloud, so upon creating or editing a note on Mac, it will automatically update on other connected devices.
Notification Center: The notification system on Android devices has many fans, and so does its blatant rip-off on iOS 5. Many have been waiting for this feature to appear on desktop computers, and Mountain Lion brings it home. A swipe to the left and you get access to alerts from Mail, Calendar, Messages, Reminders, system updates and third party apps.
Share Sheets: Mountain Lion built-in apps come with the Share button, making it easier to share to links, photos and videos directly from Apple and third party apps. Users can send links to Twitter from Safari, share links via Mail, upload photos to Flickr and send videos to Vimeo.
Twitter: Twitter is integrated throughout Mountain Lion so you can sign on once and tweet directly from Safari, Quick Look, Photo Booth, Preview and third party apps. Users need to sign in once and don't have to leave the app.
Game Center: According to Apple, Game Center helps personalize your Mac gaming experience. After signing in with an Apple ID, users can start playing games against friends on iPad, iPhone and iPod touch. There are also options for finding new games and enjoy multiplayer gaming.
AirPlay Mirroring: Mountain Lion features AirPlay Mirroring, an easy way to wirelessly send a secure 720p video stream of what's on a Mac to an HDTV using Apple TV.
Gatekeeper: Gatekeeper is a new security feature that gives users control over which apps can be downloaded and installed on their Mac. Users can choose to install apps from any source. They can also use the safer default setting to install apps from the Mac App Store, along with apps from developers that have a unique Developer ID from Apple.
List of Macs That OS X Mountain Lion Won't Support
Mountain Lion will stop supporting Intel's GMA 950 and x3100 chipsets, forcing owners of older Macs to update their hardware. Below are the Lion-compliant machines that won't run Mountain Lion:
- Any Intel Core 2 Duo MacBook from late 2007 - late 2008 (Model Numbers: MB061*/B, MB062*/B, MB063*/B, MB402*/A MB403*/A MB404*/A, MB402*/B)
- The Mid-2007 Mac mini (Model Numbers: MB138*/A, MB139*/A)
- The polycarbonate iMac of late 2006 (Model Number: MA710xx/A)
- The original MacBook Air introduced in early 2008 (Model Number: MB003LL/A)
According to Redmond Pie, Lion that was released mid last year requires at least an Intel Core 2 Duo processor. Considering Mountain Lion needs more power for the extra graphics, the aforementioned devices - it would appear - will soon become obsolete.
Why No Facebook?
A Huffington Post report rightly said, Apple's Mountain Lion doesn't roar. It tweets.
According to Gigaom's Om Malik, Twitter is pretty much everywhere inside the new operating system. During the release of the Mountain Lion, Apple highlighted tweet-friendly apps like Safari and iPhoto that will allow users to tweet links and photos without ever leaving the applications. In addition, Mac owners will be able to browse their Twitter notifications directly from their desktops. They can also sync profile information from Twitter with their Mac address books.
However, Facebook got ignored in all these matters. As Mashable noted, the integration with the service is the absolute minimum, amounting to barely an acknowledgment.
According to the report by Mashable, a possible reason Apple leaving Facebook on the sidelines could be bad communication and distrust between the two companies.
Apple reportedly didn't trust in Facebook's ability to build a great iPhone application, and the shaky history between the two companies is now probably a hurdle in itself, said the report.
The fact that Facebook has gradually become a big rival of Apple's can also be another (or even more important) reason for the Cupertino tech giant ditching the social media giant.
No More 'Mac' in OS X Name
It was Twitter user David Connell who pointed out that Apple dropped the Mac name from the About This Mac page within the Mountain Lion operating system. However, the latest public version of OS X Lion (10.7.3) still lists the system as running Mac OS X.
Apple officially confirmed that name change to The Verge, although it doesn't mean that the Mac brand has been downgraded. It's still used throughout Apple's site - it appears that Mac is being used to identify hardware products, while OS X refers to the software.
Apple is set to release OS X 10.8 Mountain Lion sometime this summer at an expected price of $29.99 via the Mac App Store. Users having a developer account can download a Preview Release here.
Watch the video below:
MUST READ: Apple iPad 3 Release: New Evidence Confirms Retina Display with 2048×1536 Resolution
© Copyright IBTimes 2023. All rights reserved.
FOLLOW MORE IBT NEWS ON THE BELOW CHANNELS