Apple Rumors: Non-Retina Macbook Pro To Be Discontinued, Macbook Air With Retina To Release In June, No More Optical Drives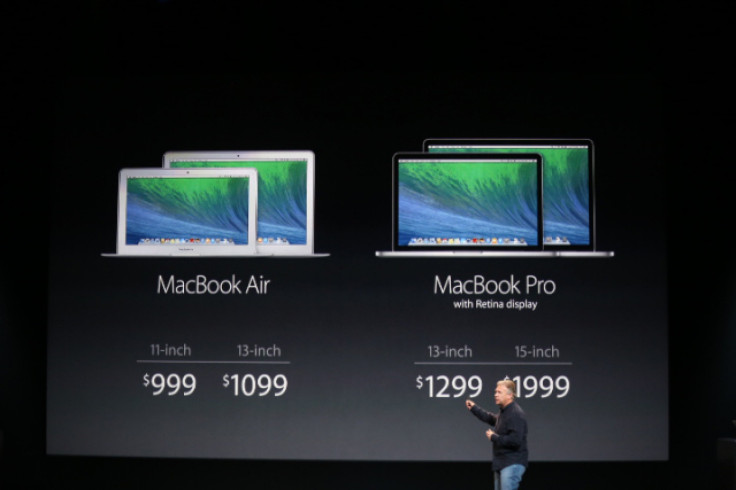 Apple has all but completely migrated their flagship hardware lines to the Retina display, retiring older devices to make room for the high-definition screens. The iPad Mini Retina, launched in November, was the last device that Apple makes to get the updated display. And according to DigiTimes, Apple will be stopping production of the regular 13-inch Macbook Pro, reducing their Pro-line laptop offering to only retina-display devices and leaving the Macbook Air as the only device without a Retina display.
While as 9to5mac points out that Digitimes is not always correct on its predictions, the production halt of the standard Macbook Pro does sync up with the direction the computer company has been moving in. In October Apple discontinued the production of the non-Retina 15-inch Macbook Pro version, leaving the Retina version as the only option for consumers wanting a larger portable. The difference in price was negligible, which made the cut fairly easy for both consumers and Apple.
The fate of the Macbook Air is less clear though. Early October, rumors came out that Apple is in development of 12-inch Macbook Air with Retina will be released sometime in 2014. That report was expounded upon, and the Retina Macbook Air was given a possible launch date of mid-2014, most likely around late June, when Apple normally announces new products at the World Wide Developers Conference. It is speculated to have a thinner clamshell design, be lighter weight and be offered at a lower price than the current Macbook Air is. This lower price could be to align the Macbook Air as a lower-end device. Currently the Macbook Air starts at $999.
The other notable fact is that with the discontinuation of the non-Retina Macbook Pro, all future Macbooks will no longer have an optical drive, instead relying on thumb drives and iCloud for delivery of media. SuperDrives have become less important now that the App Store offers customers easy access to the applications they want. Additionally, new Macbook Pros come with built-in backup drives for OSX instead of DVD install disks that can easily get lost. The Macbook Air was the first Apple computer to sell without an internal SuperDrive. However, if optical media is a mainstay in your life, customers can purchase the USB SuperDrive for only $79 as an add-on.
© Copyright IBTimes 2022. All rights reserved.
FOLLOW MORE IBT NEWS ON THE BELOW CHANNELS