Apple TV Sales Touch 1 Mln, What Next?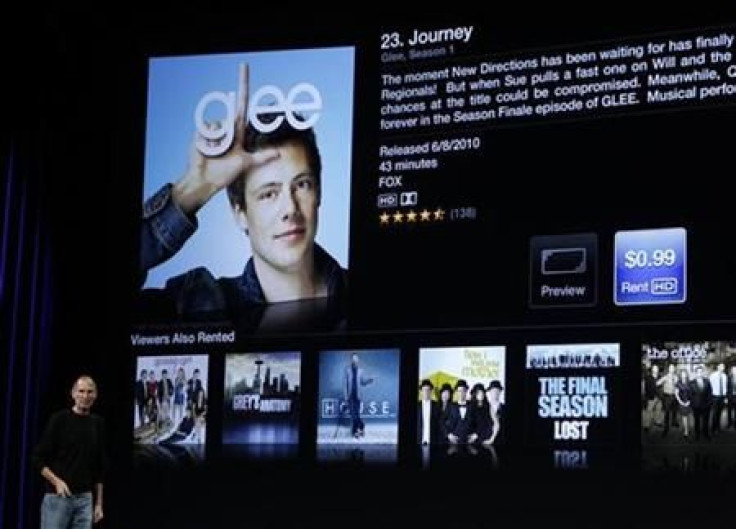 Gadget maker Apple (AAPL) said its new Apple TV reached 1 million in sales this week and the news skyrocketed the shares of the Cupertino, California-based company to a new life-time high.
But, the job doesn't end here for Apple.
What Apple Needs To Do Next For Apple TV?
Since, Apple has cleared the first hurdle in gaining enough traction for its product, the iPhone maker needs to generate material revenue from Apple TV to justify its investment.
Market analysts say that Apple needs to create a separate app store for its Apple TV to attract more customers for its new set-top box.
App store is one of the key factors boosting sales of Apple products, including iPhone, iPad and iPod. In today's world, the wide range of apps and features is being a deciding factor for the consumer to go for a particular brand.
As of October 20, 2010, there are at least 300,000 third-party applications officially available on the App Store, with over 7 billion total downloads.
Recently, Apple said its Mac App Store will open for business on January 6 2011, and will be available in 90 countries at launch. Apple is also working with Cherokee tribe members to include the ancient Cherokee language as an option on iOS devices.
We believe the Apple TV is now positioned to become a more material contributor and game changer in the TV space. But we believe a major catalyst for the set-top box would be the addition of an App Store, allowing users to download new applications for the Apple TV, said Shaw Wu, an analyst at Kaufman Bros said in a note to clients.
Meanwhile, the Apple TV though considered a game changing technology, its sales will be immaterial to Apple at least for the time being.
Analyst Wu said that if the device continues to sell 1 million units per quarter, it would amount to $400 million in annual revenue -- just a drop in the bucket for a company expected to earn $88 billion in revenue in its fiscal year 2011.
While the new Apple TV has definitely generated greater consumer interest, it is still too small to really impact estimates. We view the Apple TV as part of AAPL's longer-term living room ambitions, of which its new North Carolina data center is also a part, said Peter Misek, an analyst at Jefferies in a note to clients.
Some Glitches Of Apple TV
Also, Apple needs to overcome certain limitations of Apple TV.
Apple TV does not contain a TV tuner, nor a personal video recorder as both capabilities can be applied to connect to home computer through various third-party products.
The Front Row interface lacks some iTunes functionality, including rating items, synchronizing from more than one computer, full Internet radio support and games.
The Movies search box only searches the iTunes Store, not local hard drives and networks.
In addition, movies rented on Apple TV must be watched on Apple TV, unlike iTunes rentals, which can be transferred to any video-enabled iPod, iPhone or Apple TV. However, movies purchased on Apple TV can be moved to a video-enabled iPod or iPhone via iTunes.
Apple TV, which sells for $99, is a digital media receiver made and sold by Apple Inc. It is a small form factor network appliance designed to play IPTV digital content originating from the iTunes Store, Netflix, YouTube, Flickr, MobileMe or any Mac OS X or Windows computer running iTunes onto an enhanced-definition or high-definition widescreen television.
Apple TV was unveiled as a work in progress called iTV at a press conference in San Francisco, California on September 12, 2006 and began shipping it the following March. It initially shipped with a 40GB hard disk; a 160GB version was introduced two months later and the earlier model was ultimately discontinued.
In September 2010, Apple announced a second-generation version of the Apple TV. About a quarter of the size and one-third of the price of the original Apple TV, the new device can stream rented content from iTunes and video from computers or iOS devices via AirPlay.
The new version has no hard drive; however, it does have 8 gigabytes of flash storage for caching purposes. All content is drawn from online or locally connected sources.
Apple TV allows consumers to use an HDTV set to view photos, play music and watch video that originates from limited Internet services or a local network. The first generation (white) had iTunes, Flickr, Mobileme/.Mac, and Youtube. The second generation added Netflix. Both models supported downloading/streaming podcasts.
Notable competitors of Apple TV include Roku, and Google TV.
© Copyright IBTimes 2023. All rights reserved.