Apple Watch Series 5 Titanium, Ceramic Models Come With Extra Sport Band
Apple is sending an extra gift for all who purchase the new Apple Watch Series 5 in ceramic or titanium casing, a report has found.
Consumers who purchase an Apple Watch Series 5 model in ceramic or titanium casing will receive an extra Sport Band included in the box, MacRumors has found. This gift is worth $49, according to Apple's online store.
The extra sport band depends on the casing purchased. Those who purchase a Series 5 model in white ceramic casing will receive a white Sport Band with a ceramic pin. Those who order an Apple Watch in natural titanium will receive a light gray Sport Band. Those who buy a Series 5 model with space black titanium casing will receive a dark gray Sport Band.
These Sport Bands come as an addition to whatever Band, Buckle, Loop or Bracelet buyers choose when making their purchase from Apple.com. Sport Bands also come free when buyers purchase Apple Watch Series 5 Hermes models.
Extra Sport Bands only come free with purchases of Apple Watch Series 5 in ceramic or titanium casings. Those who buy aluminum or stainless steel models are not eligible for free Sport Bands. The prices are lower compared to titanium and ceramic models anyway, so it makes sense to just spend $49 more for another Apple Watch Band instead.
Apple Watch Studio
Those who are interested in the Apple Watch Series 5 can check out the new Apple Watch Studio, where Apple Watches can be customized according to preference. The Studio allows users to select from any case material and size, any type of Apple Watch Band, and any color or style preferred, and mix and match them to suit to everyone's tastes.
Every case and band has a corresponding price. On the low-priced end, a 40mm space gray aluminum Series 5 model with (PRODUCT) RED Sport Band, for example, costs $399. A 44mm Series 5 model with White Ceramic Case and with Space Black Link Bracelet, on the other hand, costs $1,749.
Apple Watch Series 5 models are now available for pre-orders, and will be available in stores starting Friday, Sept. 20.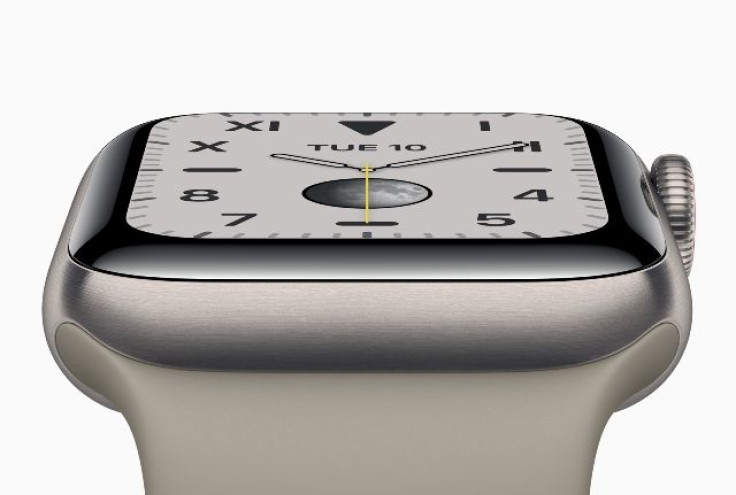 © Copyright IBTimes 2023. All rights reserved.