Apple Working On AR Experience Sharing App Based On Leaked Patent
KEY POINTS
Apple is working to improve its AR offerings
One of the things Apple is working on involves allowing users to have shared AR experiences
This technology can be used for a variety of applications, including games
Apple is looking for more ways to make augmented reality more useful and desirable for consumers. A new patent shows that one of these methods involves letting several users share their AR experiences.
In the new patent published by the U.S. Patent and Trademark Office, titled "Devices, methods, and graphical user interfaces for depth-based annotation," inventors from Apple discuss how today's technology for augmented media data has progressed in recent years. But despite the advancements made in AR technologies, current methods and interfaces remain "cumbersome, inefficient, and limited," they said.
For example, the inventors noted that "augmentations such as user-input annotations that have a fixed spatial position relative to a portion of physical environment may be difficult for a user to locate when a current camera view of the user's device does not correspond to the portion of the physical environment."
This limitation puts "a significant cognitive burden" on users, particularly when they need to see the annotations but aren't able to because of the annotation's positioning. The new patent proposes new ways, methods and interfaces for augmenting media data so that it will be easier and more efficient to use.
Shared AR experiences
One of the methods proposed in the patent involves allowing users to share their AR experience with other users in real time. This method requires users to send a request to a remote device with a display generation component, such as a smartphone, to initiate a "shared annotation session" with a second device that also has a display generation component, which could also be a smartphone.
Patent illustrations show how the invention will work. As seen in the images, the first device will tell the first user how to initiate a shared experience with the second user. The first user will follow the on-screen prompt, which then causes the second device to tell the second user how to engage in the shared experience.
The shared AR experience will begin after both users follow the instructions carefully. The shared experience will allow both users to see augmentations that each person makes in real time, based on where they are located relative to the environment shown on screen.
The patent, first spotted by Patently Apple, indicates that such technology can be used in various situations, such as a game app.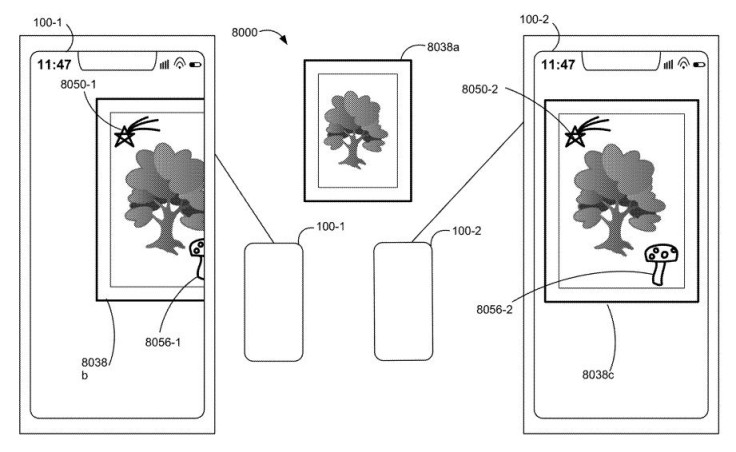 © Copyright IBTimes 2023. All rights reserved.