Arab League Prepares Plans for Sanctions Against Syria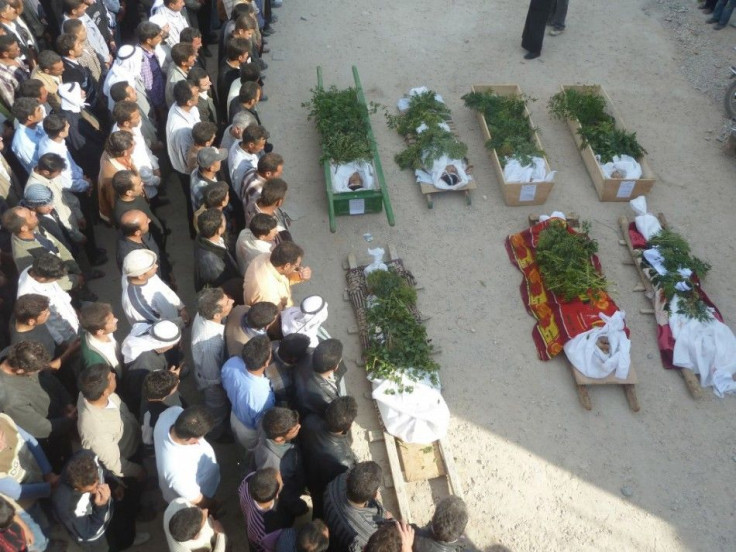 Arab officials will prepare plans for sanctions against Syria on Saturday over its failure to let Arab League monitors oversee an initiative aimed at ending a violent crackdown on protesters seeking an end to President Bashar al-Assad's rule.
Damascus missed a Friday deadline to sign an agreement under which the Arab League planned to send observers to Syria, where the United Nations says 3,500 people have been killed since the start of the uprising in March.
Despite Syria's pledge this month to withdraw its army from urban areas and let in the monitors, the violence has continued, prompting reprisals from the Arab League, stinging rebukes from Turkey, and proposals for humanitarian intervention from France.
Damascus, where the Assad family has ruled for 41 years, says regional powers helped incite the violence, which it blames on armed groups targeting civilians and its security forces.
The opposition Syrian Observatory for Human Rights said on Saturday at least 30 people were killed the day before, including 13 members of Assad's security forces, most of them killed in a clash with army deserters in the eastern Deir al-Zor province.
Activists said government forces shot dead at least four demonstrators in Damascus on Friday. The protesters were appealing for foreign intervention to stop the crackdown. Two other civilians were killed in raids on their homes, the activists said.
Arab ministers had warned that unless Syria agreed to let monitors in, they could consider imposing sanctions such as suspending flights to Syria, stopping dealings with its central bank, freezing Syrian government bank accounts, and halting other financial dealings.
They could also decide to stop commercial trade with the Syrian government with the exception of strategic commodities so as not to impact the Syrian people, the ministers said.
The league's economic and social council will meet on Saturday to prepare recommendations for a meeting of foreign ministers the next day.
Syria's economy is already reeling from months of unrest, aggravated by U.S. and European sanctions on oil exports and several state businesses.
'No More Tolerance'
In neighboring Turkey, Foreign Minister Ahmet Davutoglu said his country could take steps alongside the Arab League if Syria did not respond to the proposal for observers positively.
I want to say clearly we have no more tolerance for the bloodshed in Syria, he said.
The stepped-up pressure followed a French proposal for humanitarian corridors to be set up through which food and medicine could be shipped to alleviate civilian suffering.
The French plan could link Syrian civilian centers to the frontiers of Turkey and Lebanon, to the Mediterranean coast, or to an airport, and could enable supply of humanitarian supplies or medicines to people in need.
French Foreign Minister Alain Juppe said the plan fell short of a military intervention, but he acknowledged that humanitarian convoys might need armed protection.
Foreign powers are seeking to persuade Damascus to accept such a scheme, diplomats say.
So far they haven't said no, so we may be able to convince them, said a Western diplomatic source. As long as we are in the humanitarian dimension, it is harder for countries like Syria to refuse to allow aid to civilians.
Without Syrian agreement, the only way humanitarian corridors could work is if they were backed by force, ideally supported by a U.N. resolution.
Some measure of comfort for Assad has come from longtime ally Russia, China, and some other countries that have voiced opposition to sanctions and warned against a foreign military intervention.
At the current stage, what is needed is not resolutions, not sanctions, not pressure, but internal Syrian dialogue, Russian Foreign Ministry representative Alexander Lukashevich said.
Lukashevich said Russia supported the Arab League's call for a halt to the violence, but that radical opposition groups with foreign support shared the blame. Outside military intervention was absolutely unacceptable, he said.
After a meeting in Moscow on Thursday, diplomats from Russia, China, and three other emerging-market countries -- Brazil, India and, South Africa -- also warned against foreign intervention without U.N. backing.
Pilots Killed
Alongside the mainly peaceful protests, armed insurgents have increasingly attacked military targets in recent weeks. Officials say 1,100 members of the security forces have been killed since the outbreak of uprising.
State news agency SANA reported funerals of 22 security force members on Saturday, including six pilots killed in an attack on an air force base between Homs and Palmyra two days earlier, which the army says was carried out by an armed terrorist group.
This confirms the involvement of foreign elements and their support of these terrorist operations in an effort to weaken the fighting capabilities of our forces, the army said on Friday.
The account fits the government narrative that it faces an armed insurrection by troublemakers backed by its enemies, rather than a largely peaceful pro-democracy movement inspired by the Arab Spring revolts that toppled the rulers of Tunisia, Libya, and Egypt and may have forced out the president of Yemen.
State television showed footage of thousands of people demonstrating in the Mediterranean city of Latakia on Saturday, condemning the Arab League for taking a stance against Syria and chanting in support of Assad.
(Reporting by Erika Solomon and Khaled Yacoub Oweis; Editing by Jon Hemming)
© Copyright Thomson Reuters 2023. All rights reserved.