Are 'Frozen' And 'Tarzan' Connected? Director Reveals Truth About Popular Fan Theory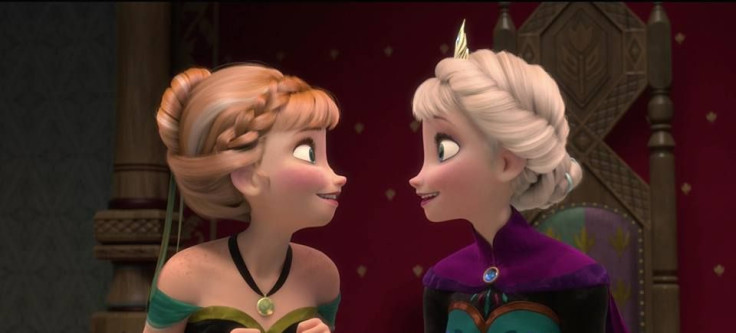 Disney fans have likely heard a lot of bizarre fan theories, but none of them have ever come from the minds behind any of the movies in question. Now, "Frozen" co-director Chris Buck is expanding on a "Tarzan" theory he previously revealed, which got the whole world talking.
Not many people are aware that 2013's "Frozen" wasn't Buck's only Disney film. He also worked on the animated feature "Tarzan" in 1999. In 2014, it was revealed that Buck had given a bit of thought about the two movies and found a logical way to connect them.
Speaking during a Reddit AMA, Buck's "Frozen" partner, Jennifer Lee, revealed that he'd shared with her his vision for the "Frozen/Tarzan" crossover. Apparently, [SPOILER ALERT] Anna and Elsa's parents didn't die in a shipwreck like the 2014 movie implied. Instead, they washed on a shore of a jungle island, built a treehouse, had a baby boy and were eventually eaten by a leopard.
If that plot sounds familiar, it's because it's exactly the same plot of "Tarzan." If Buck's words can be taken as official Disney canon, then that means Tarzan is the long-lost brother of the two princesses of Arendelle. As Vulture jokes, if the kingdom holds to a male-centric line of succession, then it's possible the man raised by gorillas deserves a crown on his head.
Unfortunately, it seems like Buck's words aren't enough to officially affect Disney's movie plots, even if he did work on both of the films. Speaking to MTV News, he explained that the "Frozen/Tarzan" theory is just a fun little way for him to think about his movies, and nothing more.
"I said, 'Of course Anna and Elsa's parents didn't die,'" he told the outlet, recalling a time he was working with Lee. "Yes, there was a shipwreck, but they were at sea a little bit longer than we think they were because the mother was pregnant, and she gave birth on the boat, to a little boy. They get shipwrecked, and somehow they really washed way far away from the Scandinavian waters, and they end up in the jungle. They end up building a treehouse and a leopard kills them, so their baby boy is raised by gorillas. So in my little head, Anna and Elsa's brother is Tarzan — but on the other side of that island are surfing penguins, to tie in a non-Disney movie, 'Surf's Up.' That's my fun little world."
So, there you have it, although it probably wasn't going to come up in whatever the duo has planned for "Frozen 2." It looks like Elsa and Anna are only related to Tarzan in fans hearts and the creator's mind.
What are your thoughts on this popular Disney crossover idea? Comment below or tweet your thoughts to @TylerMcCarthy.
© Copyright IBTimes 2023. All rights reserved.