Argentina Could Relapse Into Recession By 2014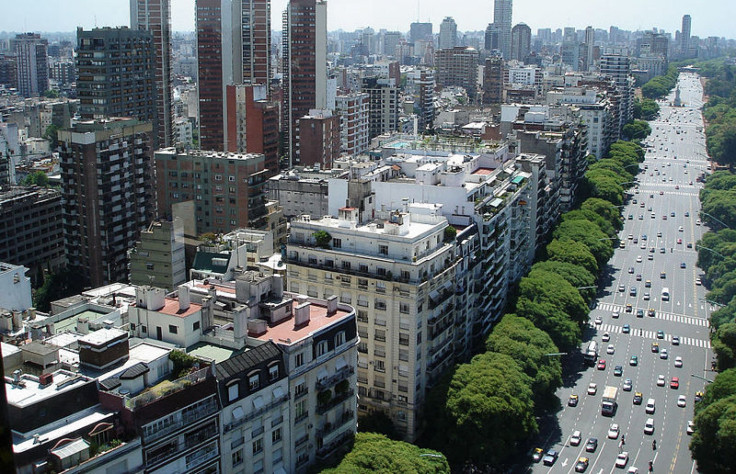 Argentina, known for its spectacular economic booms and busts, has seen its public finances deteriorate under President Cristina Fernandez de Kirchner. While growth has bounced back somewhat this year, following a flat performance in 2012, Capital Economics expects to see Latin America's third-largest economy "relapse into recession by 2014."
"The limits of a growth model based on super-loose policy are becoming apparent," said Michael Henderson, an emerging-markets analyst at Capital Economics in London. "We remain concerned about the sustainability of the current economic model and are forecasting a fresh slowdown in GDP growth from 2014."
Argentina's economic growth has picked up pace this year. Fernandez de Kirchner said Saturday that economic activity has been up 4.9 percent so far in 2013. That's higher than the 4.1 percent growth rate she said last month that Argentina had registered from January to May. The economy expanded by a mere 1.9 percent in 2012 after growing 8.9 percent in 2011, according to official data.
Prioritizing economic growth ahead of an October mid-term election that will determine whether she can keep control of Congress, Kirchner promised last week a 3.5 percent economic expansion for 2013 on the back of strong soy and corn harvests. "That will be our floor," Kirchner told an audience gathered at the Buenos Aires stock exchange.
But economists remain deeply skeptical of Argentina's recent economic data, saying the government is overestimating economic growth and underestimating inflation.
"Argentina's official GDP data tend to be very unreliable, but based on our own estimates of GDP we expect the economy to expand by 2.0 percent in 2013," Capital Economics' Henderson said.
Serious structural problems cloud the outlook for Argentina's economy. Private estimates put inflation at about 25 percent, one of the highest rates in the world. "This has eaten into real incomes, weighing on household spending, and pushed Argentina's real exchange rate up to its highest level since 2002, hurting the competitiveness of local manufacturers," Henderson said.
The Council on Foreign Relations pointed out that the data on Argentina's economy over the past 50 years show that generally, government spending increased during economic downturns and slowed during spurts of economic growth. But this approach has changed since the Kirchners (first President Nestor Kirchner, now his widow Cristina) took office. Since 2003, and despite mostly good economic times, government spending has kept growing.
The pace of increase of spending, which has risen above 30 percent year-on-year under Cristina Fernandez de Kirchner, is not fully reflected in the official balance, according to Henderson. The government has relied on the transfer of assets from public institutions including the central bank and pension agency to prevent the deficit from blowing out. This has been accompanied by a growing trend toward deficit monetization.
Last year, non-financial public sector deficit came in at 2.6 percent of GDP – the biggest shortfall since the 2001 economic collapse. And with expenditure likely to be ramped up further ahead of October's elections, the fiscal deficit could widen once again this year.
With amendments to Argentina's Central Bank Charter in early 2012, the central bank has assumed a central role as a state-financing vehicle. These changes have made the central bank into a vehicle for swapping hard currency reserves for illiquid government obligations that pay little or no interest.
"As a result, low quality, illiquid government-linked securities now account for a staggering 58 percent of central bank assets," Henderson said. "At the same time, foreign exchange reserves have fallen back in recent years and now equate to less than six months of import cover."
There are likely to be two main consequences of all this. First, unsterilized monetization of the fiscal deficit will keep inflation on an upward path. Henderson thinks headline inflation could hit 30 percent in 2014. Second, the hollowing out of the central bank will further undermine confidence in the peso, raising fears of an official devaluation.
"Argentina appears to be sliding towards a balance of payments crisis which is likely to culminate in a devaluation of the official exchange rate," Henderson said.
© Copyright IBTimes 2023. All rights reserved.