Armed Anti-Muslim Protesters Rally Against Syrian Refugees At Texas Mosque In 'Clock Kid''s Hometown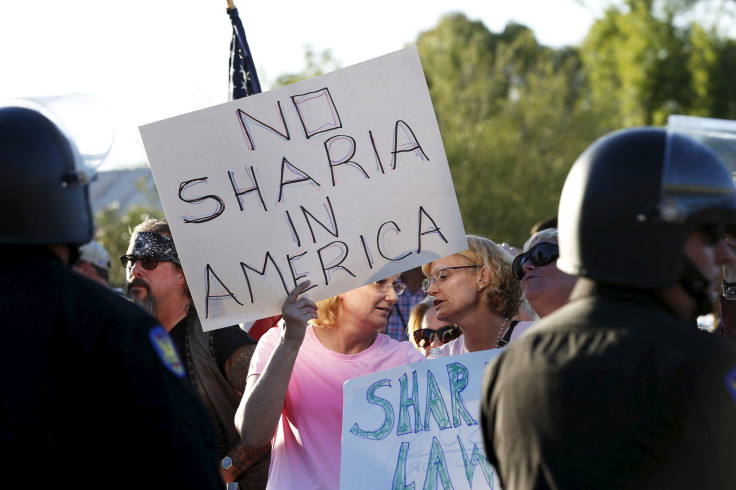 Ahmed Mohamed -- the 9th grader who was arrested two months ago for bringing to school a homemade clock that some thought looked like a bomb -- has left Texas and relocated with his family to Qatar. The clock incident sparked a wide debate over anti-Muslim bigotry in the U.S., and Mohamed was invited to the White House to meet with President Barack Obama. Back in his hometown of Irving, a Dallas suburb, the debate over Islam and Muslims still rages.
Over the weekend, about a dozen members of an anti-Islam group protested outside an Islamic center in Irving. They bore guns and carried U.S. flags. There was a sign supporting U.S. Sen. Ted Cruz and another that read: "Stop the Islamization of America." They were there to protest plans to relocate Syrian refugees to the United States, as well as a rumored -- and nonexistent -- Islamic court at the mosque.
"I may look like their version of a racist, but I'm not. I'm not even a racist here," one man who spoke to Fox 4 News said, wishing not to use his real name. "I just don't want them to push their beliefs down my throat."
Irving police were out in large numbers on the scene, and SWAT teams were reportedly on standby.
David Wright, one of the organizers of the protest, said it was held in response to the deadly attacks in Paris this month, which left at least 130 people dead and hundreds more injured. He wanted to prevent a similar attack from occurring on U.S. soil, The Dallas Morning News reported.
The coordinated attacks in Paris, which are believed to have been carried out by supporters of the so-called Islamic State group, have opened a debate over Syrian refugees. More than 31 governors now say they do not wish to allow refugees into their states.
Wright was also convinced that Irving's mosque had established an Islamic court this year -- a rumor that was false but had spread through the town. Even the mayor, Beth Van Duyne, voiced her opposition to it. It was because of the supposed court that Wright said the protesters were armed.
"They're mostly for self-defense or protection," Wright said, looking his 12-gauge shotgun, according to The Dallas Morning News. "But I'm not going to lie. We do want to show force. … It would be ridiculous to protest Islam without defending ourselves."
David Palmer, a City Council member, said it was clear the protesters faced no threat, and said it seemed they brought the weapons for intimidation. He said the police chief warned mosque leaders about the rally and encouraged them to stay away from the group, which calls itself the Bureau of American Islamic Relations.
Several anti-Muslim groups have staged protests in front of mosques. A rally was held in front of an Islamic community center in Phoenix in May and attracted hundreds of armed protesters, as well as hundreds of counterprotesters, and made international news headlines. Dozens of protests were planned around the country in October, but most failed to materialize.
© Copyright IBTimes 2023. All rights reserved.