Arraignment For Khalid Sheikh Mohammed And Co-Defendants Marked By Silence And Outbursts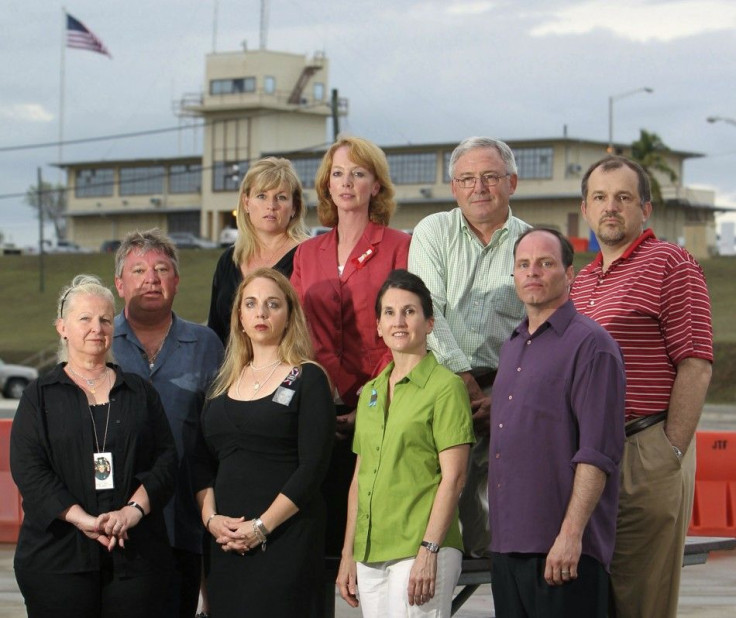 Khalid Sheikh Mohammed and four co-defendants were uncooperative while being arraigned Saturday on charges associated with the Sept. 11, 2001, terrorist attacks on America that were leveled at them in a U.S. military court at the U.S. Naval Station Guantanamo Bay in Cuba.
Accused of masterminding the 9/11 attacks on the World Trade Center in New York and the Pentagon in northern Virginia that led to him and the others being charged with 2,976 counts of murder, the Kuwait-born Mohammed refused to put on headphones to hear translations of the proceedings and instead read his copy of the Quran, according to Public Radio International reporter Arun Rath, one of many journalists who tweeted from the court gallery in the Cuban enclave.
One of Mohammed's co-defendants, Walid Bin Attash, also refused to cooperate with the court, according to journalist Huma Imtiaz. Like Mohammed, he read a book, most likely the Quran.
Another co-defendant, Yemen-born Ramzi Bin al Shibh, silenced the court when he began praying, alternatively kneeling and standing, according to Politico.
One of the defense lawyers, Cheryl Bormann, requested that female members of the prosecution's legal team dress according to strict Islamic custom, saying, There are issues with respect to cultural sensitivity here. Dressed herself in a full-length black dress and black veil, she said the defendants must avoid making eye contact with the women on the prosecution's team, some of whom were dressed in military uniforms, according to Imtiaz.
Bin al Shibh, the only co-defendant to speak so far, repeatedly interrupted the proceedings, yelling to the judge, Maybe you're not going to see us anymore, according to the Telegraph of London. He claimed U.S officials are trying to kill us at [Guantanamo] and say we committed suicide, Politico reported.
The Miami Herald's Carol Rosenberg said that, at one point, Bin al Shibh even yelled out, We have Moammar Gadhafi in Guantanamo here. Rosenberg interpreted that as Bin al Shibh saying there was a camp commander who was as cruel as the former Libyan regime, and not that Gadhafi himself, whose body was viewed by thousands of Libyans in Misrata after his death, was being held at Guantanamo.
© Copyright IBTimes 2023. All rights reserved.