Asia Shares Drop Sharply As Oil Resumes Fall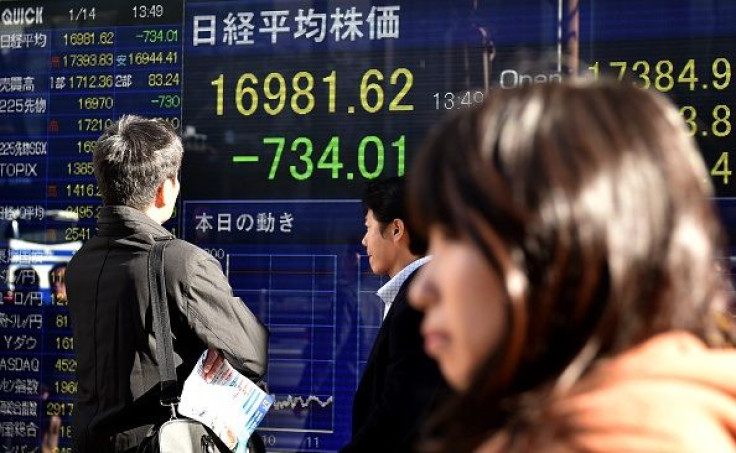 Asian stocks surrendered earlier gains to hit 3-1/2-year lows on Friday as renewed pressure on oil prices and disappointing Chinese data kept investors on edge.
MSCI's broadest index of Asia-Pacific shares outside Japan declined 0.3 percent to the lowest level since June 2012, and was on track for a loss of 2.7 percent for the week.
Japan's Nikkei rose 0.7 percent, but was set for a weekly loss of 1.9 percent.
Oil prices rebounded on Thursday, with international benchmark Brent futures rising 2.4 percent to $31.03 a barrel, recovering from its 12-year low of $29.73 hit earlier in the day.
But that rally, largely driven by short-covering after a 20 percent fall since the start of year, proved to be shortlived. The collapse in oil prices has spooked financial markets as investors worried about the health of the global economy, with a slowdown in China and volatility in its markets making for a nervous start to the year.
"Market sentiment was cautious to begin with, as overnight gains in US equities were complicated by losses by European indices," said Bernard Aw, market strategist at IG in Singapore. "Furthermore, oil prices were under pressure once again, constraining any relief rally in energy and material stocks."
Brent crude opened weaker on Friday and lost 0.6 percent to $30.69.
U.S. crude fared even worse, slumping 1.8 percent to $30.63 as the prospect of additional Iranian supply looms over the market. It had posted the first significant gains for 2016 in the previous session.
Stocks in China also returned to negative territory after a brief rebound in late trading on Thursday.
The bounce - which saw the Shanghai Composite index reverse an earlier fall to a 4 1/2 month low to end 2 percent higher - raised suspicions among dealers that a "National Team" of investors, who participated in a rescue when markets plunged in August, had been behind the move again.
Chinese shares extended earlier losses on Friday after data showed new yuan loans in December were well below the previous month's lending, and broad M2 money supply growth also slowed, with both missing expectations.
The Shanghai Composite and CSI300 lost 1 percent each. That put the former on track for a 6 percent loss for the week, and latter for a decline of 5.1 percent.
Worries that a depreciating yuan could spark competitive currency devaluation across the region have also hit global shares this month.
On Friday, the Chinese yuan, posted modest early gains. That put the yuan 0.1 percent up on the week, but it was still around 1.4 percent weaker against the dollar than it started the year and has lost nearly 5 percent since August.
The People's Bank of China set a marginally weaker midpoint of 6.5637. The spot market opened at 6.5920 per dollar and was changing hands at 6.5869 at midday, 21 pips firmer than the previous close.
"There are some hopes that a series of Chinese economic data due early next week will give investors relief," said Hirokazu Kabeya, chief global strategist at Daiwa Securities.
"Traditionally Chinese shares perform relatively well around the time of lunar new year and Shanghai shares also appear to be supported around the 3,000 mark even as they briefly fell below that level yesterday," he added.
China will publish a host of data on Monday and Tuesday, including December quarter gross domestic product.
The rebound in oil prices on Thursday helped to lift U.S. shares from three-month lows, although that came on the heels of a 1.5 percent loss in the broader European FTSEurofirst 300.
The S&P 500 gained 1.7 percent, led by a 4.5 percent rise in the energy sector.
The U.S. market was also helped by comments from St. Louis Federal Reserve President James Bullard that the continued rout in global oil markets has caused a "worrisome" drop in U.S. inflation expectations that may make further rate hikes hard to justify.
U.S. retail sales data due later on Friday will be on investors' radar as they try to gauge the likelihood of the Fed raising rates in March.
In the currency market, the yen advanced after earlier losses on a resumption of demand for the safe haven currency.
The dollar slipped 0.1 percent to 117.89 yen, after earlier rebounding from a 4 1/2-month low of 116.70 yen hit on Monday.
The euro advanced 0.1 percent, fetching $1.0879.
The European Central Bank said it saw scope for further cuts in its deposit rate in minutes of its December meeting, but many ECB policymakers appeared sceptical about the need for further action in the near term.
Commodity-linked currencies retreated after their earlier gains, with the Australian dollar slipping 0.4 percent to $0.6957, compared with Thursday's four-month low of $0.6910.
Saudi Arabian shares, one of the worst performing market along with China so far this year, hit five-year lows on Thursday.
Low oil prices not only hurt many oil-producing countries but also prompt their sovereign wealth funds to sell assets to finance budget gaps, putting pressure on many assets.
(Editing by Shri Navaratnam)
© Copyright Thomson Reuters 2023. All rights reserved.