China Stock Market Turmoil Sends Oil Prices Plunging To Lowest Level In More Than A Decade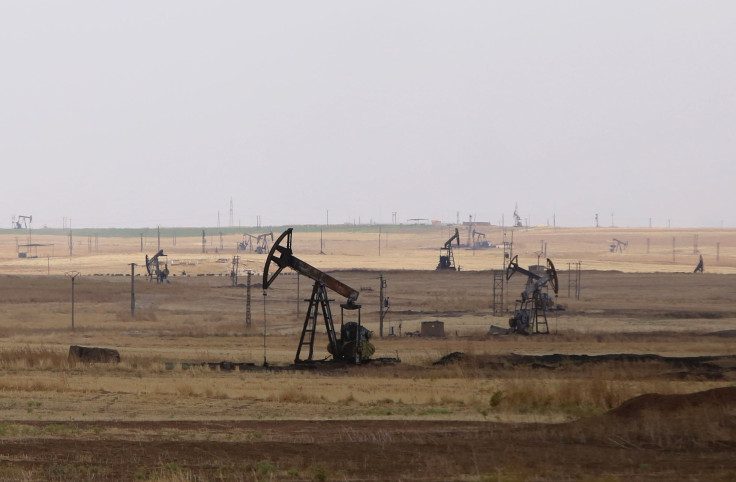 Oil prices plunged to their lowest in more than a decade Thursday as China's stock market tumbled. The turmoil stoked investors' fears that China's thirst for crude is drying up, worsening the glut of oil washing over energy markets.
Brent crude, the global oil benchmark, fell below $33 a barrel for the first time since April 2004 after China's stock market suffered its shortest trading day in its 25-year history. China is the biggest consumer of oil after the United States, and the slowdown in its economic growth has weighed on oil prices in the last year. Brent recovered slightly to $33.19 a barrel by 8:45 a.m. EST.
West Texas Intermediate, the U.S. benchmark, slid to $32.10 a barrel in early morning trading in New York — the lowest level since December 2003 — before recovering to $32.81 a barrel.
WTI Crude Oil Spot Price | FindTheData
Crude prices have plunged more than two-thirds since their highs above $100 a barrel in June 2014 as the United States and OPEC nations, led by Saudi Arabia, continue to produce more oil than demand requires. OPEC data puts the oil glut at more than 2 million barrels per day, equal to more than 2 percent of global oil demand.
Prices began teetering toward $33 a barrel Wednesday after reports that U.S. crude production is holding steady. Oil companies produced around 9.2 million barrels a day last week — even as drillers continue to be hit by plunging revenues, widespread layoffs and soaring debts, the U.S. Energy Information Administration reported.
U.S. crude inventories, meanwhile, fell by 5.1 million barrels last week, meaning even more crude is entering the global supply. Gasoline stockpiles saw their biggest weekly increase since 1993 — a sign of weakening demand — rising by 10.6 million barrels last week, according to the agency.
The weaker Chinese outlook and stable U.S. supply arrives amid escalating tensions between Saudi Arabia and Iran, both OPEC members and two of the world's largest oil producers. The breakdown in diplomatic relations is fueling fears that the oil cartel may not reach a concerted effort to cut production and ease the global supply glut.
Some analysts said oil prices could fall even lower than Thursday's levels, with technical trading likely to push Brent crude below $30 a barrel, the Wall Street Journal reported. "If oil closes below $36 a barrel this week, it will be a very bearish technical signal pointing to a lower trading range for oil, with a base forming as low as $20 in the coming weeks," Marina Petroleka, head of energy research at BMI Research, told the newspaper.
© Copyright IBTimes 2023. All rights reserved.