Asia Stocks Languish Near Three-Week Low Ahead Of US Jobs Data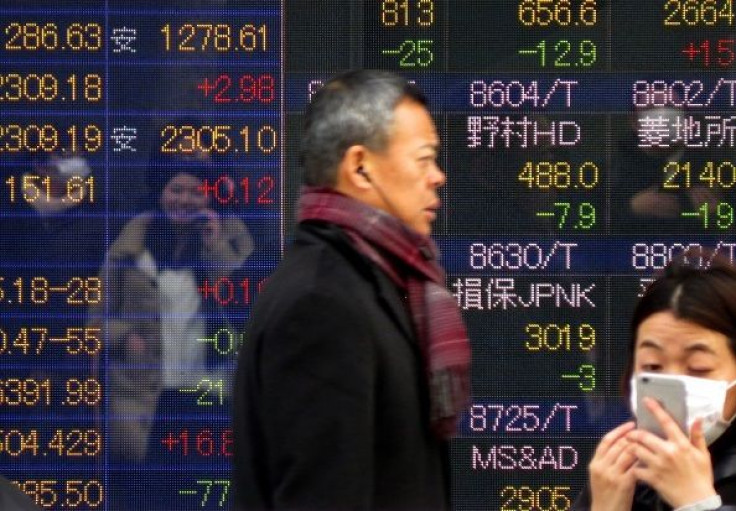 Asian shares wallowed near three-week lows as investors braced for the U.S. payrolls report after other jobs-related data raised some doubts about the seemingly rosy picture on employment conditions in the world's no. 1 economy.
MSCI's broadest index of Asia-Pacific shares outside Japan fell 0.3 percent, flirting with its lowest level since mid-April. Japan's Nikkei was down 0.3 percent as markets there resumed trading since closing for holidays on Tuesday.
Wall Street shares were mixed on Thursday, with the S&P 500 index down fractionally 0.02 percent at three-week low.
"Recent global economic data and some corporate earnings from major Western firms have been lackluster, leading to risk-off trading in markets," said Masahiro Ichikawa, senior strategist at Sumitomo Mitsui Asset Management.
Economists polled by Reuters forecast Friday's payrolls data to show U.S. employers added 202,000 workers in April following a 215,000 increase in March, with the jobless rate holding at 5.0 percent.
But job-related data published over the past couple of days were softer than market expectations, casting a shadow on expectations of a solid job growth.
The number of Americans filing for unemployment benefits rose more than expected last week, posting the biggest gain in more than a year, although its four-week average, often seen as a better gauge on the underlying trend, still stood near a four-decade low.
Another report on Thursday showed a 35 percent surge in planned layoffs by U.S.-based employers last month. Most of the announced job cuts were concentrated in the energy sector, which is reeling from low oil prices that have hurt profits.
Investors also snatched up bonds, sending the 10-year U.S. Treasuries yield down to 1.735 percent, the lowest since April 18. It last stood at 1.754 percent.
In the currency market, traders cut back on bets against the dollar ahead of the payroll data after the greenback had fallen to a 15-month low against a basket of six major currencies earlier this week.
The dollar index stood at 93.770, recovering from Tuesday's low of 91.919.
The euro traded at $1.1403, having fallen 0.7 percent on Thursday.
The yen, which jumped after the Bank of Japan stood pat on policy last week, changed hands at 107.27 per dollar, off its 1-1/2-year high of 105.55 set earlier this week.
The Australian dollar stood not far from 1-1/2-month lows of $0.7447 hit on Wednesday following a rate cut by the Reserve Bank of Australia earlier this week.
Oil prices were supported after a raging wildfire near Canada's oil sands region curbed output that mainly flows to the United States, although a huge U.S. stockpile build cut into gains.
U.S. crude's West Texas Intermediate (WTI) futures traded at $44.30 per barrel, little changed in early Asian trade after a gain of 1.2 percent the previous day.
Brent crude futures traded flat at $45.04 per barrel after Thursday's gain of 0.9 percent.
© Copyright Thomson Reuters 2023. All rights reserved.