Asian Markets Rise Amid China Easing Hopes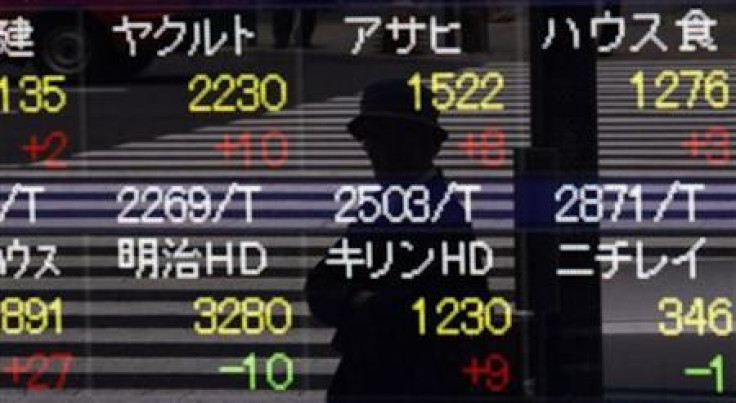 Asian markets rose Wednesday as investors remained hopeful that policymakers in China would soon announce stimulus measures to bolster the world's second largest economy.
Japan's Nikkei Stock Average was up 0.10 percent or 9.05 points to 8795.10. Among the major gainers were Hino Motors Ltd (4.10 percent), Chiyoda Corp (2.76 percent) and Suzuki Motor Corp (2.40 percent).
Hong Kong's Hang Seng was up 0.42 percent or 88.57 points to 20928.95. Among the major gainers were China Construction Bank Corp (1.49 percent) and China Shenhua Energy Co Ltd (1.33 percent).
India's BSE Sensex gained 0.27 percent or 50.66 points to 18874.57. Among the major gainers were Ashok Leyland (3.13 percent), Reliance Capital (1.68 percent) and ING Vysya Bank (1.49 percent).
The stock markets are closed in China and South Korea Wednesday.
China's non-manufacturing activity declined in September compared to that in the previous month, increasing the concerns over a slowdown in the economic growth of the country. According to data released Wednesday by the National Bureau of Statistics and China Federation of Logistics and Purchasing, the non-manufacturing Purchasing Managers' Index (PMI) fell to 53.7 in September down from 56.3 in August.
The index remained in the area of expansion since the reading is above 50. The fall in the reading has revived the speculation that China would soon announce monetary easing to rejuvenate the country's economic growth momentum.
This news comes after earlier this week it was reported that China's manufacturing activity in September continued to remain in the phase of contraction. Data released by the China Federation of Logistics & Purchasing Monday showed that the manufacturing PMI rose to 49.8 in September, up from 49.2 in August. The contraction of manufacturing activities in September is a reflection of the deteriorating export situation, which calls for more aggressive policy easing.
Meanwhile, the Asian Development Bank Asia (ADB) Wednesday slashed its 2012 and 2013 growth estimates for Asia, citing that the soft global demand weighed down the export-driven economies of China and India. According to the ADB, China is expected to grow 7.7 percent and 8.1 percent in 2012 and 2013 respectively, down from the earlier forecast of 8.5 percent and 8.7 percent. Meanwhile, India is expected to grow 5.6 percent and 6.7 percent in the present year and the next year respectively, down from the earlier forecast of 7 percent and 7.5 percent.
© Copyright IBTimes 2023. All rights reserved.