Assad Government Denies Killing Civilians In Airstrikes, Accuses US Of Fabricating Lies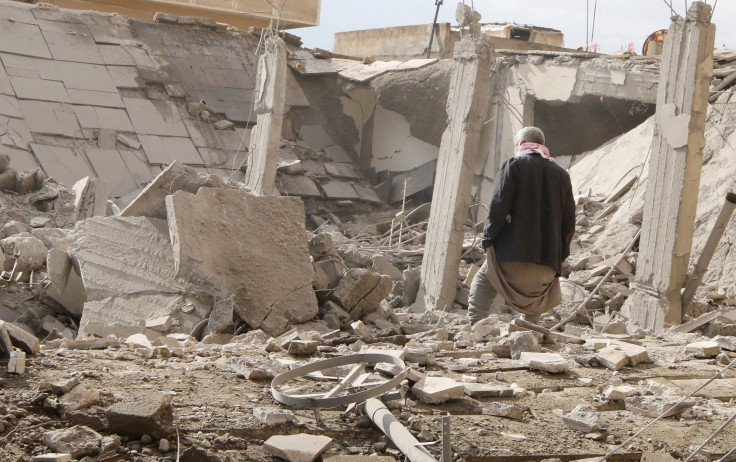 The Bashar Assad-led government in Syria on Thursday hit out at the United States, accusing it of making fabricated and contradictory statements against the "Syrian state," according to a report by SANA, the state-owned news agency. The comments by a senior minister in the Assad government were reportedly made in response to an earlier statement by the U.S. state department that condemned the Assad regime for targeting airstrikes at civilians.
"It is an attempt by the US State Department to push the world to disregard terrorism crimes through directing incorrect accusations against the Syrian State in the interest of those terrorist organizations," Syrian Information Minister Omran al-Zoubi reportedly said, referring to the U.S.-backed rebel groups battling government forces in the country.
He also said that the U.S. government was obtaining all of its information from "terrorist organizations" like the Islamic State group and Jabhat al-Nusra, al Qaeda's Syrian affiliate.
"Spokesperson of the U.S. State Department Jen Psaki has issued a press statement on the Syrian army's targeting ISIS sites in al-Raqqa, based on lies mentioned by ISIS on its websites," al-Zoubi reportedly said. "The Syrian army does not target civilians and will not do so."
The statement came amid reports by various human rights groups, including the Syrian Observatory for Human Rights, which alleged that at least 60 U.S.-backed rebels were killed by regime forces on Tuesday and Wednesday in the suburbs of the capital city of Damascus.
The Observatory also claimed, in a statement released Friday, that nearly 100 civilians were killed in government airstrikes in northern Raqqa province on Tuesday, taking the total number of civilians killed since Oct. 20 to over 500.
"SOHR documented 1755 air strikes by regime warplanes and helicopters around Syria since 20th of October 2014 until yesterday (Thursday) midnight," the Observatory said, in the statement.
According to an estimate by the United Nations, over 150,000 people, including thousands of civilians, have died since the start of the Syrian civil war in March 2011. Nearly 3 million people have also been forced to flee across the border to Lebanon and Turkey, where they are reportedly being housed in overcrowded makeshift shelters.
© Copyright IBTimes 2023. All rights reserved.
FOLLOW MORE IBT NEWS ON THE BELOW CHANNELS