Asylum In Australia: One Killed And Many Injured As Asylum Seekers Riot At Papua New Guinea Detention Camp In Manus Island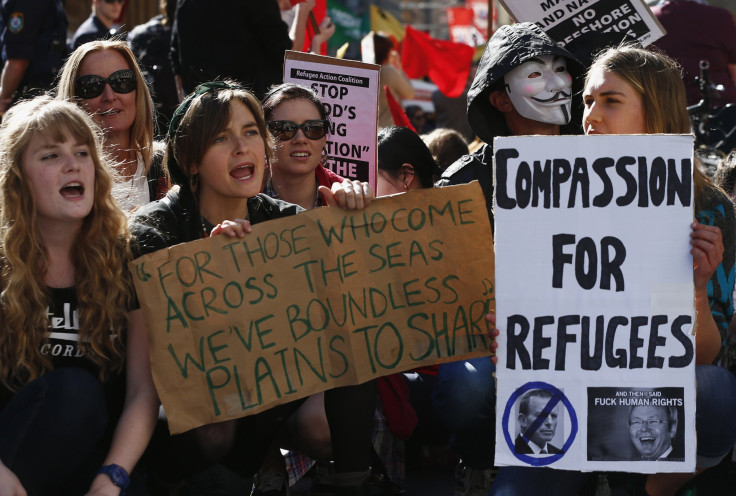 An asylum seeker was killed and at least 77 were injured during a second night of violence at an Australian immigration detention center in Papua New Guinea, Australia's Immigration Minister Scott Morrison reportedly said Tuesday.
According to Morrison, the riot began when detainees tried to escape the center, and a man died of head injuries on the way to a hospital, while thirteen others were seriously injured, including two who were being transferred to Australia for treatment, as one suffered from a gunshot wound and another from a fractured skull. But refugee advocates, who have condemned Australia's treatment of asylum seekers in offshore detention camps, have claimed that the clash began when Manus Island residents and police entered the facility to attack the asylum seekers.
"Locals armed with machetes, pipes, sticks and stones – have bashed and cut asylum seekers. One asylum seeker has been thrown from the second floor of a building; others have suffered machete cuts. There is one report that a man has been left with his eye hanging from its socket after a bashing," Refugee Action Coalition said in a statement on Tuesday
Australia reportedly sends asylum seekers arriving by boat for detention and processing in offshore camps in Papua New Guinea and the Pacific territory of Nauru. This tough stance has been criticized by the United Nations and other rights groups as illegal and inhumane.
And, refugee advocates reportedly state that the current scenario once again highlights Australia's treatment of asylum seekers in offshore detention camps such as Manus Island, which they say has now become dangerous and lawless.
Ian Rintoul of Sydney-based Refugee Action Coalition said, in the statement: "Scott Morrison deliberately played down the seriousness of the situation and the danger that asylum seekers faced. It seems clear now that the injured asylum seekers were deliberately treated inside the detention centre to hide the scale and seriousness of the injuries suffered on Sunday night," adding: "It must be clear now that asylum seekers cannot live safely on Manus Island. They should never have been taken there. Asylum seekers must be brought to Australia."
The current incident is reported to have followed an attempted breakout from the Manus Island facility on Sunday night, when 35 asylum seekers briefly escaped, after they were told they would not be settled in Australia.
"If people choose to remove themselves from that centre then they're obviously putting themselves at much greater risk and in an environment where there is violent behavior," Morrison said, according to a Reuters report. "This was a very dangerous situation where people decided to protest in a very violent way and to take themselves outside the centre and place themselves at great risk."
Manus Island lies to the north of Papua New Guinea, which itself lies off the northern coast of the Australian territory of Queensland.
"Those who are maintaining the safety of environment outside the centre need to use their powers and various accoutrements that they have available to them to restore order in the way that is provided for under PNG law," Morrison reportedly said.
While the Refugee Action Coalition's Rintoul told BBC that island residents and detainees had told the organization that the detainees were attacked, Morrison said Papua New Guinea's police only dealt with escaped detainees.
"PNG police did not enter the centre and that their activities related only to dealing with transferees who breached the external perimeter," Morrison told BBC, adding: "We don't know what occurred outside the centre and that obviously will be the subject of an investigation into that person's death."
© Copyright IBTimes 2022. All rights reserved.
FOLLOW MORE IBT NEWS ON THE BELOW CHANNELS