Atari Details Upcoming Ataribox Console, Will Include Mix Of Vintage And Newer Games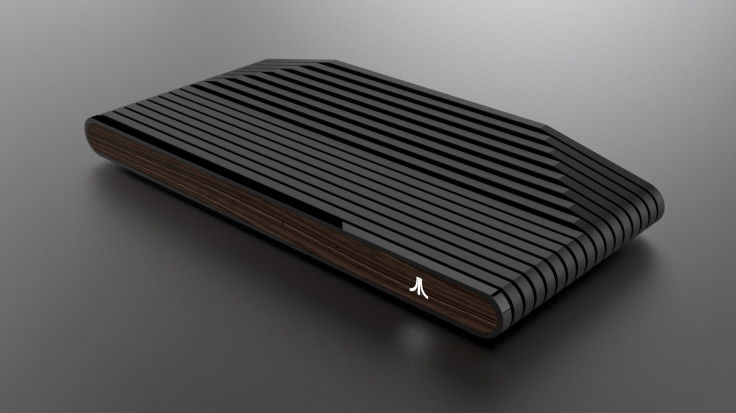 Thanks to releases like Nintendo's NES Classic and upcoming Super NES Classic, retro console reboots are increasingly in vogue. Now, Atari wants to get in on the current vintage console wave.
The company previously teased a new Atari console last month and in an email to fans Monday, Atari gave further details about the new console. According to Atari, the new Ataribox console will offer both vintage Atari titles and "current gaming content."
Read: Atari Box Could Bring Back Retro Gaming Consoles
On the outside, the console will feature standard port options for connectivity, including an HDMI port, USB jacks and an SD card slot. Visually, the Ataribox will also feature a slim design with ribbed edges that calls back to past Atari consoles. At launch, the console will come in a wood edition and a standard black and red finish.
At the moment, Atari had nothing to announce on games or a release date. But in the email, the team said it's still early along in the development process for the new console and promises to keep fans posted for more information.
We know you are hungry for more details; on specs, games, features, pricing, timing etc. We're not teasing you intentionally; we want to get this right, so we've opted to share things step by step as we bring Ataribox to life, and to listen closely to Atari community feedback as we do so. There are a lot of milestones, challenges and decision points in front of us in the months ahead. We'll be giving you lots more information and status updates as we progress, and we are thrilled to have you along for the ride!
Read: Where Can You Get The SNES Classic This Fall?
In its heyday, Atari was one of the major and earliest players on the home video game market. With consoles like the Atari 2600 and games like Pong, the company's products were among the first generation of home consoles and games, helping to popularize gaming through the late 1970s. But after the games industry crash of 1983, Atari shuttered its doors and became an also-ran to newer competitors like Nintendo and Sony.
From the lack of concrete details on the Ataribox, there's not much to go on for the retro and quasi-new console at the moment. With its compact scale and Atari noting that the Ataribox won't solely have vintage games, it's doubtful that the console will go head-to-head with current-generation models like the Nintendo Switch or Xbox One.
As for comparable competitors, the market for alternative home consoles has varied in the past. While Nvidia's Shield streaming player has been a decent success for the graphics card company, the Android-powered Mad Catz M.O.J.O. barely made a blip in the market during its 2013 release. On Nintendo's end, the NES Classic and the upcoming SNES Classic both benefit from a low price tag and the company's large catalog of vintage games. Both consoles feature games including Tecmo Bowl, The Legend of Zelda and Dr. Mario.
© Copyright IBTimes 2022. All rights reserved.
FOLLOW MORE IBT NEWS ON THE BELOW CHANNELS