AT&T May Eye Dish or Clearwire Deals Next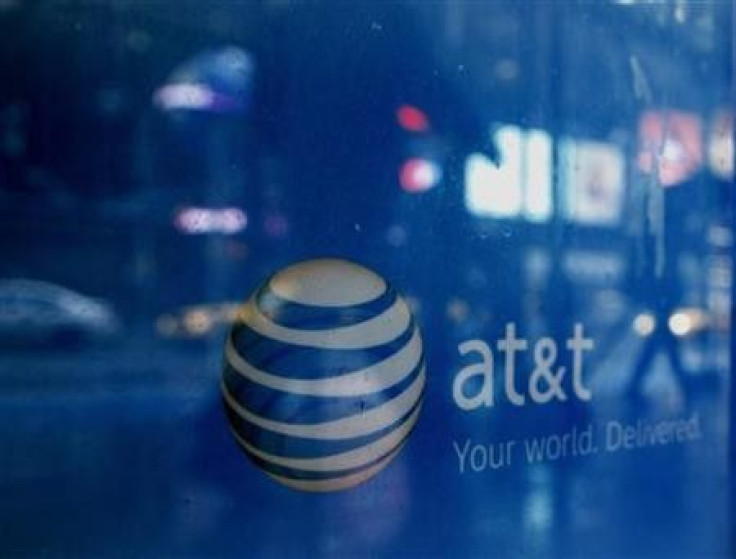 (Reuters) - AT&T Inc may look to Dish Network Corp or Clearwire Corp for its next deal as it recovers from its failure to buy T-Mobile USA.
AT&T said its $39 billion proposal to buy T-Mobile USA was motivated solely by its spectrum shortage, so the No. 2 U.S. mobile service now needs to look for another acquisition to bolster its wireless airwaves holdings.
AT&T is already seeking regulatory approval for its deal to buy a small amount of spectrum from wireless chip maker Qualcomm Inc.
Dish and Clearwire are seen as the most likely places AT&T will look for new spectrum because Dish is poised to buy a massive chunk of airwaves and Clearwire needs funding and it has large amounts of spectrum it is not using today.
Clearwire and DISH are likely to be seen as the main beneficiaries given their strong existing and prospective spectrum holdings, said UBS analyst John Hodulik.
Since satellite television provider Dish does not have a wireless network, it is seen as a key candidate for a partnership with an established mobile operator. Its shares went up 9 percent on Tuesday, the day after AT&T gave up on its bid to buy T-Mobile USA, as investors speculated on a Dish-AT&T deal.
Dish is still looking for regulatory approval for a license to use wireless airwaves it agreed to buy this summer. But once it gains approval as many analysts expect, it could be in a strong position to sell the wireless assets or even the entire company to AT&T, which also offers video services.
AT&T is the most motivated buyer, said Roe Equity Research analyst Kevin Roe who noted bigger rival Verizon Wireless is already tied up with its proposed purchase of spectrum for cable operators, including Comcast Corp.
Another analyst, Christopher King of Stifel Nicolaus, said Dish is AT&T's best choice for a deal.
It's either Dish or waiting for the next spectrum auction, said King who expects AT&T to reach an agreement with Dish chairman Charlie Ergen to buy all of Dish
Because Dish has no wireless customers and AT&T is not a national television provider, King expects U.S. regulators to look much more kindly on an AT&T purchase of Dish than its failed T-Mobile USA deal.
We'd expect very minor conditions to be put on an AT&T deal with Dish, King said.
Dish's market value is $12.3 billion based on its share price on Tuesday.
But AT&T may have a tough time getting Ergen, a notoriously tough deal maker, to agree to a deal. Todd Mitchell, an analyst for Brean Murray, Carret & Co said he does not think Charlie is willing to sell for anything close to what AT&T can pay.
There is also a chance Dish decides to partner with another company. Dish Chief Executive Joe Clayton told Reuters earlier this month it could consider a partnership with T-Mobile USA if the AT&T deal failed.
If AT&T cannot do a deal with Dish, its next best option may be a spectrum purchase or a wholesale deal with Clearwire, which previously said it could sell spectrum as part of its efforts to raise funding.
That would be a natural place for AT&T to tap additional capacity, Roe said.
BTIG analyst Walter Piecyk said it would make more sense for AT&T to buy spectrum rather than do a wholesale agreement where it would have less control as it would have to pay to rent space on Clearwire's network.
They'd prefer to own assets, said Piecyk, who also cited a Dish deal as a potential source of airwaves for AT&T.
However, several analysts noted that AT&T will likely face a lot of competition in any spectrum deal it pursues, especially now that T-Mobile USA also has a spectrum shortage.
Since AT&T is paying T-Mobile USA a record break-up fee that is costing it $4 billion, including $1 billion worth of spectrum, this could strengthen T-Mobile USA's position in any deal.
Now AT&T not only will have to look for spectrum when it is more scarce, they will have to bid against T-Mobile, which they just funded with an extra $3 billion of cash, said Piecyk.
Roe noted AT&T might potentially be able to snag a network sharing agreement with T-Mobile USA. But he said T-Mobile USA would not need to choose AT&T as its partner if it decides to go in this direction.
AT&T declined comment for the story and Clearwire was not available for comment.
© Copyright Thomson Reuters 2023. All rights reserved.