Aung San Suu Kyi Begins European Tour, As Sectarian Violence Threatens Her Homeland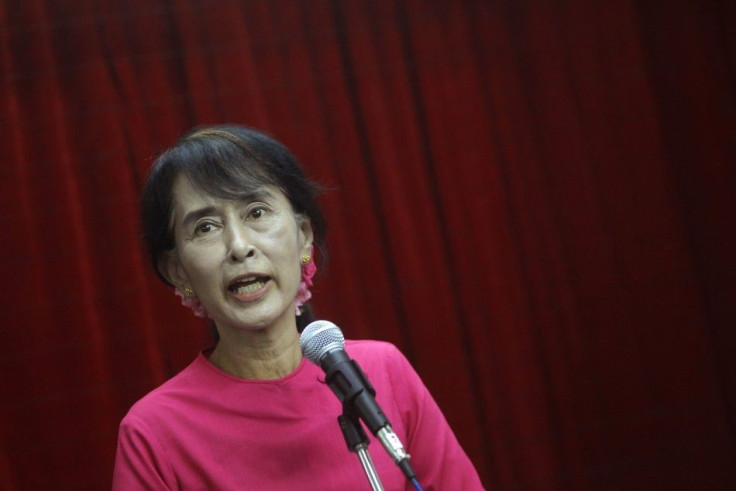 On her first trip to Europe in more than two decades, Myanmar's pro-democracy activist Aung San Suu Kyi urged the protection of worker rights and encouraged foreign investment in her country during a speech before the International Labour Organization, or ILO, in Geneva.
Suu Kyi, who was elected to Myanmar's parliament in historic by-elections in April, warned the ILO that economic development should not come at the expense of the rights of laborers.
The international community is trying very hard to bring my country into [prosperity], and it's up to our country to respond the right way, she stated.
She also advocated democracy-friendly development growth" for Myanmar, adding that profits should be shared with the people, especially the young and the poor.
I would like to call for aid and investment that will strengthen the democratization process by promoting social and economic progress that is beneficial to political reform, she said.
The ILO became an appropriate forum for Suu Kyi's first major public appearance in Europe since 1988, because the organization has long campaigned against the use of forced labor and children labor in Myanmar, also known as Burma.
Suu Kyi, who has spent much of the past two decades under house arrest in Burma, will spend two weeks in Europe -- her itinerary includes stops in Oslo, Norway (where she will pick up the Nobel Peace Prize, which was awarded to her in 1991), and London (where she is expected to speak before both houses of parliament).
After her speech at ILO headquarters, Suu Kyi will engage in talks with Swiss Foreign Minister Didier Burkhalter in the capital city of Bern to discuss the politician situation in Burma. She will also dine with Swiss President Eveline Widmer-Schlumpf.
(Following in the footsteps of other western countries, Switzerland plans to open up an embassy in Burma and upgrade its development aid to the Southeast Asian nation to about $26 million over the next four years).
Meanwhile, as Suu Kyi tries to become the face of a "new" Burma, striving for democratic reforms, the country's western province of Rakhine remains under a state of emergency following a week of sectarian violence between Buddhists and Rohingya Muslims, which have left at least 25 people dead and hundreds of homes burned to the ground.
The violence has also created about 20,000 displaced refugees, both Muslim and Buddhist, in dire need of food, shelter and medical care within Rakhine itself, Reuters reported.
Suu Kyi herself addressed the unrest, telling reporters that such violence will persist until Burma ensures equal rights and the rule of law for everyone.
Without the rule of law, such communal strife will only continue, she said a news conference in Geneva.
The present situation will have to be handled with delicacy and sensitivity, and we need the cooperation of all people concerned to rebuild the peace that we want for our country.
The violence in Rakhine presents a grave challenge for President Thein Sein, who leads the nominally civilian government that was elected in 2010 after a half-century of repressive military rule.
An opinion piece in the Hindu, an Indian newspaper, warned that if the "festering wound" in Rakhine was not immediately addressed, it "could pose a threat to the nascent process of political reform in that country."
Long persecuted in Buddhist-dominated Burma, the Muslim Rohingyas have few rights in the country. Numbering some 800,000, the Rohingyas are a stateless minority who are regarded as "illegal immigrants" by the Burmese authorities and have long suffered discrimination and repression by the state.
Since the disturbances erupted, neighboring Bangladesh (which already houses at least 200,000 Rohingya refugees) has closed off the border to prevent any further influx of unwanted Rohingya migrants. Indeed, Bangladeshi authorities have already turned back hundreds of Rohingyas who attempted to flee the violence in Burma by sea.
"The troubles in Rakhine are a challenge to the gradual process of national reconciliation that President Thein Sein has set in motion since 2010," wrote the Hindu.
"The danger is that sections of the [Burmese] military that are unconvinced about the need for reforms may use the Rakhine incidents to advocate a rollback. Rakhine has been placed under emergency laws already. Beyond the restoration of law and order, Myanmar's pro-democracy movement, which has a big stake in the reforms, must take the lead in pushing the demand for addressing the issues that underlie the problems in Rakhine."
© Copyright IBTimes 2023. All rights reserved.