Australia Hostage Live Stream 2014: Is ISIS Responsible For Martin Place Hold Up?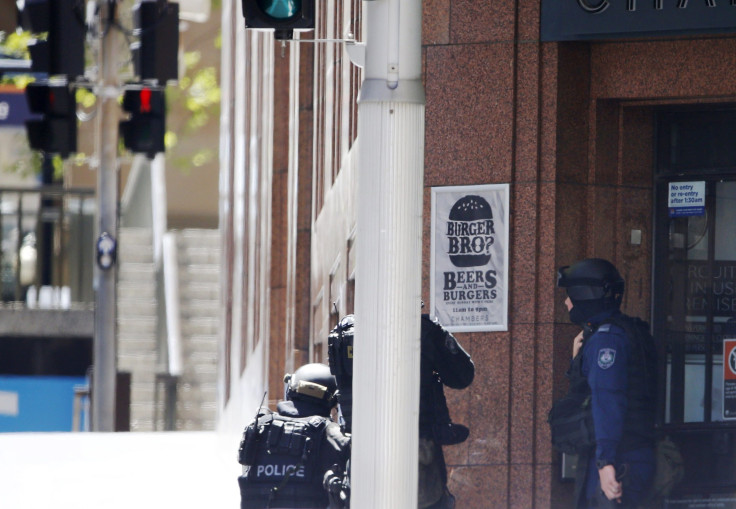 Update 11:40 p.m. EST: Channel 7 Australia reported at least three people have exited the Lindt Chocolat Café where a gunman is holding hostages in Sydney's central financial district. The report indicated it was two customers and one employee who were freed.
Update 10:27 p.m. EST: New South Wales Police say they have no idea who is behind the hostage incident unfolding in Sydney's central financial district. A gunman Monday seized an undisclosed number of hostages at 9:44 a.m., local time, at the Lindt Chocolat Cafe but has made no effort to talk with authorities or make demands, NSW Police Commissioner Andrew Scipione told a news conference. Scipione said he could not confirm the number of hostages. Estimates have ranged from 13 to 50.
The gunman apparently forced some of the hostages to hold a black flag with white writing in Arabic against a window, but there was no indication of any violence. "It's a flag that we've had people looking at. We're working with partner agencies to better determine what we're dealing with," Scipione said, according to The Australian. "This is a hostage situation."
Police were at pains to say there was no evidence the incident was terrorism-related but at the same time said terrorism could not be ruled out as a motive.
Authorities tried to convince Australians to go about their business but banks closed their offices and people were ordered to steer clear of the area. Aviation officials closed the air space in the area.
Update 10 p.m. EST: New South Wales Police say a single gunman is holding an undisclosed number of hostages at the Lindt Chocolat Cafe in Sydney's central financial district. Police said at a news conference there has been no contact with the hostage-taker. More to come.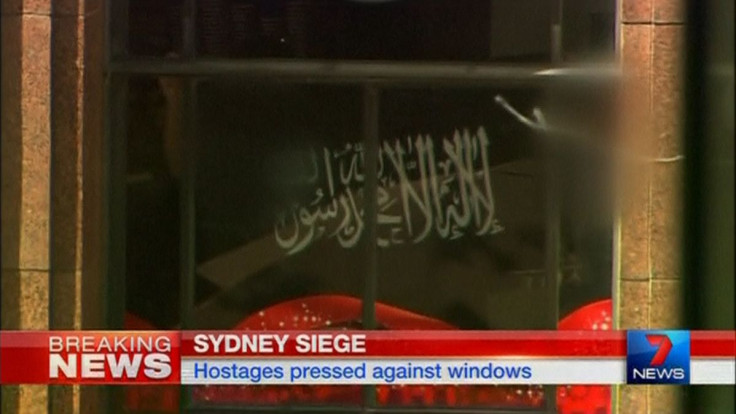 Update 9:27 p.m. EST: Striking images from the Sydney café siege showed hostages with their hands against the glass windows as authorities worked to remove passersby from the plaza in front the Lindt Chocolat Cafe. Prime Minister Tony Abbott said the motive behind the incident has yet to be determined but could be a part of a larger plot. If it turns out to be an attack by Islamic militants, it would be the first terrorist attack on Australian soil.
The incident shut down Sydney's central financial district.
Thousands of people, including those in the Sydney Opera House, were evacuated after it was revealed four devices allegedly has been planted throughout Sydney. The opera house went into a lockdown after a "suspicious package" was found, 9News Australia said.
As authorities tried to communicate with the two gunmen inside the shop, it was reported that one of the hostages tweeted that police should proceed with caution.
U.S. President Barack Obama has been briefed on the situation in Australia. 7News Australia reported a black flag with Arabic writing the hostages were forced to hold against the cafe window was that of Jabah Al-Nusr.
Update 8:29 p.m. EST: As many as 50 hostages are believed being held at a Sydney Café by Islamic militants, the Sydney Daily Telegraph reported. Police are trying to communicate with the gunmen. Ten of the people held captive were workers and there were as many as 30 to 40 others inside when the cafe was taken over early Monday, local time, Sky Business reported.
Prime Minister Tony Abbott has the security committee has been briefed. "This is an unfolding situation. ... I want to assure people the ordinary business of government will go on and it will go on. ... This is very disturbing incident. I understand the concerns of the Australiam people at times like this. ... I can think of nothing more distressing and terrifying," he said in a broadcast address.
Abbott said he does not know the motives of the hostage takers but they may be political.
New South Wales Premier Mike Braid took to Twitter as the hostage event unfolded: "My thoughts and prayers are with those affected by the situation in Martin Place & NSW Police who are trained to deal with these events."
Police called for calm after a gunman said "four devices" had been placed around Sydney, 9News Australia tweeted. A man was reportedly arrested near the café, the news site reported on Twitter, but he was not connected to the hostage situation.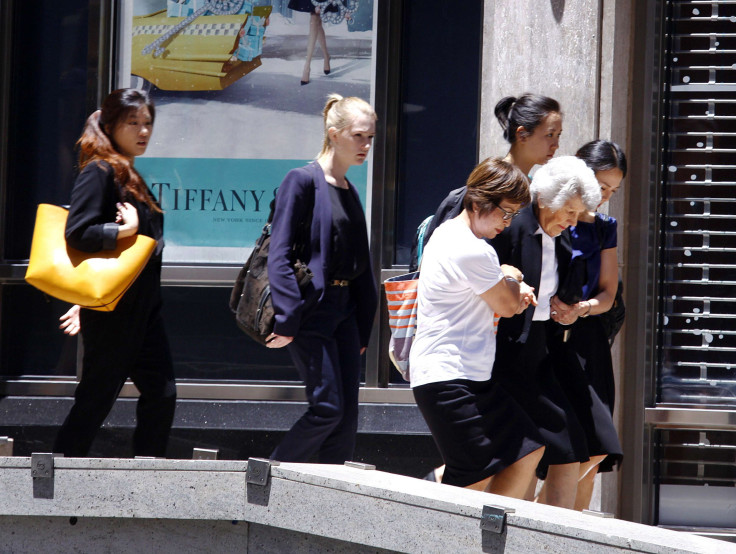 The U.S. has evacuated most of the employees at the Sydney Consulate, but some of its vital workers are still there, Reuters reported. An emergency warning for American citizens in Sydney was issued. They should "maintain a high level of vigilance and take appropriate steps to enhance your personal security," the statement said, according to Reuters.
Update 8:13 p.m. EST: At least 13 hostages are believed held by suspected Islamic militants at the Lindt Chocolat Cafe in Sydney. A Tactical Assault Team will take any measures necessary to ensure the hostages make it out of the building safely, a source told The Australian.
"Police urge members of the public to remain calm and note that an appropriate police prsence is in place," New South Wales police said in a statement, according to the Sydney Morning Herald. At least 13 people are being held inside the Lindt Chocolat Café.
The following is a quick outline of the timeline of events, as described by the Sydney Daily Telegraph. At 9:45 a.m., local time, Monday authorities assumed there was a robbery after alarms went off at the café. Five minutes later, hostages were seen pressed up the window at the chocolate shop. Some appeared to be holding an ISIS flag. By 10 a.m., the buildings surrounding Lindt were evacuated and police closed down Martin Place.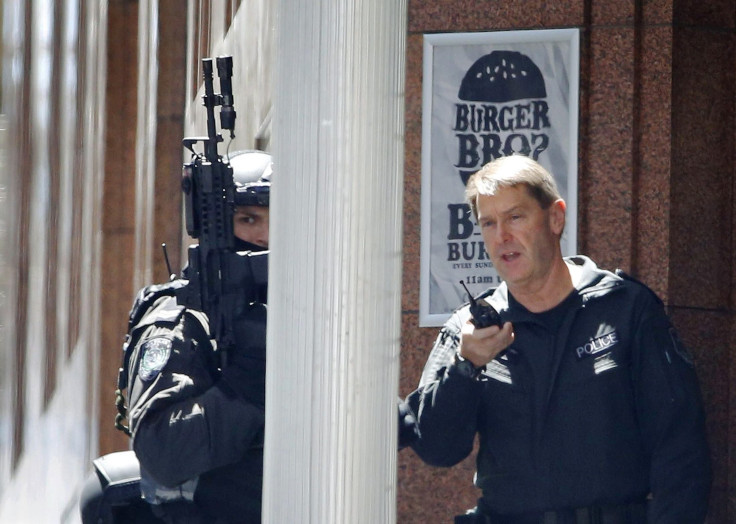 Original post:
A hostage situation is underway in Sydney. Two gunmen are holding more than a dozen people captive at a Martin Place café, multiple reports said Monday, local time. After Islamic State flags were seen, it was believed the militant group was responsible, the Guardian reported. A black flag with white Arabic scripture was seen hanging from the Lindt shop, but it has not been confirmed if it is the ISIS flag, the BBC said.
Live stream footage of the coverage can be seen here, courtesy of 9 News Australia.
Hostages could be seen with their hands up and eyes closed as they stood in front of the café's window. Some of the people in the shop were seen shaking and crying, Mia Burns, a news producer for Channel 7, Australia, tweeted.
New South Wales police reportedly rushed to the scene and surrounded the shop. People near the area are asked to stay away, the BBC said.
A big debate about whether ISIS is responsible for the hostage situation began on Twitter. Although the flag appears to belong to ISIS, it has not been verified.
The flag reportedly says, "There is no god but the God, Muhammad is the messenger of God," the Guardian reported. It is a popular credo for Muslims, but is also used by terror groups like al Qaeda and Jabhat al-Nusra.
This is a developing story…
Follow me on Twitter @mariamzzarella
FOR FREE to continue reading
✔️ Unlock the full content of International Business Times UK for free
offer available for a limited time only
✔️ Easily manage your Newsletters subscriptions and save your favourite articles
✔️ No payment method required
Already have an account?
Log in
© Copyright IBTimes 2023. All rights reserved.