Autumn Equinox 2017: Google Doodle Celebrates The Start Of Fall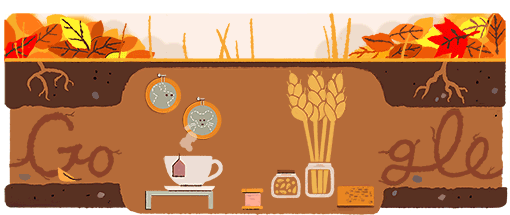 Friday marks the official celestial start of the autumn season meaning warm colors, crunchy leaves, pumpkin everything and football are back. During fall it sometimes seems like you can't escape the passage of summer and the coming of winter, today is no different, even Google is getting in the fall spirit.
The Google Doodle features an adorable animated mouse enjoying all the spoils of fall. First the mouse runs across the doodle above ground and disappears into a pile of leaves. Then the scarf-wearing mouse re-appears underground where it sits on a spool of thread and sips from a gigantic steaming cup of tea.
All of this happens surrounded by fall leaves and in between the letters of "Google." If you click on the doodle you find that it is the autumn equinox today. Clicking the doodle brings you to the Google results for the search "autumn equinox 2017." There you'll see top news articles about the day and you'll find more information on what the equinox means.
This particular doodle is only appearing for users in the Northern Hemisphere, because in the Southern Hemisphere Friday actually marks the spring equinox. For users there Google made almost the exact same doodle but with a spring theme. For the spring equinox the mouse can be seen waking up from a nap, plants growing and a flower blooming.
The doodle for the Northern Hemisphere is reaching North and Central Americas, most of Europe and part of Africa and South America. The map of exact countries that see the doodle today and the past doodles used on this day are all available on Google's Doodle site.
Google has been making doodles for the homepage of the site since 1998 when the first doodle was made to commemorate the Burning Man festival. Since then Google's finest doodlers have been getting together to brainstorm ideas for which days there should be a doodle and what those doodles should be.
Once a year they get some help from students who create doodles and submit them to compete in the Doodle 4 Google contest. The contest is open to students across the United States and its territories in grades Kindergarten through senior year of high school. The competition is broken down into age groups for the contestants and they're all given a theme. The finalists are chosen from each age group and the winner is featured on Google's homepage for a day and given several gifts by Google, one of which is a scholarship for college.
© Copyright IBTimes 2023. All rights reserved.