Avi Benezra Masterminded SnatchApp To Become The Most Secure Messaging App
Concerns over privacy led to questions over whether to use Facebook Messenger, Whatsapp, WeChat, Skype, Zoom - or SnatchApp, the latest secure messaging app.
SnatchApp was founded by the Avi and Henri Benezra and is spearheaded by chairman Ravi Jacob, an esteemed ex Intel executive, on a mission to offer the world's most secure, private and technologically advanced messaging app
Teaming up with SnatchBot, a global leader in AI-powered chatbot technology, SnatchApp can tap into unique RPA & Chatbot automation features for business.
Business and personal communication is seeing a transformation at a time when automated messaging fueled by chatbot technology seeks to integrate with the most popular channels. This is also a time when user privacy and security remains a key unresolved issue with most big tech entities, prompting users to re-evaluate their options. Even as Microsoft rolled out it's belated no-coding chatbots to compete with smaller market leaders such as SnatchBot, to date there has not been a successful attempt from big tech to create a solution that offers both seamless chatbot integration and the type of security and privacy that most users would desire. This was at least the case until SnatchApp entered the market as one of the most disruptive solutions of the century.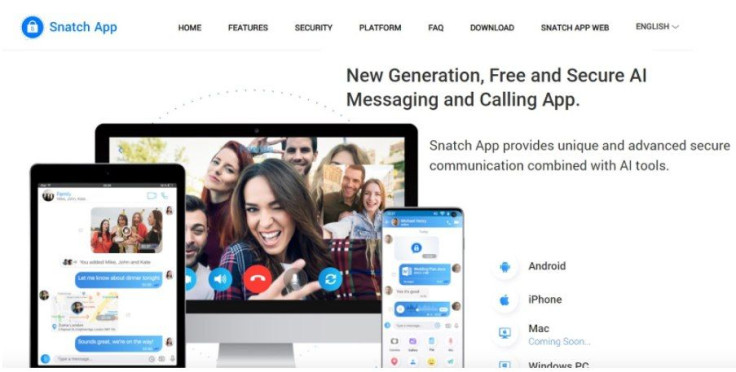 The need to choose a more secure messaging app
From the more recent Cambridge Analytica case where Facebook users found their personal information being used, to the Snowden case and the revelations about global surveillance programs run by multiple governments, there are many reasons why business and personal users require more secure messaging apps. Yet knowing how to keep our personal data secure is not as straightforward as we might have thought - apart from data privacy there is the issue of data collection by companies in the first place.
With a reality that is fueled by data, whoever has the most wins the game and as AI technologies have matured, the digital economy has become more reliant on data in large amounts as AI uses it to learn and evolve into faster and smarter machines. As data is the commodity of choice for the digital era - big companies aim to use it for their benefit many times overlooking civil liberties and user security which has become an issue of paramount concern amongst smartphone users.
That is why using a secure messaging app to communicate with others on a personal and business level in the data influenced day and age is more imperative than ever. In this article we attempt to illustrate how some of the most secure apps work and what features you should look out for when choosing an app in order to secure your personal data and guard your privacy.
End - to- End Encryption
One of the most important features to look out for when choosing a messaging app is end-to-end encryption. Apps such as WhatsApp, Wickr, Viber, SnatchApp, Signal and Telegram use end-to-end encryption. That means that you and the person or group of people you are chatting with are the only ones that can see the encoded messages. Third parties will not be able to intercept your messages, not even the provider of the communication service.
Smart Tip: End-to-End Encryption is not always the default setting in a messaging app and you should look out for this when creating conversations, also not all apps have end-to-end encryption for group chats but may only provide encoding only for one-on-one chats.
This feature has become one of the most basic when trying to find a more secure messaging app so you should make sure that it is high on your list of privacy features to consider. You should also try to find a chat app that has this feature by default.
From the above mentioned apps, SnatchApp, Whatsapp, Viber, Wickr and Signal all have end-to-end encryption by default - for Telegram you need to opt in to activate end-to-end encryption as it is not the default setting.
Open Source Code
Open source means that the messaging app is accessible to everyone and experts can verify that the code is actually as secure as the makers claim it to be. Thus the software is available for updates and any auditing by experts that can vouch that the app is truly keeping your data secure and your conversations private. Even though open source might sound like it's giving info away and the opposite of secure it is in fact the best way to ensure accountability.
SnatchApp, Signal and Wickr are all open source messaging apps making them stand out as more credible- Whatsapp, Viber and Telegram on the other hand do not use open source code that others can download. Whatsapp has also received scrutiny since being acquired by Facebook - it might not be the most secure app out there as facebook has been involved in data privacy scandals in the past.
Data Collection
This feature is more tricky as when an app claims to be fully encrypted and secure it doesn't always mean that it isn't collecting some form of data about you - this info can be how often you talk to the people on your smartphone's phone book, what time you message and talk to others, your IP address and maybe even your phone number. All of this data that many messaging app providers like to collect is called Metadata and it can be tracked on multiple platforms if you are using a cross-platform app. The actual Metadata collected differs depending on your service provider as different providers collect different types of data making this subject a bit more complex and not as straightforward as an encryption feature.
This is one of the most important features when making sure that an app has user data privacy high on its list of priorities. Especially finding out what type of data that they collect as all messaging app providers collect user data so it is basically inevitable. However staying informed helps you decide which app can serve you and your security needs best.
Feature Round-up
No single app provider can cover all of your security and privacy needs, it is just not possible with the amount of data out there and all of the different companies and government entities that are willing to pay in order to collect your data. All of these messaging apps are providing a free service to their users making it harder to be picky about the services they offer and the bottom line is you'll just have to take them at their word if they are really as credible as they claim to be. However it is your right to have access to basic privacy information and be able to choose the best app to fit your privacy needs.
Great security features of the big 6 leading chat apps:
All six apps seem to have similar features - they all provide end-to-end message encryption in some form. Only SnatchApp, Signal and Wickr are open source making them the more credible in terms of transparency of the six.
All apps collect data in some shape and form however SnatchApp, Signal and Wickr have fewer ties to big corporations such as Facebook compared to the other apps making them more credible and scandal free.
SnatchApp, Wickr, Signal, Telegram and Viber have disappearing (self-destruct) message settings. Whatsapp doesn't seem to have a self-destruct messaging feature for now on one-on-one chats as it's only available on group chats but for now you will have to settle for a delete message setting for all parties.
The most popular app of the six is by far Whatsapp with the most users worldwide, Viber, Signal and Telegram also have a large following of users making it easier to find friends to message and use the messaging apps secure features. SnatchApp and Wickr might have a smaller number of followers but do seem to be ranking quite high on the security index.
In terms of accessibility all six messaging apps run on multiple platforms (iOS, Android and desktop).
SnatchApp is the newest entry of the six and has many promising security features worth mentioning apart from the basic security features mentioned above. Apart from self destructing messages the app offers messages that can be hidden - meaning that they are delivered to the user in a "sealed envelope" so no one can see who you are chatting with. You can also control when others can see your online status and the delivery status of the messages sent to you.
The app also provides free encrypted voice and video calls making it a good alternative to Skype or Whatsapp -again being a more low key provider than apps connected with Facebook. It also supports video conference calls of up to 10 people.
SnatchApp also integrates with a Bot Directory via SnatchBot and P2P payment solutions
SnatchApp ranks high on security features and ticks all of the right boxes with the only downside being that they do not have the number of users that more popular messaging apps have making it harder to find friends to chat with. However, this messaging app is worth spreading the word about and getting other people onboard so you can chat with - especially if you value your privacy and are looking for an app that has your data security in mind. In the end it's up to users to change their messaging app habits and try something new that will help them be more in control of their data, privacy and security. As Handel "Del" Henry, a fintech and payment processing consultant in Florida says: "SnatchApp, together with its partner network and advanced chatbot abilities, will bring a new solution to the payments market that will be very hard to compete with, especially for the bigger inflexible payment solutions".
About SnatchApp
The Snatch App leadership team consists of some of the industry's leading professionals such as Henri Ben Ezra, CEO who brings several years of experience in the communications sector. His brother Avi Benezra (CTO) masterminded SnatchBot and the subsequent integration with SnatchApp. Avi is also a leading authority in AI research.
Other notable members of the new SnatchApp team include Johan Lamant, CFO; Ravi Jacob, Board Chairman; and Ivan Usatchev, Director.
To try out the most appropriate version of Snatch App for your device, select one of these options:
Snatch App Web: https://snatchapp.me/en/
iOS version: https://apps.apple.com/app/snatch-app/id1225178149
Android Version: https://play.google.com/store/apps/details?id=com.Snatch App
Windows Dekstop: https://www.microsoft.com/en-gb/p/Snatch App/9nblggh526j6?cid=msft_web_chart&rtc=1&activetab=pivot:overviewtab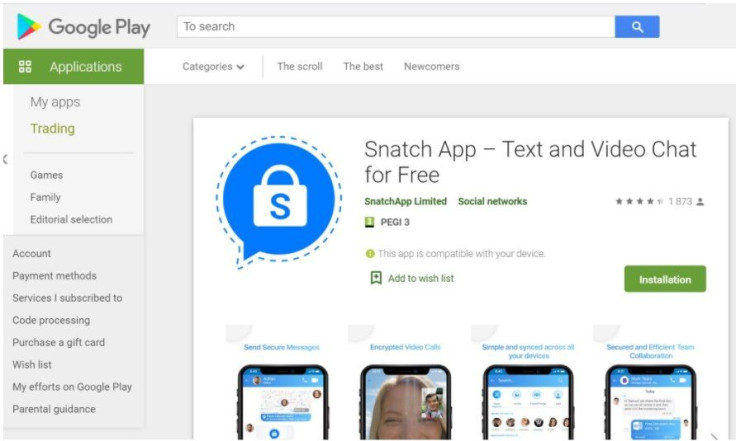 FOR FREE to continue reading
✔️ Unlock the full content of International Business Times UK for free
offer available for a limited time only
✔️ Easily manage your Newsletters subscriptions and save your favourite articles
✔️ No payment method required
Already have an account? Log in