Award-Winning HealthTech Startup, Immertec Unveils World's First Solution for 3D Virtual Surgical Training Following COVID-19
A Florida health tech company launched Medoptic, the world's first real-time 3D teleconferencing platform that allows surgeons to train in virtual reality
* This is a contributed article. The IBTimes news staff was not involved in the creation of this article and this content does not necessarily represent the views of IBTimes. When you buy through links on our site, we may earn an affiliate commission. Here are our
T&C
. For licensing please
click
here.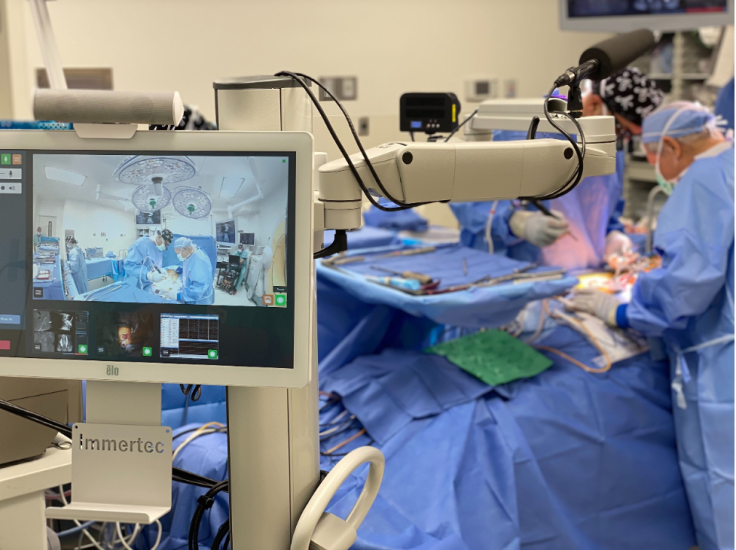 In early December, Pfizer announced that it would now be planning [TD1] to ship 50 million vaccines by the end of the year—half of the initially planned 100 million vaccines. According to the AAMC's announcement, some of the early batches of the raw materials needed for the vaccine, failed to meet standards.
The Association of American Medical Colleges (AAMC) predicts that by 2032, the U.S. will see a shortage of approximately 122,000 physicians, paving the way for medtech to prevail as the world enters into 2021--with hopefully a successful COVID-19 vaccine.
Unfortunately, as the coronavirus pandemic continues to grow more dangerous, those on the frontlines continue to place their own health and wellbeing at risk, operating as efficiently and quickly as possible—but is it enough? By allowing medical providers and surgeons to provide in-person care to those who display symptoms of COVID-19, the CDC also undermines the purpose behind the current quarantine and social distancing restrictions.
A Cybersecurity Hub and Telehealth Capital?
Indeed it shouldn't be much of a surprise that medtech companies are doing everything in their power to provide medical care providers with as many resources and tools necessary, to continue their operations and medical training through new technologies such as virtual reality (VR) and bioskills.
Florida, which has made headlines throughout 2020 for being the newest "cybersecurity hub" in the U.S., has a new title to boast--the world's first place where surgical training can take place through 3D VR. Back in October, St. Mary's Medical Center & the Palm Beach Children's Hospital hosted the first case study of Immertec Medoptic technology[TD2] , featuring orthopedic spine surgeon on staff, Dr. John Asghar, as the world's first surgeon to use Immertec's Medoptic technology.
Immertec is an award-winning health tech company launched in 2017 out of Tampa, Florida. The company describes Medoptic as the "first fully immersive 3D teleconferencing VR platform for surgical training, allowing surgeons to virtually scrub into a live procedure from their home or office through a VR headset." Talk about virtual learning 2.0.
From the 2008 Financial Crisis and 9/11, to COVID-19, Telehealth Will Change...Forever
The company's CEO and co-founder, Erik Maltais signed an agreement with the University of South Florida Health back in March, to test the efficacy of Medoptic's technology, while also teaching it to USFH students, according to the Tampa Bay Business Journal. And as it's been pointed out, timing is most definitely on Maltais' side, as much as it can be during a pandemic.
"I've realized throughout life, anytime everybody is watching the same moment in time — like 9/11, Pearl Harbor, the 2008 crisis — every eyeball in the world is on that moment," Maltais said. "When that happens, change happens."
Telehealth will most certainly change post-COVID-19, as it already has, beginning with new guidelines for health care providers to utilize audio or video communication technology to provide telehealth to patients during COVID-19, without violating HIPAA rules.
Specifically, the U.S. Department of Health and Human Services announced in its Notice, that covered health care providers may use popular applications that allow for video chats, including Apple FaceTime, Facebook Messenger video chat, Google Hangouts video, Zoom, or Skype, to provide telehealth without risk that OCR might seek to impose a penalty for noncompliance with the HIPAA Rules related to the good faith provision of telehealth during the COVID-19 nationwide public health emergency.
The ongoing question as to new ways in which to continue offering medical education to providers, while simultaneously continuing to provide surgical operations and other services to patients, was one that Maltais immediately discovered, like others—but put money where his mouth is.
This growing need to make Medoptic tech available to all medical device companies and hospitals, was an "ASAP" move. Ultimately, this led the Immertec team to move forward with extending its Series A funding raise. In July, the company closed the round with $12 million, expanding Medoptic to multiple locations and formally launched the product on Android and iOS app stores.
This funding has allowed Immertec to build out a strong leadership team, including a director-level team consisting of individuals from Apple, Microsoft, Intuitive Surgical, Stryker, and Magic Leap. This team is congruent with 12 key-opinion leader surgeon instructors with specialties in orthopedics, spine, ENT, neurological surgery, and 10 operating suites. Trainees are able to learn about Medoptic's surgical instructors, new locations, and upcoming events on the platform.
"Training surgeons on innovative procedures and devices is unnecessarily difficult, expensive and time-consuming. Learning logistics shouldn't be so demanding on surgeons," said Maltais. "Physician burnout and unnecessary patients suffering from lack of access to advanced surgical techniques are unacceptable. Medoptic leverages VR innovations to decrease these barriers and increase surgeon exposure to operating suites around the country from the comfort of their home or office."
NOTE: This article is a contribution and do not necessarily represent the views of IBTimes.
FOLLOW MORE IBT NEWS ON THE BELOW CHANNELS