'Axie Infinity' Delays Origin Launch After $600M Hack; Sky Mavis 'Fully Committed' To Reimburse Players
KEY POINTS
"Axie Infinity" is a play-to-earn NFT game
It is slated to launch "Axie Infinity: Origin," the game's upgraded version
"Axie Infinity" bridge Ronin Network was hacked on March 23
The team behind the popular play-to-earn game "Axie Infinity" said it is "fully committed" to reimbursing players for the amount hackers stole from the recent Ronin Network hack, which not only siphoned crypto from the ecosystem but also caused the postponement of the official launch of "Axie Infinity: Origin."
Sky Mavis, the studio behind the hit NFT game "Axie Infinity," previously scheduled to launch "Axie Infinity: Origin," the significantly improved and upgraded version of the play-to-earn monster-fighting game, on March 31. However, due to the fallout from the exploit which took place on March 23 but was only uncovered Tuesday, the alpha version is now slated to roll out on April 7.
"While the game is ready for [a] soft launch, we've decided to give the engineering and security team an additional window of time to deeply investigate all implications of the breach, before asking for their full attention to support Origin's release," Sky Mavis said in a post.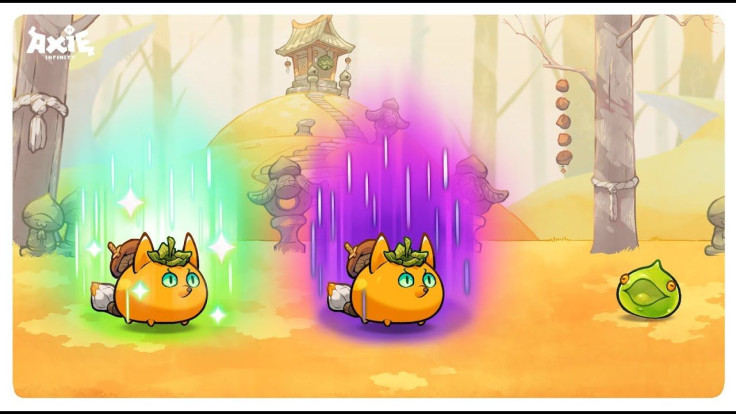 "Axie Infinity: Origin," or the upgraded version of the game features improved Axie art and animations. There are also new gameplay upgrades like energy resets, sequential turns, a new Rage mechanic, card changes and a lot more as shown in the game's official trailer.
"On Thursday, April 7 – Origin will be available for download via Mavis Hub! We are incredibly excited to get Origin into the hands of our community! Even though we're not able to share it with you today as planned, we're hoping that the onslaught of videos and content we've prepared will help prepare you once it's available next week," Sky Mavis said.
Sky Mavis also assured fans that it is "fully committed to reimbursing our players as soon as possible." The team is also working on a solution, which is currently an ongoing discussion. The massive hack wiped clean the funds, which include deposits of players and speculators and the Axie Infinity Treasury revenue," Aleksander Leonard Larsen, chief operating officer of the gaming studio Sky Mavis said
According to the COO, 56,000 of the stolen Ether belong to the "Axie Infinity" treasury. All the revenues from the play-to-earn game, including fees for joining, breeding NFT creatures and other in-game payments are in its treasury.
Sky Mavis is currently working with authorities and investigating the hack. The play-to-earn NFT game generated $1.3 billion in the 12 months.
© Copyright IBTimes 2023. All rights reserved.