'Bachelorette' Star Erich Schwer Reveals Reason For Split From Gabby Windey
"The Bachelorette" star Erich Schwer has revealed what led to his split with Gabby Windey in a new social media post.
Schwer told his followers that his break up with Windey was simply because they "ultimately were not each other's people."
"A lot of you are reaching out with questions about me and Gabby. The reality is that we ultimately were not each other's people. It's hard when there isn't one thing to put your finger on," the 29-year-old real estate analyst wrote on his Instagram Story feed Tuesday.
He added, "We met in a very unique situation and in a very unique way and I'm grateful we did. I would never take it back," he said, adding that Windey is "an amazing person" and that he will "always root for her and I hope she gives them hell in the 'DWTS' finale."
"I have learned and grown so much this year from experiences and mistakes and continue to better myself every day. I am hoping to take this time with my family and loved ones and focus on myself," Schwer concluded his post. He was seemingly referring to the backlash he faced over an old photo that showed him wearing blackface. An old snap from Schwer's high school yearbook resurfaced in September showing him wearing an afro wig, a colorful shirt and dark cosmetics. Some fans pointed out that his get-up was "racially insensitive."
Schwer also said he had "been working hard" on some new projects in the past few months.
His explanation about the break up came just one day after Windey said they "weren't each other's best match."
"The end of our relationship happened because we weren't completely in step and in sync with each other in our common goals or just the way we approach life," Windey told her dance partner, Val Chmerkovskiy, on Monday's episode of "Dancing with the Stars."
"I'm just so grateful that my dad and my stepmom encompass so many fundamentals and values that I look for in a relationship, like never placing blame," the 31-year-old nurse added.
The pair got engaged on the Season 19 finale of "The Bachelorette in September. However, breakup rumors started circulating in October after fans noticed Windey was not wearing her engagement ring while Schwer was no longer seen attending the live taping of the series.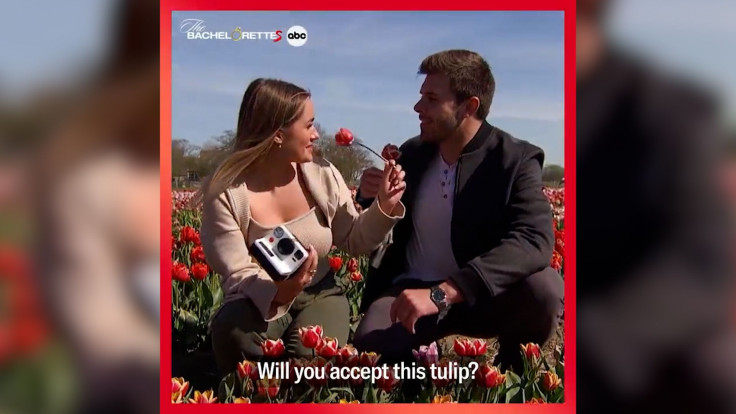 © Copyright IBTimes 2023. All rights reserved.