Warren Buffett and Carl Icahn Are The New Rail Barons And Both Have Made Big Bets On Crude Rail Transport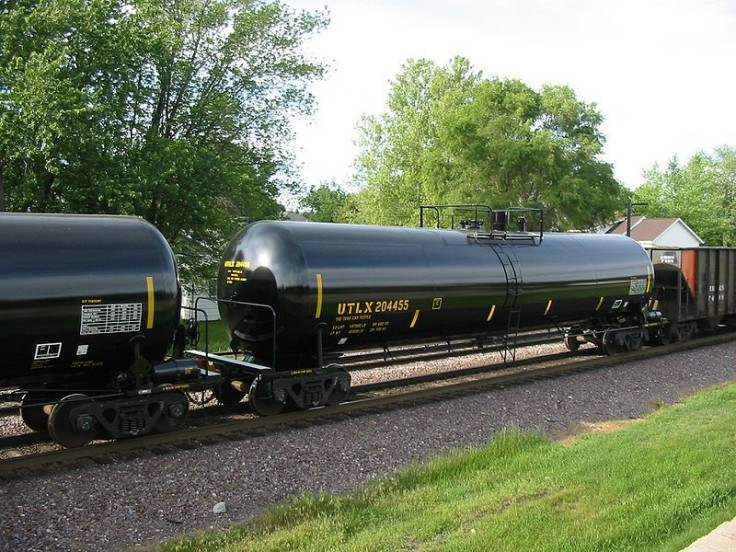 The United States will produce more oil than it ever has this year, and it all has to go somewhere.
Pipelines that can handle the new high demands are still being built, but in the meantime millions of barrels of crude are being sent around the continent by rail.
Every year, nearly 150 million tons of hazardous materials are carried over thousands of miles by tank cars – specially designed freight carriers that can handle volatile liquid crude.
There were roughly 9,500 carloads of crude oil running the rails in the U.S. in 2008. By 2013, there were more than 400,000, according to the Association of American Railroads.
There are just a few companies that manufacture them, and they've been reaping the benefits. Record revenues and backlogs mean investors are interested, but billionaires like Warren Buffett and Carl Icahn have already made their bets.
"The boom for building tank cars for crude oil started in 2011," said Toby Kolstad of Rail Theory Forecasts, who added that some of the oldest companies in the country have had high stakes in the industry for a long time.
The privately owned Union Tank Car Company was formed in the late 1800s. Originally part of John D. Rockefeller's Standard Oil Co. Inc., it was divested in the early 1900s.
In 2007, Warren Buffet's Berkshire Hathaway Inc. (NYSE:BRK.A) purchased 60 percent of Union Tank's parent company, Marmon Holdings Inc.
Today, Berkshire owns 90 percent of the company, according to an annual report for investors, where Buffett implored them to look for the company's UTLX logo on any tank cars they see passing by.
"As a Berkshire shareholder, you own the cars with that insignia," he writes.
"When you spot a UTLX car, puff out your chest a bit and enjoy the same satisfaction that John D. Rockefeller undoubtedly experienced when he viewed his fleet a century ago."
In 1994, activist investor Carl Icahn was voted chairman of American Railcar Industries Inc. (NASDAQ:ARII).
The company was founded in the late 1980s, and in 2011 expanded into leasing tank cars just as the boom began.
As of September 2013, the company's backlog reached 6,300 railcars worth about $814.5 million.
American Railcar saw a 9.8 percent increase in gross sales last year, with a double-digit increase in operating income. In the fourth quarter, the company leased a total of 3,780 railcars, up from just 2,190 in the same quarter of 2012.
Greenbrier Companies Inc. (NYSE:GBX) is relatively new to making tank cars, but it has always adapted to changes in the market. Greenbrier started making the specialized cars between 2004 and 2008, when ethanol had its peak popularity.
As of August 2013, the company had a backlog of 14,400 units worth an estimated $1.52 billion, up from about 11,000 units in the same period last year.
"As an industry, we're pretty good at putting our foot on the brakes and then putting our foot on the accelerator when we need to respond to increased demand," said the company's chief commercial officer, William Glenn, to the Financial Times.
In the first quarter of 2014, Greenbrier saw revenue of $490 million, with $0.56 earnings per share. Stock jumped almost 30 percent in the past two years.
Trinity Industries Inc. (TRN: NYSE) is the country's biggest rail car manufacturer. Since 2010, revenues for its rail car sector grew from $522 million to nearly $2.6 billion. In the past 12 months, the company received orders for 30,735 railcars. Besides, it has an order backlog of more than 40,000 units worth roughly $5.1 billion.
In a presentation to investors, executives attribute the growth to "strong demand from the oil, gas and chemical industries."
In October 2013, Trinity announced quarterly earnings per share of $1.26 – up 58 percent since the year before. In the past four weeks, Trinity stock has jumped nearly 11 percent.
The U.S. Energy Information Administration said on Tuesday that American oil output will rise by 9 percent next year, to reach 9.3 million barrels per day – the highest in 43 years.
Despite the fact that there have been five crude oil train derailments in the last several months, the crude-by-rail industry is still chugging along and will probably pick up speed in 2014.
© Copyright IBTimes 2022. All rights reserved.
FOLLOW MORE IBT NEWS ON THE BELOW CHANNELS