Ban On Devil's Messenger Lady Gaga Hurts Indonesia's Image As Modern Muslim Country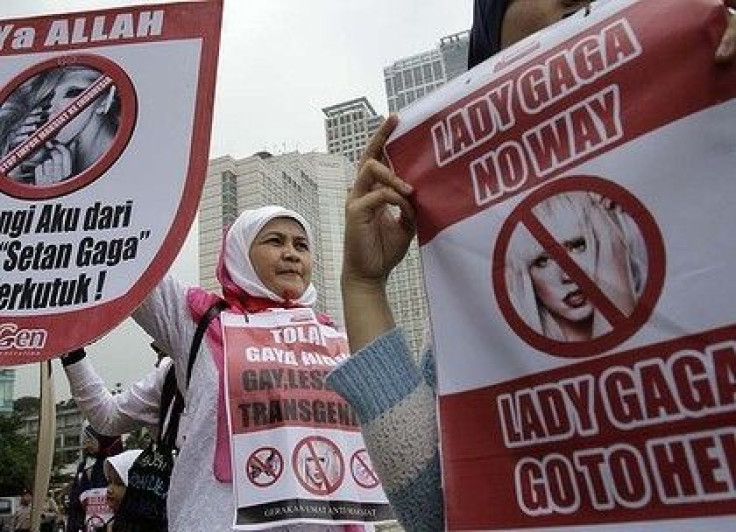 Indonesia is the world's most populous Muslim country, and it has long been considered the world's model for a Muslim-majority democracy. Now, it may have taken a step backward under pressure from religious hard-liners, sparking a furor that drew headlines and ire from across the globe.
When pop star Lady Gaga canceled her sold-out June 3 concert in the Indonesian capital, Jakarta, over censorship pressure from the government and threats of violence from conservative Islamic groups, the country's image as the model for a Muslim-majority democracy took a hit.
"This is a basic issue of freedom of expression," said Elaine Pearson, deputy director of the Asia Division at Human Rights Watch. "Whatever one thinks of Lady Gaga's music, Indonesians should have the right to choose whether or not they attend a Lady Gaga concert, not the Indonesian state. The government should be protecting the rights of Indonesians to attend a concert, not cowing to pressure from Islamists who threaten violence."
After the American singer announced the show had been canceled, the Associated Press reported praise from the Islamic Defenders Front, one of the main groups lobbying to keep the performer off stage. Salim Alatas, a leader of the conservative group, said: This is a victory for Indonesian Muslims. Thanks to God for protecting us from a kind of devil.
Meanwhile, on her Twitter feed, Gaga spoke out to her fans in Indonesia: "I'm so very sorry to the fans & just as devastated as you if not more. You are everything to me."
The incident could just be a case of growing pains in the relationship between conservative and liberal religious groups. Or it could be a worrying turn in the struggle between the moderates and the radicals within Islam.
According to Joshua Kurlantzick, Fellow for Southeast Asia at the Council on Foreign Relations, it's more likely to be the former: "It's a small issue that shows the continuing challenge of debate between hard-liners and secularists."
The country "has had an impressive transition" to democratic rule, Kurlantzick said, but "that doesn't mean it's perfect."
That transition refers to when the country emerged from decades of repressive rule in 1999 to form the world's third-biggest democracy -- 86 percent of which is Muslim. And despite bumps in the road, world leaders have hailed the archipelago state as the poster child for how Islamic values and a modern democracy can exist peacefully.
British Prime Minister David Cameron noted in April during a visit that "the people of Indonesia can show through democracy there is an alternative to dictatorship and extremism, that here in the country with the biggest Muslim population on the planet, religion and democracy need not be in conflict." And in 2009, U.S. Secretary of State Hillary Clinton said, "If you want to know if Islam, democracy, modernity and women's rights can coexist, go to Indonesia."
That might well be changing. Lady Gaga's cancellation is perhaps the most high-profile event in a series of anti-liberal developments that may have given conservative Islamic groups a significant foothold and the resolve to aim for higher targets.
"Hard-line religious groups have clearly been emboldened by their success in rallying against religious minorities, and are now picking bigger targets like Lady Gaga. One wonders, who is next?" Pearson said. "Maybe they will threaten violence against Obama next time he visits Indonesia for his views on same-sex marriage?"
Just a year before Clinton's remarks, Indonesia enacted a controversial anti-pornography law, which was upheld by its constitutional court in 2010. The law broadly forbids just about anything that might cause a man to become aroused, from Internet porn to poetry to body language. In addition, it outlaws public performances that could incite sexual desire.
Until now, the law had been enforced primarily against Indonesian stars. In the last year alone, Justin Bieber, Kylie Minogue and Katy Perry have all performed there without an outcry from religious groups. But last year, Nazril Irham, lead singer of a popular band called Peterpan, was sentenced to three and a half years in jail and fined $28,000 for making sex tapes that made it to the Internet. In 2010, the editor in chief of Playboy Indonesia started a two-year prison term for publishing pictures of scantily clad women. (The women in the Indonesian edition aren't nude, unlike those in Western versions of the magazine.) This time, Islamists made the case to subject Lady Gaga to the law, too. The Islamic Defenders Front didn't want her to perform because -- in its words -- she is the "devil's messenger" and only wears a "bra and panties" during her performances. After these protests, the government refused to grant the necessary permit for the concert to proceed.
The long-term effects of Lady Gaga's exit have yet to be seen, but the country's reputation has clearly been tarnished.
"Indonesia's reputation as a model Muslim-majority democracy is sadly under doubt these days," Pearson of Human Rights Watch said. "It's high time the government stood up to these groups, to protect ordinary Indonesian citizens and its own reputation as a country that respects pluralism and religious freedom."
Taylor Collins is an Asia-based freelance writer.
© Copyright IBTimes 2023. All rights reserved.
FOLLOW MORE IBT NEWS ON THE BELOW CHANNELS