Bank Of America Breakup: Leading Analyst Endorses Proposal To Have Bank Consider Split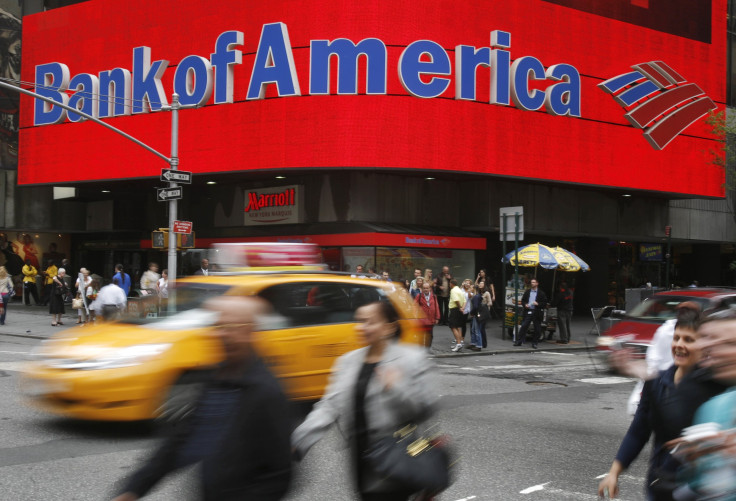 Last week the U.S. Securities and Exchange Commission gave the green light to a proposal to have Bank of America consider splitting itself up – the agency's first victory in its effort to push mega-banks to address their size at shareholder meetings. Now a leading bank analyst has given his support to the campaign.
"We do not see downside for investors in supporting greater transparency," writes Mike Mayo, who analyzes the banking industry for Hong Kong-based brokerage CLSA. He argues in the investor's note that the financial giant might miss its performance targets and has stumbled recently with regulatory hurdles.
A longtime critic of Bank of America, Mayo has rated the bank as a "sell" for nearly three years, even as it has nearly doubled in value. His chief criticisms concern the bank's size and manageability.
"There is evidence of diseconomies of scale," Mayo writes. According to his analysis, the bank would be worth 25 percent more in the market if it were divvied up into smaller firms.
Mayo is also troubled by recent accountability issues. Bank of America was the only U.S. bank to be called out in the Federal Reserve's annual stress tests this year. (It passed, but must resubmit its regulatory filings.) Last year, the bank found a $4 billion accounting goof and was forced by the Fed to suspend shareholder reward programs.
The shareholder proposal, filed by Bartlett Naylor of the organization Public Citizen, would not split up the bank on its own. It merely asks shareholders to vote on forming an independent committee that would weigh the benefits of divesting Bank of America of units unrelated to its core banking business.
The letter follows at least seven attempts by various groups in previous years to break up large banks. Critics contend that such institutions have grown too big to fail, as evidenced by the massive taxpayer-funded bailouts at the height of the 2008 financial crisis. In the aggregate, the country's largest banks are bigger than they were in 2007, partly the result of crisis-era acquisitions.
In a letter to the SEC, which adjudicates between shareholders and companies over disputed proposals, Bank of America noted that it had already shed more than $73 billion in operations and assets – about 3.5 percent of its total current assets.
That fact isn't lost on Mayo. "Over the past few years, Bank of America has simplified," he notes. "The question remains whether it has simplified enough."
© Copyright IBTimes 2022. All rights reserved.
FOLLOW MORE IBT NEWS ON THE BELOW CHANNELS