Bank Earnings Preview: JPMorgan Chase & Co. (JPM), Bank of America Corp. (BAC), Wells Fargo & Co. (WFC), Goldman Sachs Group Inc. (GS)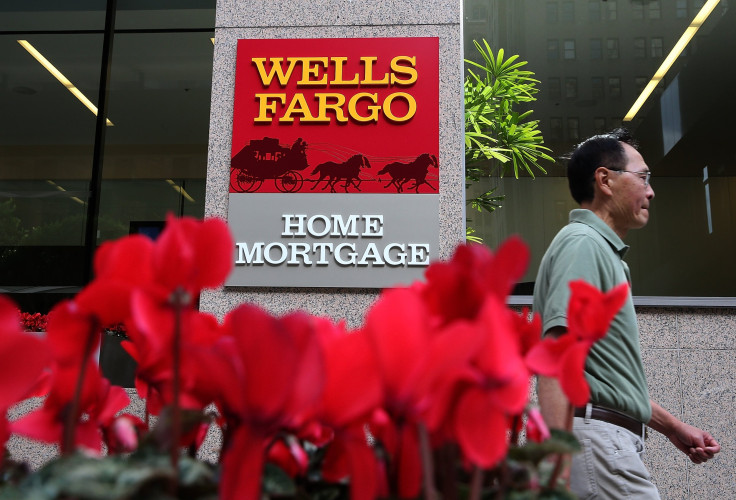 As America's biggest banks begin reporting fourth-quarter results this week, analysts are predicting a mostly gloomy earnings season. The volatility that shook global markets over the summer left a hangover in the final months of 2015 — particularly on Wall Street's trading desks.
It has already taken a toll on financial stocks in the first days of the new year, despite Goldman Sachs Group Inc.'s prediction that 2016 would be a good year to bet on the largest U.S. lenders. The bet quickly soured, and Monday Goldman dropped its long position in financials at a 5.4 percent loss.
Upcoming earnings will show whether Wall Street's titans have weathered a drought of investor confidence amid China's slowing demand and the energy slump. Although 2015 was a banner year for mergers and acquisitions, dealmaking accounts for only a tenth of Wall Street's sales revenue, putting trading front and center. Meanwhile, phased-in regulations from the 2010 Dodd-Frank Act are continuing to erode bank profits.
"The world has changed for this business," said Gerard Cassidy, a bank analyst at RBC Capital Markets. "Throw on top of that the increased volatility in global markets, and expectations are for a rough fourth quarter."
Here's what to expect from the big banks this week.
JPMorgan Chase
JPMorgan Chase & Co. (NYSE:JPM) disappointed analysts' expectations in October, as all of its major divisions reported earnings down year over year. The trading desk took a particularly large hit, with revenue from fixed income, currencies and commodities, also known as FICC, dropping 23 percent.
"What really moves the dial is FICC trading for these companies," Cassidy said, noting that around half of JPMorgan's revenue stems from that division. On Friday, the head government bond trader left the bank, along with a deputy, Financial Times reported Monday.
JPMorgan shares fell nearly 11 percent after the tumultuous first week of trading in 2016 after facing the largest decline of any of the big six U.S. banks.
Analysts expect the pain to have continued in the last months of 2015. Fourth-quarter revenue is projected to come in 2.4 percent below last year's $23.6 billion, according to data collected by Thomson Reuters, with earnings per share at $1.30. Third-quarter earnings per share were $1.68.
JPMorgan will release its earnings report on its own website for the first time this week, tweeting a link when it's live. The new practice, which Goldman Sachs adopted last year, comes after a group of hackers were charged with hacking newswires ahead of market-moving earnings reports.
Wells Fargo
Lender Wells Fargo & Co. (NYSE:WFC) — typically a more staid bank than its Wall Street peers but the best-performing postcrisis big bank stock — beat analyst expectations in the third quarter, with increased revenue from investment securities and lending. Those gains were abetted by the bank's purchases of assets from G.E. Capital, including real estate and automotive loans.
Wells Fargo's total loans ended the year up 8 percent from the year before, as average deposits climbed 6 percent. In October, the bank announced an effort to double its credit card issuance, a line of business that Wells Fargo has neglected in years past.
The company is expected to report continued strength in core lending segments in the fourth quarter. Last week Citigroup analyst Keith Horowitz upgraded Wells Fargo shares from "neutral" to "buy," noting "strong growth trends" and "very strong" core earnings.
Analysts see revenue at Wells Fargo growing 1.8 percent year over year to $21.8 billion, with earnings per share at $1.03, down from $1.05 in the previous quarter.
Citigroup
Financials in general are expected to see earnings growth exceeding 11 percent in 2015. But much of that increase is riding on Citigroup Inc. (NYSE:C), FactSet analyst John Butters said in a research note last week.
Citigroup beat analyst expectations in October, with net income rising to $4.3 billion, up from $2.8 billion in the year previous, when the bank took a $2 billion charge for one-time litigation and restructuring costs. Revenue fell to $18.5 billion, from $20 billion, offset by trimmed expenses.
Analysts expect the nation's fourth-largest lender to post $17.9 billion in net revenue in the fourth quarter of 2015, a 0.7 percent year-over-year gain, with earnings per share rising to $1.13. Fourth-quarter earnings depend on Citigroup's ability to navigate a challenging terrain for fixed-income trading, which made up nearly a third of the bank's third-quarter revenue, despite declining 16 percent from the previous quarter.
The results will also be a bellwether for CEO Michael Corbat's recent efforts at steering Citigroup away from various consumer products and toward stock trading — a particularly risky proposition in today's markets.
Bank of America
In the previous quarter, Bank of America Corp. (NYSE:BAC) reported earnings per share of 37 cents, beating analysts' median 33-cent estimate. That was despite an 11 percent drop in FICC trading amid uncertainty regarding the timing of the Federal Reserve's interest rate rise.
Since the financial crisis, Bank of America has struggled to slim down on its vast and unwieldy business, cutting costs and shearing entire divisions as it booked multibillion-dollar penalties. Headcount at the bank has decreased by about 75,000 employees in the past four years, Bloomberg reports.
Despite the changes, expectations remain downbeat concerning the fourth quarter. Analysts see Bank of America reporting earnings per share of 26 cents on net earnings of $19.8 billion.
In December Bank of America CEO Brian Moynihan moved to assure investors ahead of muted trading revenue. "There's nothing new here. The fourth quarter is always quieter," Moynihan said. "Do we wish there was more activity? Yeah."
(JPMorgan Chase reports earnings Thursday, with Wells Fargo and Citigroup releasing results the next day. Morgan Stanley and Bank of America are scheduled to post earnings Jan. 19, followed by Goldman Jan. 20.)
© Copyright IBTimes 2023. All rights reserved.