Bank Of England Cuts Growth Outlook, Backs Market's View On Rates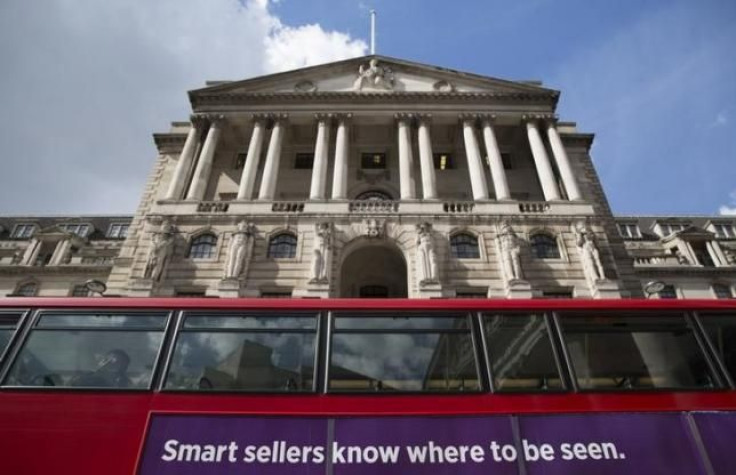 The Bank of England cut its forecasts for British economic growth over the next three years on Wednesday and cautiously backed market expectations that it will only start to raise interest rates in around a year's time.
The central bank now expects economic growth this year of 2.4 percent, it said in its quarterly Inflation Report, down from a 2.9 percent projection in February and closer to most other economic forecasters' expectations.
Britain was the fastest growing of any major advanced economy last year, as it made up ground lost during the financial crisis.
BoE Governor Mark Carney said inflation was likely to pick up later this year.
"Although it could temporarily turn negative in the near term, inflation is expected to pick up notably towards the end of the year as past falls in prices drop out of the annual comparison," he said, speaking a press conference.
"The MPC (Monetary Policy Committee) expects the past falls in commodity prices to be relatively short-lived and will therefore look through them in setting policy," he said.
Sterling fell to a day's low against the dollar and British government bond futures jumped higher, before retreating, as Carney spoke.
Economic growth slowed at the start of 2015 and Prime Minister David Cameron's newly elected Conservative government faces a major challenge to set it on a more sustainable path.
The Bank said its growth downgrade was due to the fact that interest rates were likely to increase faster than markets had expected three months ago, as well as due to a stronger currency and a weaker outlook for house building and productivity.
After saying in April that the pace of rate rises priced in by markets was unusually slow, policymakers now appear more happy with what markets have priced in since.
"A path that implied only gradual rises in Bank Rate over the next few years, broadly in line with the current market path, remained consistent with absorbing slack and returning inflation to the target within two years," the Bank said.
The Bank's forecasts are based on market pricing for interest rates to rise from their record-low 0.5 percent in the second quarter of next year -- three months earlier than expected in February -- and to average 0.9 percent in the last three months of 2016. The Bank has kept interest rates unchanged for more than six years.
However, policymakers said they were still concerned about the very limited increase in global interest rates priced in by bond markets in the longer term.
Global bond yields have increased sharply since the MPC's May 8 meeting, as investors respond to rising oil prices and the increasing likelihood of U.S. interest rates rising.
The Bank said that it expected British inflation, which currently stands at a record-low zero percent, to return to its 2 percent target in two years' time, little changed from its forecast three months ago.
But as well as cutting 2015's growth forecast, it also lowered projections for 2016 and 2017 to 2.6 percent and 2.4 percent respectively.
"Growth is forecast to be at or a little below its historical average rate throughout the forecast period," the Bank said. Growth could be slower due to increased risks of economic problems coming from Greece, it added.
The central bank also cut its forecast for wages, saying they will have risen 2.5 percent by the end of this year compared with an earlier forecast of 3.5 percent growth, before wage growth picks up to 4 percent next year.
© Copyright IBTimes 2023. All rights reserved.