Bankrupt American Airlines Seeks OK For Big Lawyer Fees As It Seeks More Worker Pay Cuts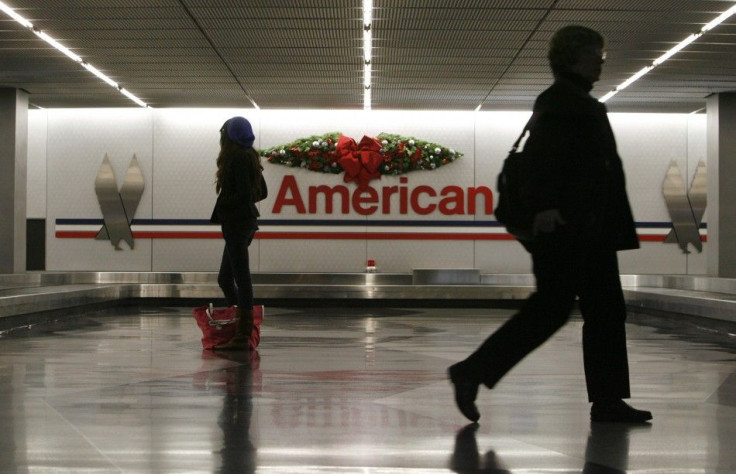 American Airlines' bankrupt parent AMR Corp., which is arguing in federal court it needs hundreds of millions in contract concessions from its employees, is seeking court permission to spend hundreds of thousands to attract hedge fund investments. which could reach $2 billion, according to published reports.
In a court filing Wednesday, AMR, which is currently undergoing a re-structuring under Chapter 11 creditor protection, asked the federal magistrate for permission to pay the fees of lawyers and financial advisers doing work on behalf of 10-member coalition of large AMR bondholders to facilitate an investment in the company that is said to be between $1 billion and $2 billion, the Dow Jones Newswires reported.
The bondholders' group -- which combined holds some $600 million in AMR debt -- is likely to offer the investment in exchange for an equity stake in the company, Dow Jones said.
Bankrupt companies undergoing re-organization under Chapter 11 must have new expenses approved by the federal judges overseeing their cases. AMR is specifically requesting the court let it side aside the $150,000 monthly fees charged by the creditor group's financial adviser, Houlihan Lokey Howard & Zukin. It also seeks to pay the hourly fees of Milbank, Tweed, Hadley & McCloy LLP, the law firm representing the bondholders, where certain top lawyers bill $1,140 per hour.
"The engagement of the Group presents a reasonable prospect of obtaining commitments that may facilitate the reorganization efforts," AMR said in the filing.
A spokesperson for the company added in a statement that "it is not at all unusual for large debtholders to express an interest in participating in the formulation of a plan of reorganization and to potentially provide equity or other financing as part of a plan."
"It also is not uncommon for the debtor to pay fees related to this effort," AMR spokesman Sean Collins told The Wall Street Journal.
The development is being interpreted as an effort by the AMR management to leave no stone unturned in a bid to emerge out of bankruptcy as a stand-alone entity. Previously, it had been widely believed the most logical -- and perhaps only -- way for AMR to re-structure the company would be to accept a merger offer from rival U.S. Airways.
But a merger might leave current management out in the cold, and showing U.S. Airways that AMR could come out of bankruptcy without necessitating a corporate tie-up gives American more leverage in acquisition talks.
AMR filed for Chapter 11 protection in November 2011, saying it would re-structure the company's cost structure by forcing its unionized workforce to accept concessions, or give-backs, on its collective bargaining agreements.
Since then the company extracted $156 million in give-backs from its 11,000 mechanics and $4.5 million from its 1,200 clerks. It is now negotiating a further $315 million in paycuts from its 10,000 pilots, but has failed to reach an agreement given the toxic relationship between that labor group and the management.
A vote on contract concessions, tentatively approved by leadership of the pilots union, was overwhelmingly rejected Aug. 9 by the union membership, in spite of the fact it opened the door for even more draconian cuts to be imposed by court fiat.
The reason: Pilots simply don't want to deal with American, hoping to establish a better working relationship with new bosses once AMR is forced into a merger with U.S. Airways.
The credit market reacted positively to the news. Yields on benchmark 2016 AMR bonds, which dropped to yield over 18.6 percent when AMR announced its Chapter 11 re-organization last year, recently rose in price, yielding 8.1626 Thursday.
Shares of AMR Corporation, which are likely to be nearly or totally worthless following any bankruptcy resolution, and exist as a plaything for day traders in the over-the-counter "pink sheets" market, also edged up Thursday to 45.6 cents per share, from 45 cents at Wednesday's close.
© Copyright IBTimes 2023. All rights reserved.