Barack Obama At Stanford Tells Entrepreneurs Brexit Speaks To Their Same Challenges Of Globalization
The day after a vote that will lead Britain to exit the European Union, U.S. President Barack Obama urged American entrepreneurs to embrace increasing interconnectedness in the world.
"The world has shrunk," Obama said in a crowded hall at Stanford University Friday at the 2016 Global Entrepreneurship Summit, an annual event that the president founded in 2010 and that is being staged in Silicon Valley for the first time this year. "It is interconnected. All of you represent that interconnection. Many of you are catalyzing it and accelerating it. It promises to bring extraordinary benefits, but it also has challenges."
Obama did not intend to speak about the British exit of the European Union, but he did say the longtime partnership between the U.S. and the U.K. would continue despite the voters' decision. He also said he spoke Friday morning to Prime Minister David Cameron, who announced after the EU referendum that he would step down in the coming months, and German Chancellor Angela Merkel.
"We agreed that our economic and financial teams will remain in close contact as we stay focused on ensuring economic growth and financial stability," Obama said.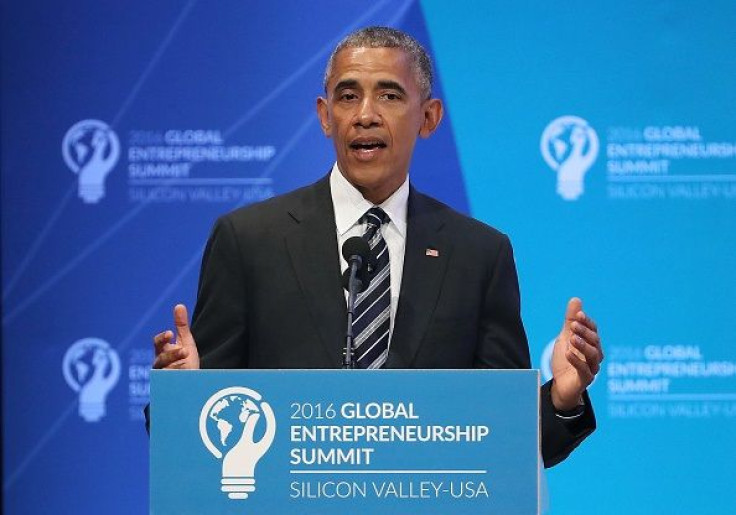 More than 1,200 entrepreneurs from 170 countries were welcomed at the summit this year at the epicenter of the U.S. technology industry. "This is a place that celebrates our ability to question, to reimagine, to create new ways to connect with each other," the president said.
The final day of the three-day event, Friday began with speeches from U.S. Secretary of Commerce Penny Pritzker, AOL co-founder Steve Case and Google CEO Sundar Pichai. Obama gave a keynote speech, addressing the need for more diversity in the tech industry and support from governments worldwide.
Today, young entrepreneurs from Cuba were able to join @POTUS at #GES2016 for the first time in history. https://t.co/iuFvdfQUW7

— Ben Rhodes (@rhodes44) June 24, 2016
Obama was then joined onstage by Facebook CEO Mark Zuckerberg and three entrepreneurs from around the world: Jean Bosco Nzeyimana of Rwanda, Mariana Costa Checa of Peru and Mai Medhat of Egypt.
The discussion centered on ways in which the U.S. and other countries can help support entrepreneurs. Obama noted his administration's TechHire initiative calls on startups to publish data on diversity and hire people of all backgrounds. Thursday, more than 30 companies in Silicon Valley, including Intel, Lyft and Spotify, signed a new Tech Inclusion Pledge.
"You deserve the same chance to succeed as everybody else," Obama said. "We can't leave more than half the team on the bench."
The panelists spoke of their own commitments to entrepreneurship despite the challenges. "If you don't start, no one will come and join you," said Jean Bosco Nzeyimana, founder and CEO of Habona, a startup that provides environmentally friendly products.
While Zuckerberg runs one of the wealthiest tech companies in the world, he said the best businesses are not seen as solely enterprises. "To me, entrepreneurship is about creating change, not just creating companies. The most effective entrepreneurs that I've met care about some mission," he said.
CommerceGov: RT Stanford: Mark Zuckerberg: "If you do something good ... eventually some portion of that good will… https://t.co/Bbp3kLPICB

— SDIDEC (@SDIDEC) June 24, 2016
But the speakers also called for more support. Mai Medhat heralded Facebook as something that not only helped with the Egyptian Revolution of 2011 but has provided resources for entrepreneurs such as herself. However, the Egyptian government blocked Free Basics, Facebook's app for providing free internet services.
Obama concluded the event by speaking about his personal commitment to change. If he had not listened to the "20-year-olds" who suggested he use social media during his 2008 presidential campaign, he might not have been sitting at the event Friday, he said.
© Copyright IBTimes 2022. All rights reserved.
FOLLOW MORE IBT NEWS ON THE BELOW CHANNELS