Barcelona Glowers At 'Space Hotel' (And The Artificial Island It Would Sit On)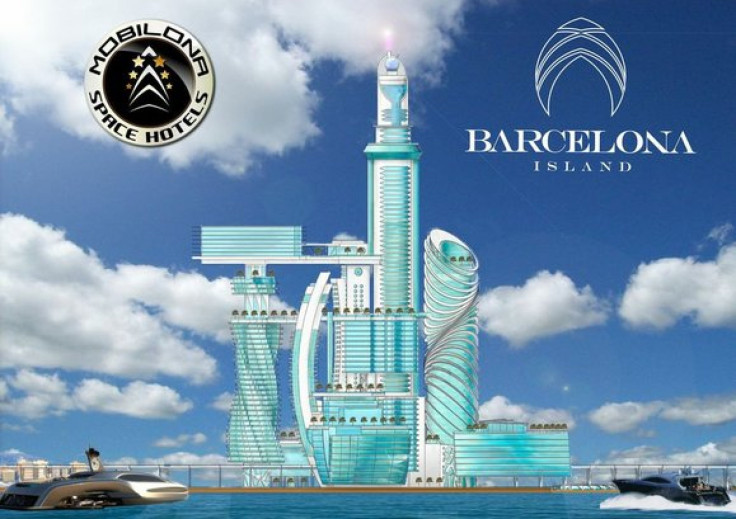 It's like a slice of Dubai off the coast of Spain -- and that's exactly why officials in Barcelona don't want it. Plans for the manmade "Barcelona Island" include a 2,000-suite "space hotel," "zero-gravity spa," "24-hour space mall" and the "world's first covered marina," among other gimmicky features one typically associates with the Middle Eastern playground, and they've been met with harsh criticism from Barcelona city officials, who have vowed to review the proposal as developers seek planning permission.
Barcelona Island is the brainchild of California-based Mobilona and Barcelona-based architect Erik Morvan. Jerome Bottari, global CEO of Mobilona, confirmed his company's plans for a €1.5 billion ($1.93 billion) initial investment last week, saying Mobilona would hire local talents and do business with outstanding local companies. "Barcelona is one of the greatest cities in the world, and we welcome everyone to work with us to turn Barcelona Island into Europe's new hotspot," Bottari said.
A spokesperson for the city's planning department, however, told local news outlet La Vanguardia that the space hotel seemed more suitable for somewhere like Dubai. "Any plans to advance Barcelona should adjust and fit the model of the city," the spokesperson said.
Barcelona Mayor Xavier Trias, meanwhile, told the Catalan news channel 3/24 that the city had "no need or desire to take on projects of this nature," though he admitted City Hall would give the proposal due consideration. "We are a city of culture, knowledge, of creativity, and of innovation, and our project will follow a different path," he said. "We have no intention of turning Barcelona into a spectacle."
The space hotel for those "who wish they could travel to distant galaxies" would be Europe's tallest at 984 feet. It would also be "carbon-zero," the developer says, and feature rooms equipped with immersive wall and surface displays that provide panoramic impressions of the universe (though each could be turned off to enjoy the of-this-world sea views outside).
"Immersive displays inside Mobilona Space Hotel on Barcelona Island will provide guests with stunning views of some of the most remote galaxies in our universe," Bottari explained. "Hotel guests will also be able to participate in a 'space training' to experience a form of weightlessness in a vertical wind tunnel." Nightly rates for hotel suites would range from €300 ($386) to more than €1,500 ($1,925), while timeshares would start at €20,000 ($25,840) for an annual one-week occupancy right.
If the fantastical project doesn't pan out in economically strapped Spain, Emirates 24|7 reports that Mobilona has received proposals for the construction of its space hotels in Doha, Abu Dhabi and Dubai -- all locations where such a project would easily "fit the model of the city." Forthcoming proposals in Los Angeles and Hong Kong, however, may face more earthly challenges.
© Copyright IBTimes 2023. All rights reserved.
FOLLOW MORE IBT NEWS ON THE BELOW CHANNELS