Barnes & Noble May Separate Nook Business; Stock Falls 19 Percent on News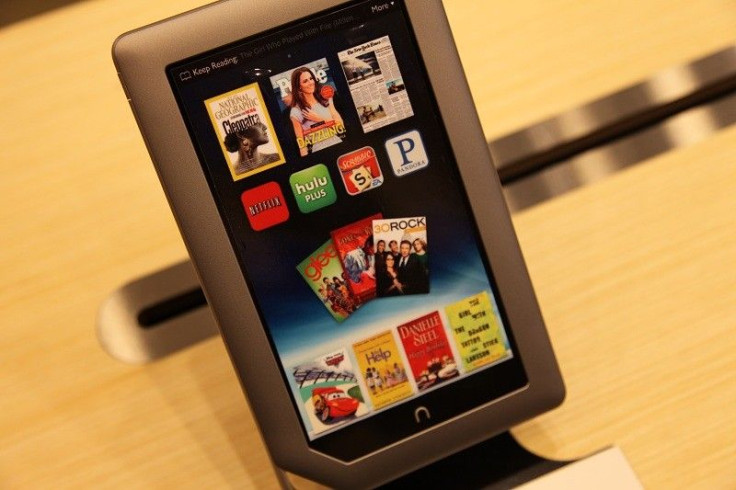 Sales are good. Customer feedback is good for Barnes & Noble, Inc. Simply, BN's (NYSE: BKS) Nook family of tablet and e-reader products is selling ahead of most expectations. And most people that buy it, like it.
But for a bookseller to fund and drive the progress of a line of electronic gadgets, that success also comes with a challenge. There's value in the Nook for BN, America's largest bookseller, but there's also a lot of cost.
Prices are coming down in the e-reader and tablet spaces, thanks in part to BN competitor Amazon, which launched its new Kindle Fire tablet at a losing proposition against hardware costs to gain immediate market share. Amazon has also slashed prices on its Kindle e-readers, putting further pricing pressure on BN's Nook products.
The Nook Tablet costs $249. The Amazon Kindle Fire costs $199. Do the math. BN is a struggling bookseller. And while Nook sales jumped 70 percent this past holiday season it comes at a cost if the company wants to continue to grow the technology gadget side of its business.
And there lies the company's challenge. As a result of Nook program costs, BN said it expects a per-share loss of $1.10 to $1.40 this quarter -- less than previously expected. Thus, BN is now exploring a plan to separate its Nook business.
We see substantial value in what we've built with our Nook business in only two years, and we believe it's the right time to investigate our options to unlock that value, Chief Executive William Lynch said, in a statement.
Shareholders gasped on the news, sending the company's stock down almost 19 percent at mid-afternoon Thursday, on a decline of $2.55 per share to $11.01. Earlier in the trading day BN's stock had dropped 24 percent on the news before making a modest recovery.
Separating Nook from the Barnes & Noble brand would be a huge mistake, said Simba Information senior trade analyst Michael Norris, in an interview with The Associated Press. A lot of people who buy e-books buy physical books as well. Do they really want to tamper with that kind of marriage?
BN's Lynch didn't detail exactly what the company wanted to do with the Nook. He only said BN is exploring a range of options.
And that's the problem for investors. BN's stock has held up relatively well in recent months considering that the brick-and-mortar book business has been in fast, steady decline. Borders, America's former No. 2 bookseller, filed for bankruptcy and closed entirely earlier this year. BN has hoped to avoid that fate, pushing hard into the digital space with the Nook.
Most agree it's working, in that BN has established that the Nook is a product that consumers want and are willing to recommend. The company also expects to generate some $1.5 billion in 2012 revenue on its Nook business. But if funding the product in the effort to keep up with Amazon is such a drag on BN's core business that it simply can't make the two work together then there's a problem.
If BN's Nook business becomes one, and the bookselling business is another, one can surmise that BN may eventually be all but done as a brick-and-mortar presence. That's what many investors apparently don't want to stick around for.
© Copyright IBTimes 2023. All rights reserved.