'Battlefield 1 - They Shall Not Pass' DLC Trailer Shown Ahead Of Release Date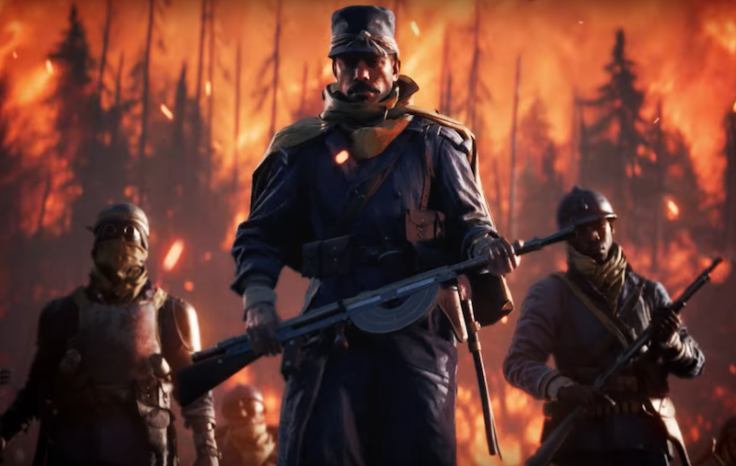 Game publisher EA announced Thursday that the 'They Shall Not Pass' DLC expansion for Battlefield 1 will arrive on March 14. As part of the announcement, the company also published a new trailer for the upcoming Battlefield 1 DLC.
The 'They Shall Not Pass' expansion for Battlefield 1 finally adds the French army into the game and includes new France-set maps, weapons and vehicles, according to VG 24/7. The upcoming DLC will also come with two new Operations, as well as the new game mode Frontlines.
The newly released trailer for 'They Shall Not Pass' features both cinematic clips and what looks like actual gameplay footage. We get to see short clips of the new maps, namely Verdun Heights, Fort Vaux, Soissons and Rupture.
The trailer features a lot of gunfights and even some melee combat, while the latter part of the trailer also shows that the expansion has more vehicle-centric gameplay as well. The name of the expansion was also given an origin: it was the battlecry of the French army during The Battle of Verdun.
Although EA says 'They Shall Not Pass' will be available starting on March 14, that will only be reserved for players who are Premium Pass holders for the PS4, Xbox One and the PC. For everyone else who haven't bought the $50 pass will have to wait until March 18 to get the new DLC.
The Battlefield 1 DLC 'They Shall Not Pass will be the very first expansion for the game. 'In the Name of the Tsar,' 'Turning Tides' and 'Apocalypse' are the three other expansions that have already been announced. The other three expansions don't have release dates just yet, according to GameSpot.
In other Battlefield 1 related news, the game will be available as a free trial on the Xbox One and PC starting tomorrow, March 3. Unfortunately, a free trial for PS4 gamers won't be available.
© Copyright IBTimes 2023. All rights reserved.