The Best Apple iPad Accessory Ever: Meet The Ultrathin Keyboard Cover From Logitech
This is hands-down, without a doubt, my new favorite accessory. If you own an iPad 2 or a third-generation new iPad, you need to buy Logitech's Ultrathin Keyboard Cover. Right now.
It's $100. If it means going a week without milk, do it. Just buy this Keyboard Cover.
Don't get me wrong, I love the iPad by itself. It's fast, it's powerful, and it's brilliantly simple. As Steve Jobs would say, It just makes sense. But one thing that didn't make sense with the iPad was the keyboard.
Apple's virtual keyboard solution for the iPad was a nice enough idea: Like the iPhone version, anytime you need a keyboard for typing, one will slide up from the bottom of the screen. When you don't need it, it disappears. Sounds good, right?
Unfortunately, Apple's built-in solution doesn't quite cut it for heavy typers. You have no idea which keys you're typing, and it's impossible to type without looking directly at your fingers touching the screen. This makes typing slow and unfortunately painful.
Apple looked to supplant the keyboard with its Voice Dictation features, but while that technology is extremely useful, it's not perfect yet. What most users want is an ability to type on their iPad as if they could type on a keyboard, but not have it interrupt the fluidity of using an iPad.
Logitech's solution does all of this and more. And best of all, it fits Apple's desired design: When you need it, it's there, and when you don't, it's not.
Once you charge and sync Logitech's Bluetooth keyboard with your iPad, the keyboard itself may take a minute to get used to -- it's not a full-sized keyboard where your fingers can stretch out -- but after a few minutes, the 9.7-inch keyboard becomes extremely comfortable for speedy typing. The keyboard itself is also extremely nice to type on, and keys have a satisfying crunch to them. Guys with sausage-type fingers may struggle a bit, but most users will find that typing on this physical keyboard feels completely intuitive with the iPad.
Going from typing to touching feels more fluid than you'd think. Since the keyboard doesn't stretch very far, your hands dont' need to move far to grip the sides of the iPad in landscape mode to navigate. If you don't feel like leaving the keyboard, however, Logitech has a decent number of solutions for you directly on the keyboard itself.
You can activate and lock the iPad from the keyboard, and you can also search the iPad or the Web at any time, as well as cut, copy, paste, and rearrange text. Logitech was also decent enough to throw in some sound controls for the iPod directly on the keyboard.
How It Cracks Microsoft's Surface
Microsoft thought its new tablet had Apple beat in all the right ways. It was lightweight, more affordable and slightly larger option than the iPad, and it had something Apple users desperately missed: A keyboard, and a kickstand.
Apple's keyboard was virtual, and its kickstand -- the Smart Cover for iPad -- was insufficient for quality typing AND viewing. Logitech recognized that the Smart Cover had the right idea -- protect the iPad and become a function for a keyboard -- but ran in a different direction with it. Consumers will find this direction much more familiar and enjoyable.
Microsoft decided to build a kickstand directly into the tablet to optimize viewing angles, and its protective screen cover also had an ultra-thin keyboard built directly into it. It would be there when you need it, and disappear when you don't.
Logitech's Smarter Stand for iPad closely resembles what Microsoft came up with, but it's a vast improvement. That's mainly because the iPad is a proven product, and in many ways a superior tablet to the Microsoft Surface.
Logitech accomplished something rare with the Smarter Stand for iPad. It's not very often that companies outside of Apple can build a hardware accessory that actually integrates Apple's hardware and software perfectly. But Logitech did just that, and more impressively, it integrated the technology better than Apple could.
Moving from typing to touching is fluid, and using them together can make typers even faster than they are on laptops. Without needing to scroll up paragraphs, you can use your fingers to navigate the iPad with a breeze, and suddenly select various random points and begin typing. With the options to select entire blocks of text with a few simple keyboard presses, Logitech gives the iPad even more smart typing options than what Apple built in.
Better yet, Logitech solves another iPad issue it didn't mean to: It's an incredible kickstand. The Smarter Stand for iPad uses the same magnetic technology to lock the iPad into place, so when it's in its typing stance, users can pick up the tablet and the keyboard won't fall off, even if with some mild shaking. The Smarter Stand snaps on magnetically and holds the iPad at a good enough angle when open -- even though it can't be adjusted -- but it's perfect for table or lap typing.
Maybe best of all, combining Logitech's Ultrathin Keyboard Cover to your iPad makes it not only attractive and sensible but extremely lightweight. In fact, if you have the new iPad, combining it with with the Ultrathin Keyboard Cover happens to match the maximum thickness of a MacBook Air, but it's actually a few ounces lighter than the lightest MacBook Air. Talk about portability. Whew.
In all, Logitech effectively imbues the iPad, and its users, with more power. Over their products, their projects, and their overall experience on the iPad. It's absolutely brilliant, and it's a must-buy.
Written on my iPad, with the Ultrathin Keyboard Cover from Logitech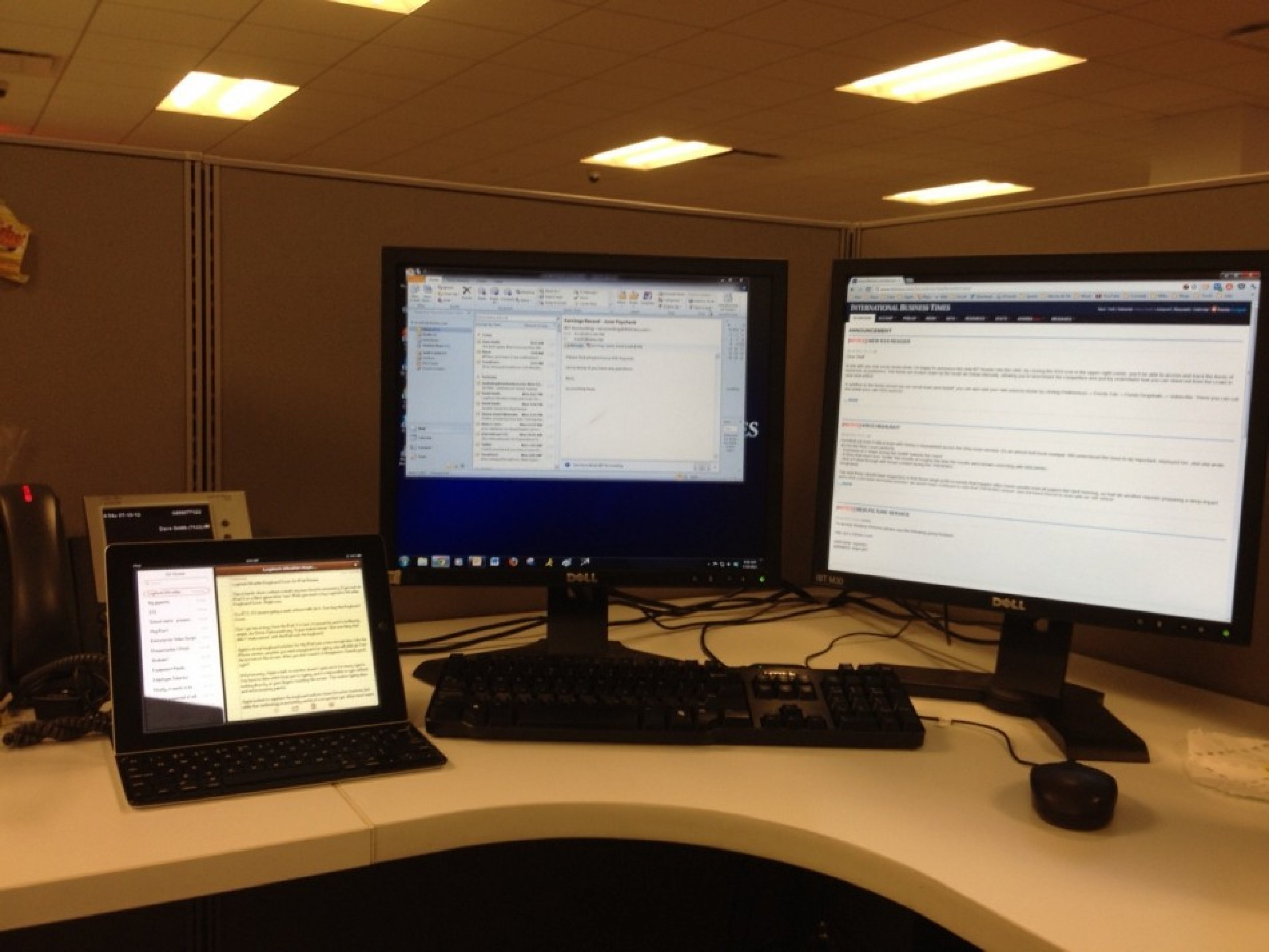 © Copyright IBTimes 2023. All rights reserved.
FOLLOW MORE IBT NEWS ON THE BELOW CHANNELS