iPad Mini May Release In October: Why Apple Needs A Low Price To Extinguish The Kindle Fire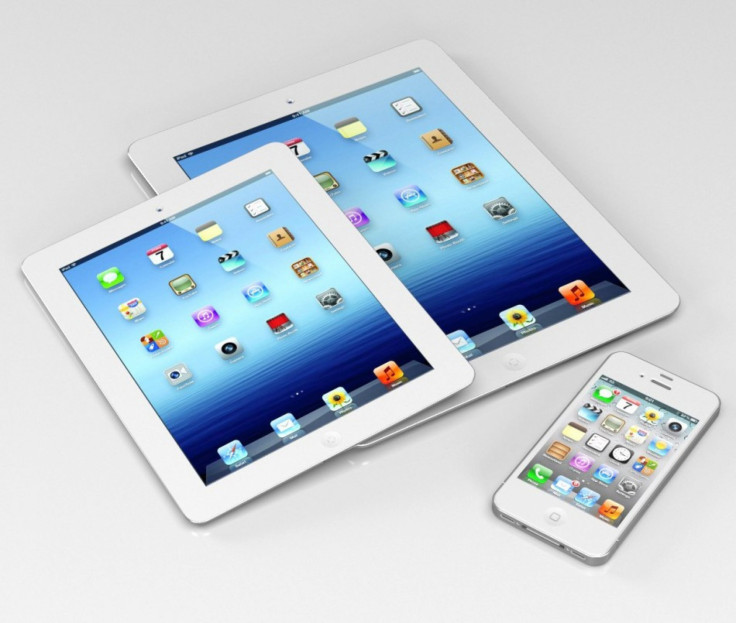 Take the iPad, the world's most popular tablet, and hit it with a shrink gun. Shoot down its $499 price tag, too, and that's exactly what officials, experts and analysts believe Apple will release this fall, most likely in October.
Bloomberg and The Wall Street Journal have reported that Apple is working with its foreign supply chains in Asia to ramp up mass production for a tablet with a smaller screen than the iPad. Two officials at the component suppliers said the tablet's screen is likely smaller than eight inches; all previously-released iPads have a 9.7-inch screen.
The latest reports line up with the original reports of the iPad Mini, which actually surfaced before Apple released the new iPad. On Feb. 13, the Wall Street Journal reported Apple was testing an 8-inch iPad in its labs, which the company believed could be introduced alongside the new iPad in March. An earlier report from Apple's Taiwanese supply chain also said Apple would release a second, smaller tablet in October. Even older reports similarly stated Apple would release a 7.85-inch iPad after the iPad 3, which would reportedly upgrade its hardware specs throughout the device, and come with killer applications to compete with Android or Windows-based tablets.
Apple insider and DaringFireball host John Gruber was asked by his co-host Dan Benjamin about the fourth-generation iPad during their Apr. 4 podcast (If you want to listen to Gruber's entire response on the site, start listening at the 77:46 mark):
The question is this: Is Apple going to come out with a 7-inch iPad, and if so, why not? Benjamin asked.
Well, I don't know, Gruber said. What I do know is that they do have one in the lab. A 7.85-inch iPad that runs at 1024 x 768, and it's just like the 9.7-inch iPad shrunk down a little bit. Apps wouldn't need to be recompiled or redesigned to work optimally on it, it's just the iPad, smaller. Which I didn't believe at first, but I've heard this before, and I've done a little screenshot testing on an iPad.
Even though Gruber doesn't know when the fourth-generation iPad will be released, most reports said October 2012 was the target date. Assuming Apple is already planning to launch a new iPhone around that time, it may opt to not steal its own spotlight, but don't be surprised if Apple introduces a mini iPad just for the sake of having an extra, low-priced item to sell during the Christmas season.
iPad Mini: It's All About The Price
The iPad is a proven product. It's thin, light, powerful, intuitive and beautiful, much more so than any other tablet available. The only major issue with the iPad has been the high price of entry.
Apple has always started selling its newest iPad at the $499 price point; the new iPad sells for that now, while the iPad 2's price has dropped to $399. Yet, this high threshold to enjoy Apple's tablet experience has forced many users to turn to competitively-priced tablets from Amazon, Barnes & Noble, and now Google. Amazon's Kindle Fire and the new Nexus 7 tablet from Google both sell for $199; Barnes & Noble's Nook Tablet sells for $250.
These other tablets, while quality products in their own right, have no real advantages over the iPad besides their price. If Apple can correctly price the iPad Mini, it could effectively wipe out these tablet competitors.
The rival tablets from Amazon, Barnes & Noble and Google have all arrived in the last year; the most recent arrival, Google's Nexus 7, has the best chance or surviving because of the value behind Google's brand and its popular operating system. Amazon sells quality e-ink tablets and Barnes & Noble's Nook has received great reviews, but all pale in comparison to the iPad. If Apple shrinks the iPad so it can pick on someone its own size, it will make mince meat out of the Kindle Fire and the Nook Tablet.
This is no fault of Amazon's or Barnes & Noble's; simply put, these products are simply too new and have too many bugs and software issues characteristic of a new tablet. Amazon and Barnes & Noble are new to the tablet party -- their first tablets debuted last year -- but there were a number of issues with controls, buggy features and issues with usability of the platform. Both companies have issues updates to address and mitigate some of these complaints, but reviews and analyses have found innumerable issues with these devices that aren't named iPad.
Apple has the jump on all of these companies. Steve Jobs and his team began work on a tablet back in the early 1990s, and even when the company was working on the iPhone in the early 2000s, tablet functionality was always kept in mind. In 2012, the iPad isn't just the best tablet out there, it's the only tablet out there that anyone takes seriously.
The competitive landscape may change soon, now that the Nexus 7 is coming and Microsoft also announced plans to release its first tablet, the Surface, with a 10.6-inch screen and a few features the iPad lacks, like a kickstand and a physical keyboard. These recent announcements has likely spurred along the development of the Mini iPad, which would become an instant hit with lower-income families and children that want an iPad for themselves. But Apple needs to nail the price on this.
If the iPad Mini costs any more than $250, the company will have failed. The point of the iPad is to make computers accessible, and if the Mini fails to get into consumers' hands -- as unlikely as that is -- Apple risks cannibalizing its own iPad sales and letting newcomers into the space unchecked. Apple needs to hit that sweet $199 price tag. The iPad's success for the next decade depends on it.
© Copyright IBTimes 2023. All rights reserved.