Best Buy 'Black Friday In July' Deals: Avail Discounts On Apple iPhone 6, iPads, Xbox One, PlayStation, TVs, Laptops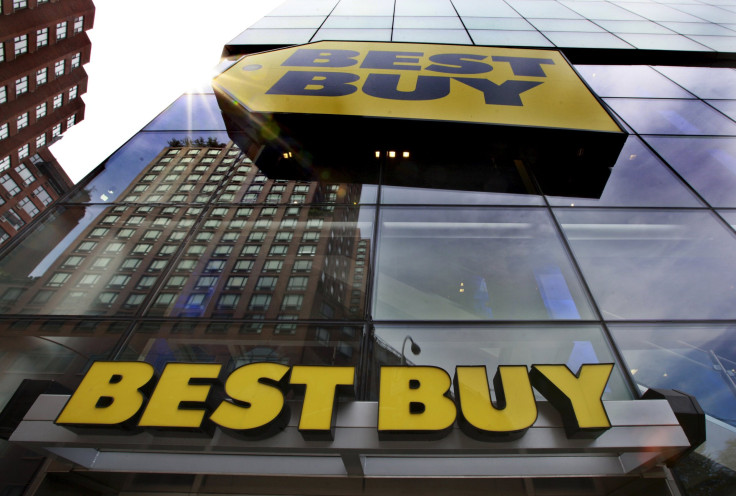 Following the trend set by Amazon, Wal-Mart and other e-retailers, Best Buy is now offering serious discounts under what it calls "Black Friday In July" on gadgets like smartphones, laptops, tablets, TVs and gaming consoles. The devices on sale are from Apple, Samsung, Asus, Toshiba, Dell, Microsoft, Sony and Sharp.
The special Best Buy "Black Friday In July" event is scheduled for this week between July 24 and July 25. Potential buyers should note that the discounted deals on gadgets are exclusive to Best Buy's online store, notes BGR. In the meantime, all new and existing members can check out the promo page of Best Buy to take advantage of the discount deal: Black Friday In July. Notably, new customers can sign up for a membership free of charge at the same site.
Here is the list of the products/gadgets and their respective prices:
Apple iPhones, iPads, MacBook
The 16 GB memory clad Apple iPad Air 2 is now available for $379.99. Buyers will save $125 with this deal.
The 64 GB storage variant of the iPad Air 2 will set the buyers back by only $474.99. Here again, potential buyers can save a good $125.
The high-end iPad Air 2 with 128 GB memory capacity can be purchased for $574.99. Notably, buyers will save $125.
The Apple iPad Mini 3 with 128 GB storage will cost only $449.99, with a discount of $125.
The well-received Retina MacBook Pro with 15-inch display will set the buyers back by $1,749.99. With this deal, buyers can save a whopping $250.
The top-of-the-shelf Apple iPhone 6's 128 GB variant can now be availed for $199.99, with a contract from Sprint. Customers can save $200 with this killer deal.
Similar to the smaller iPhone 6, the 128 GB variant of the jumbo Apple iPhone 6 Plus can be purchased for $299.99, under Sprint's contract and can save $200.
Laptops
Potential buyers can save $50 on the 11.6-inch display clad Asus Windows laptop at $149.99.
The Dell Inspiron 5000 Series laptop with 15.6-inch screen can now be purchased for $449.99 with a $100 discount.
The 15.6-inch display clad Toshiba Satellite laptop will now set the buyers back by $249.99. With this deal, buyers can save $80.
TV Sets
Sharp's 55-inch 1080p Smart HDTV can be purchased for $899.99, with a discount of $100.
The 46-inch Samsung 1080p HDTV will set the buyers back by $399.99 with a killer $200 discount, whereas the 40-inch Samsung 1080p Smart HDTV will cost $429, with a discount of $70.
Gaming Consoles
Avail $50 gift card for free with the purchase of Xbox One console from Best Buy.
Purchase PlayStation 4 from Best Buy and get a free PlayStation TV system worth $79.99.
© Copyright IBTimes 2023. All rights reserved.