Best Buy Co Inc (BBY) Earnings: Two Reasons Why Black Friday 2013 Promotions Will Threaten Fourth Quarter Profit [VIDEO]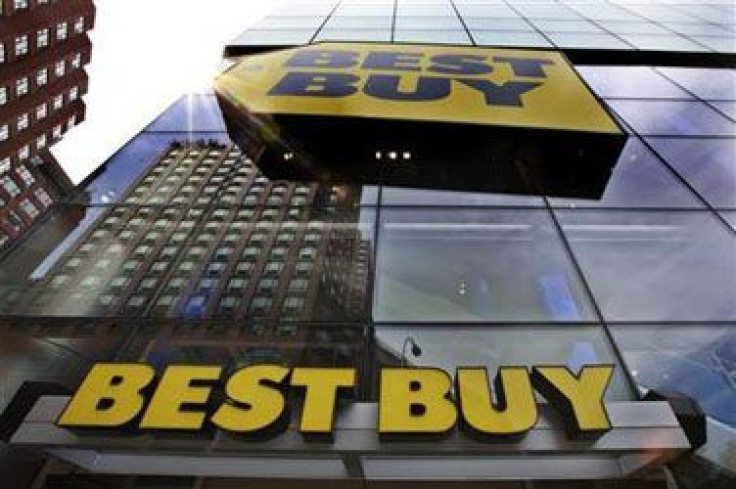 Just ahead of the holiday shopping season, Best Buy Co., Inc. (NYSE: BBY) on Tuesday posted fiscal third-quarter earnings of $54 million, or 16 cents a share, compared with a net loss of $10 million, or 3 cents a share, a year ago. Meanwhile, revenue fell to $9.36 billion from $9.38 billion during the same period a year earlier.
Although the consumer electronics retailer issued stronger-than-expected results for the quarter, Best Buy warned Black Friday 2013 promotions during the holiday shopping season may threaten fourth-quarter profit.
"We are encouraged by the progress we have made against our Renew Blue priorities and are optimistic about the strength of our holiday-specific merchandising, marketing and customer experience initiatives," said Best Buy EVP, CAO and CFO Sharon McCollam in the company's third-quarter earnings statement. "We are also optimistic about the traffic generation and holiday electronics focus that the two new gaming launches will bring to our stores and our website – albeit at low margins."
Wall Street had expected the consumer electronics retailer to report earnings excluding items of 12 cents a share on revenue of $9.36 billion, according to analysts polled by Reuters.
"But as we enter the fourth quarter, we are also highly aware of the public statements that are being made by our competitors as it relates to their promotional plans for Black Friday and the fourth quarter," McCollam added. "We know that we will be facing an increasingly promotional environment. As such, we want to give you color on our response to this competitive situation and our perspective on how these pressures could financially impact the fourth quarter."
Best Buy has joined a long list of retailers planning to open their doors on Thanksgiving Day to compete against the Black Friday promotional rush, including stores such as Wal-Mart Stores, Inc. (NYSE: WMT), Macy's, Inc. (NYSE: M), Target Corporation (NYSE: TGT) and Kmart. However, Best Buy cautioned in its holiday outlook that promotions during the fourth quarter may have a negative impact on gross margin.
"They're definitely going to be, and Best Buy is a company because they have so much bricks and mortar that they've got to pay for, unlike an Amazon or unlike other retailers that are predominately in the electronic arena," said Keith Bliss, senior vice president and director of sales & marketing at Cuttone & Co., Inc. "They've got two problems. Their first problem is they have an awful lot of competition. Electronic sales are disseminated widely around the globe. You could probably go to a website in Australia and find the same laptop that Best Buy is selling. Now, once you factor in shipping it won't be as cheap, but the point being you can find it anyway."
In addition, a shorter holiday-shopping season has added to more retailers opening their doors on Thanksgiving Day.
"The second problem that they've got, that all retailers have, is that there are six fewer days this Christmas-selling season than there were last year," added Bliss. "So get ready for a war out in cyberspace on these promotions. Again, the problem that Best Buy has is that they have a bigger infrastructure to pay for than some of their competition. So they don't have as much room to maneuver when it comes to the discounts and the promotions, but having said that, the CFO stated today they will match price with their competitors. They're trying to win back their market share, and we'll see if they have the heft to do it."
On Tuesday, shares of Best Buy tumbled 10.97 percent to close at $38.78.
© Copyright IBTimes 2023. All rights reserved.
FOLLOW MORE IBT NEWS ON THE BELOW CHANNELS