Best Restaurants In USA: Chick-Fil-A Trumps Competition, McDonald's Falls Out Of Favor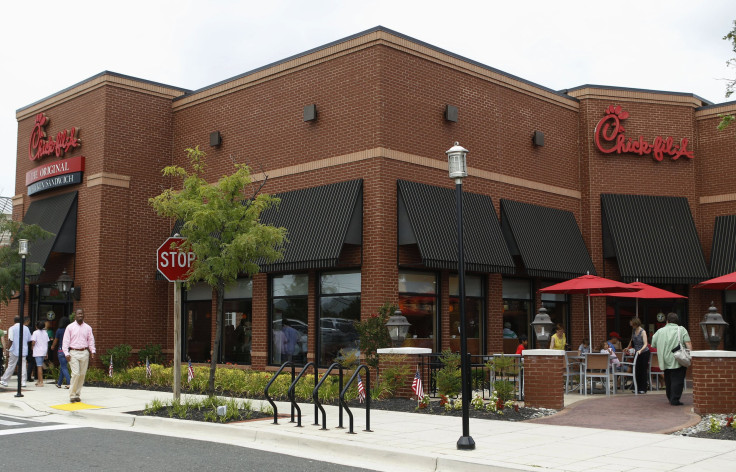 Americans are swapping out their Big Macs to chow down on fresher food, according to a new 2015 report. The American Customer Satisfaction Index (ACSI) 2015 report found that overall, customers are less satisfied with fast food as discretionary income increases and preferences shift toward quality as opposed to price, according to a press release.
On a 100-point scale, customer satisfaction for full-service restaurants remained stable at 82 points, while customer satisfaction for fast food restaurants fell 3.8 percent to 77, which is the lowest score it's been in five years. The press release stated that the gap between full-service restaurants and fast food is the largest it's been since 2010.
Chick-Fil-A was ranked as number one with a score of 86--the highest company score to date in the category-- according to a press release. Chipotle Mexican Grill ranked second with a score of 83, while Panera Bread placed third with a score of 80.
"Our growth is attributed to having millions of customers who are loyal to the brand," said spokeswoman Brenda Morrow, according to the Chicago Tribune. "It is gratifying to see that demand for our food and service is growing, and we are happy to meet the demand."
The report is based on 5,023 customer surveys that were collected in the first quarter of 2015. Categories in the survey included accuracy of food order, quality of food, quality of beverages, layout and cleanliness of restaurant, courtesy and helpfulness of staff, variety of food items on the menu, variety of beverages on the menu and website satisfaction.
Chick-Fil-A has had its fair share of controversy over the years. The restaurant, a family-owned and privately held company, is known for its strong ties to its founder's Southern Baptist beliefs. The chain closes its doors every Sunday and in 2012, CEO Dan Cathy stirred debate when he publicly stated his opposition to gay marriage. The company has not commented on the recent Supreme Court decision legalizing gay marriage.
Despite this, according to Mark Kalinowski, a restaurant industry analyst, Chick-Fil-A has the potential to grow its U.S. sales faster than McDonald's Corp. over the next decade, the Chicago Tribune reported. Kalinowski predicted that Chick-Fil-A could gain between $6.3 billion and $9 billion in U.S. sales by 2023.
"The fast casual segment of quick service restaurants is nicely situated for the confluence of changing consumer tastes and a rebounding economy," said ACSI Director David VanAmburg, according to a press release. "Consumers have a bit more money in their pockets, but are still pressed for time. Fast casual outlets offer higher-quality ingredients, freshness and fast service – all at a reasonable price.
Well-established fast-food restaurants including McDonald's, Burger King, KFC, Wendy's, Arby's and Taco Bell all remain at the bottom of the fast-food industry. McDonalds' company revenue has dropped for six straight quarters, while Dunkin' Donuts was the only fast food chain to improve customer satisfaction in 2015. Dunkin' Donut placed above Starbucks with a score of 78, while Starbucks scored a 74.
Pizza chains also suffered in 2015, according to the ACSI report. Papa John's and Yum! Brands Pizza Hut dropped 5 percent in customer satisfaction, while Domino's fell 6 percent and Little Caesar fell 8 percent. "Over the past several years, pizza chains have increasingly competed on price," stated the press release. "Sometimes at the expense of quality ingredients and that is now beginning to have a negative effect on customer satisfaction."
In the full-service restaurants category, customer satisfaction has remained steady with an 82. Texas Roadhouse scored the highest with an 83, Longhorn Steakhouse came in second with an 81 and Cracker Barrel rounded out the top three with an 80.
© Copyright IBTimes 2023. All rights reserved.