Best St. Patrick's Day 2015 Pub Crawls: Hit These Bars, Routes In Boston, New York And Elsewhere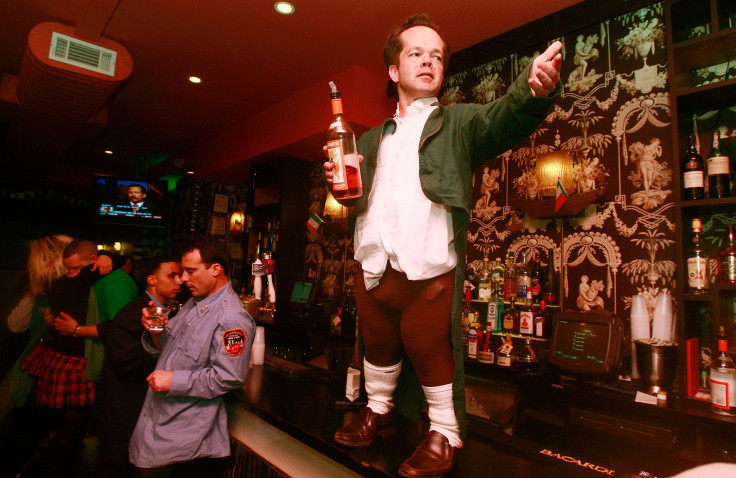 Many holidays, festivities and special events are viewed as an occasion to drink, but few can match the joyful rowdiness of St. Patrick's Day. Celebrated every year on March 17, St. Paddy's Day features parades, parties and, of course, pub crawls wherever you live. Below, find a few of the top routes and stops for pub crawls, or learn how to plan your own. Wearing green is a must, as is, of course, always drinking responsibly.
In proudly Irish Boston, home of the Celtics, at least one pub crawl features stops at favorite watering holes in historic locales, including Fanueil Hall and Fenway. Ten bucks buys general admission to that crawl, which starts at 5 p.m. Tuesday and ends, well, when you do. Sign up, or take note of these worthy stops to add to your own route.
New York City has at least three bar crawls just on Tuesday in Astoria, in oh-so-hip Williamsburg and also on Manhattan's swanky but cool East Side. If you're not up for the full crawl, plenty of bars are offering specials Tuesday, such as this one in the Financial District starting at early (at 11 a.m.) and offering Jameson cocktails, Irish coffee and free corned beef sandwiches.
Charlotte, North Carolina, claims to be home to the world's largest pub crawl, hosted by Rich & Bennett, where you can quench your thirst at your choice of bars on St. Paddy's Day in Charlotte. The city of Houston brags about hosting one of the nation's better pub crawls simply because everything in Texas is "bigger." And don't forget about Las Vegas, where $69 gets you transportation, free drinks and a bit of VIP treatment in one celebration packed with stops at beautifully restored, landmark Irish pubs.
To plan your own pub crawl for St. Paddy's day, make sure you do at least a bit of research ahead of time and come up with a plan as one online source suggests. Choose bars you'll actually want to visit, namely places that suit your tastes and those of your fellow pub crawlers. Remember to share the pub crawl path with those others, but don't forget to be flexible because anything can happen on St. Paddy's Day.
© Copyright IBTimes 2023. All rights reserved.