'Better Call Saul' Website: 5 'Breaking Bad' Easter Eggs That Fans Will Love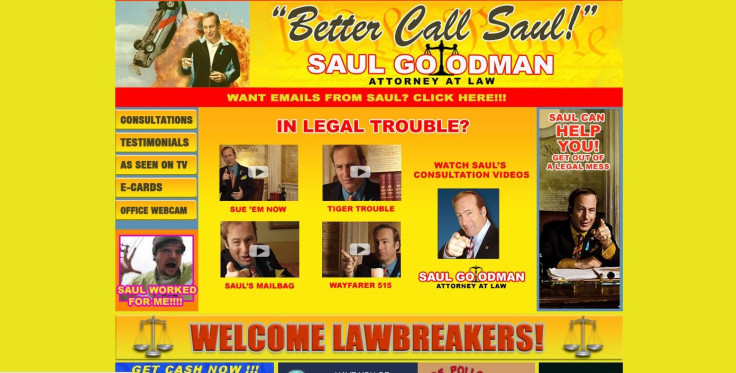 Traffic accident? Injured on the job? Confessed to a homicide? Having trouble moving on from "Breaking Bad"? You "better call Saul!"
The hit series' shifty lawyer Saul Goodman will be making his way back on-screen in November 2014, and AMC is already prepping for the premiere with the launch of a hilarious website: www.BetterCallSaul.com.
"From parking tickets to mass murder," Saul Goodman and Associates is your one-stop spot to help your "Breaking Bad" addiction. The website not only features videos of Bob Odenkirk's infamous character but also includes Easter eggs that will get fans completely psyched for the upcoming series:
1. "Saul worked for me!!!!" – On the left side of the screen is a photo of actor Matt L. Jones, who played Brandon "Badger" Mayhew on "Breaking Bad." Fans will remember that Badger became one of Jesse's distributors in season 2 but was arrested for dealing. Badger's arrest lead to the introduction of Saul Goodman, and the lawyer managed to strike a deal with the DEA.
2. Los Pollos Hermanos – The bottom of the website features an advertisement for "Los Pollos Hermanos," the fried chicken chain that Gustavo Fring owns. Gus used his restaurant chains as a cover for his drug distribution, even donating money to the local DEA office.
3. Wayfarer Flight 515 – "Have you or someone you know been affected by the tragedy of Wayfarer Flight 515?" The advertisement at the bottom of Saul's website refers to the plane crash that occurred in season 2. The cause of the crash occurred because air-traffic controller Donald Margolis was still grieving the death of his daughter Jane … who died of an overdose next to Jesse. Jane's death could have been avoided had Walt decided to help her instead of watching her choke on her own vomit.
The plane crash resulted in body parts landing in Walt's yard and debris breaking the windows on his car. Walt ultimately ended up getting pepper-sprayed and arrested due to an altercation with a police officer about his broken windshield.
4. Philanthropic Causes – At the bottom of the website, visitors can find a link to "Saul's Philanthropic Causes." The link leads viewers to www.SaveWalterWhite.com, a website that Walter Jr. created in season 2 of "Breaking Bad" to help raise money for his dad's cancer treatment. But what Walter Jr. didn't realize was that his father and Saul decided to use the site to launder the drug money.
5. Beneke Fabricators – The website also features an advertisement for Beneke Fabricators, a company owned by Ted Beneke who Skyler not only worked for, but had an affair with. Beneke was involved in fraud and eventually caught by the IRS. Skyler managed to save Ted from going to jail by pretending the income discrepancy was due to her ignorance. Ted was saved a trip to jail but hit with $600,000 in back taxes. Skyler hired Saul to give Ted the money via the estate of a "great aunt Birgit," but Ted didn't use the money to pay his debt. Saul's men forced Ted to use the money to pay off his debt, and Ted was severely injured when he tried to escape.
While the website might look hilarious to "Breaking Bad" fans, AMC network chief Charlie Collier and programming head Joel Stillerman want to make it clear that the prequel, "Better Call Saul," is not a comedy.
"Saul's obviously a very funny character, and there's going to be a lot of comedy in that show," Stillerman explained to Vulture. "But they felt at the end of the day that it was best crafted as a drama, and that would give them the latitude storytelling-wise and character-wise to really go into a sort of unprecedented range of emotions."
"It's so much more than a spinoff," Collier added.
"Better Call Saul" will hit the small screen in November 2014. Will you be tuning in? Let us know in the comments section or send a tweet to @AmandaTVScoop.
© Copyright IBTimes 2023. All rights reserved.