Beyond Meat Stock Drops 14% On Second Shares Offering, Mixed Q2 Results
Beyond Meat reported mixed but mostly uplifting Q2 results, crushing analysts' expectations while boosting its full-year outlook. It revealed a huge 287 percent jump in revenue but a disheartening 21 percent increase in its net loss for the fiscal quarter.
The company's later announcement of a secondary stock offering, however, sent its stock crashing 14 percent in extended trading Monday to $191.00 after closing the day at $222.13.
Beyond Meat followed its Q2 earnings report with news it plans to launch a secondary offering of 3.25 million shares after its IPO on May 28. The company's stock closed Monday up 788 percent since its IPO.
Based on Monday's closing price, the secondary offering might raise $721.9 million for Beyond Meat and selling shareholders. CEO Ethan Brown is expected to sell 39,130 shares, which could net $8.7 million. CFO Mark Nelson intends to sell 55,530 shares, good for $12.3 million. Company execs refused to further comment on the new offering and the reasons for it.
Better-than-expected Q2 sales saw the plant-based meat substitutes firm's revenue skyrocket 287 percent to $67.3 million as against the $52.71 million expected by analysts. Despite this stunning metric, Beyond Meat reported a fiscal Q2 net loss of $9.4 million ($0.24 per share), which was 21 percent larger than the loss of $7.4 million ($1.22 per share) year-on-year. The loss was also much larger than the $0.08 per share loss analysts surveyed by Refinitiv predicted.
Nelson said strong sales of The Beyond Burger, new restaurant partnerships and greater demand from existing customers boosted Q2 revenue growth.
Beyond Meat said it now expects revenue for the full-year to exceed $240 million compared to the previous guidance of $210 million. It also expects the year's adjusted EBITDA to land in positive territory.
"We are very pleased with our second quarter results which reflect continued strength across our business as evidenced by new foodservice partnerships, expanded distribution in domestic retail channels, and accelerating expansion in our international markets," said Brown.
"We believe our positive momentum continues to demonstrate mainstream consumers' growing desire for plant-based meat products both domestically and abroad.
"Looking ahead, we will continue to prioritize efforts to increase our brand awareness, expand our distribution channels, launch new innovative products, and invest in our infrastructure and internal capabilities in order to deliver against the robust demand we are seeing across our business."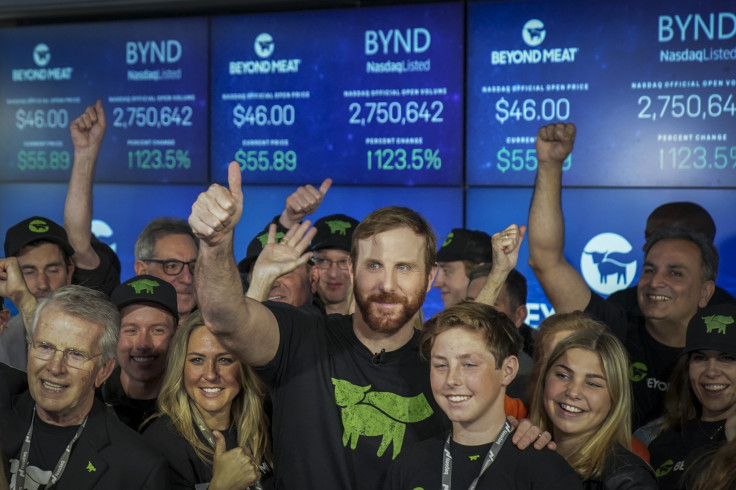 The Q2 results compare very favorably to Q1 when Beyond Meat saw its net revenues skyrocket 215 percent to $40.2 million. On the other hand, Beyond Meat reported a first quarter net loss of $6.6 million (95 cents per share), or 14 percent higher than the net loss of $5.7 million (98 cents per share) year-on-year.
It reported a loss of 14 cents per share for Q1 on a pro forma basis to adjust for the conversion of stock warrants.
Beyond Meat expects its second and third quarters to be its strongest yet. It also forecasts higher revenue in Q3
© Copyright IBTimes 2023. All rights reserved.
FOLLOW MORE IBT NEWS ON THE BELOW CHANNELS