Black Friday 2012 Sales Revealed; Stores Opening On Thanksgiving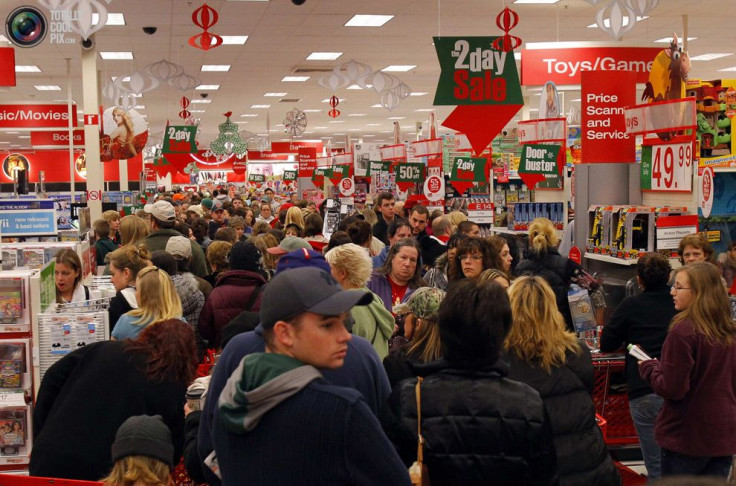 Black Friday 2012 sales and deals have already been released for Wal-Mart, Toys R Us, Target, Lowes and Home Depot — the top five destinations for U.S. Black Friday shoppers.
Popular retail stores are trying to entice their consumers by slashing their prices and opening early, creeping into Thanksgiving evening, ABC News reported Tuesday.
This year's Black Friday will be full of bargains, so people who are interested in getting expensive electronic goodies like TVs and laptops might want to shop around before heading out after digesting their turkey.
The following is a compilation of the best deals from each store, courtesy of the Examiner:
Toys R Us will open at 8 p.m. EST Thursday with the following specials:
*Fisher-Price Rock Star Mickey for $19.98
*Powerwheels riding sports quads for $49.99
*Leapfrog tag reading system with books for $19.99.
Wal-Mart will also be opening at 8 p.m. EST on Thanksgiving.
Wal-Mart typically has slashed prices, but the store has promised its customers a one-hour special on Thanksgiving night from 10 to 11.
Everyone in the store will be able to buy three of the sale items during the hour, and Wal-Mart has said they guarantee they will have stocked enough items so everyone will be able to get one.
The products Wal-Mart is selling at slashed prices are:
*Apple iPad2: 16GB with Wi-Fi: on sale for $399 plus get a $75 Wal-Mart gift card
*Emerson® 32" 720p LCD TV: on sale for $148
*LG Blue-ray Player: on sale for $38
Target is starting their Black Friday sale at 9 p.m. EST on Thanksgiving. The store is offering many deals, but these are some of their best:
*32" HDTV on sale for $147
*Xbox 360 Kinect bundle on sale for $199.99
*Nook Simple Touch E-Reader on sale for $49
Kohl's is waiting until midnight to open their doors for Black Friday, but for those who have young children to buy for, the wait will be worth it.
Kohl's is offering 50 percent of all toys from Fisher-Price, Playskool, Disney Princess, Hot Wheels, and Crayola, to just name a few.
Home Depot will be opening their doors at 5 a.m. on Black Friday with many toys at sale prices.
*Animated rocking horse for $39
*Gingerbread house kit for $7.88
*Poinsettia for $.99
Lowe's is also opening at 5 a.m. on Black Friday, the day after Thanksgiving.
They're offering the following specials to their customers:
*32-piece Kobalt double-drive screwdriver set for $19.98
*Shop-Vac for $39
*DeWalt cordless drill for $99
© Copyright IBTimes 2023. All rights reserved.