Blake Shelton-Miranda Lambert Update: 'The Voice' Star Still Furious, Desperately Wants To Cut All Ties With Ex-Wife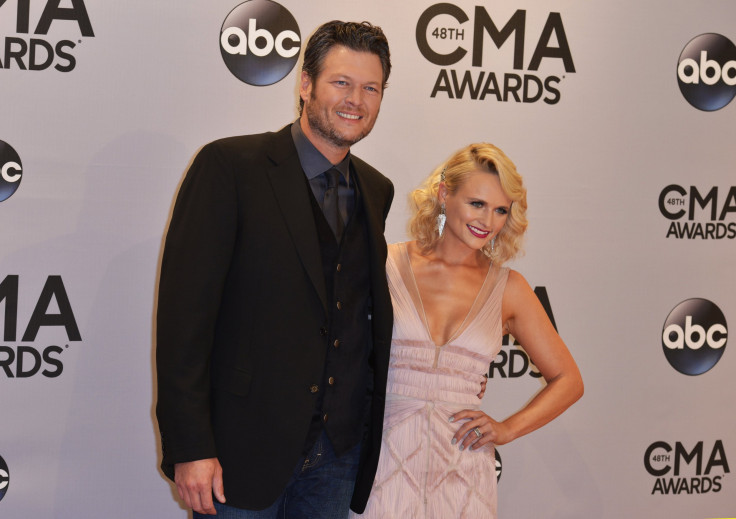 Blake Shelton is still furious with his former wife Miranda Lambert and wants to cut all ties with her as soon as possible, Hollywood Life reported late Tuesday. The news comes a day after TMZ published pictures of Lambert's belongings on the porch of Shelton's ranch outside Tishomingo, Oklahoma.
"Blake and Miranda seem like the best of friends by the looks of their tweets to one and other, but the truth is, Blake is still furious with Miranda. He's just taking the high road and doesn't want the drama of airing out their issues in public," a source told Hollywood Life.
"Blake refuses to say what exactly Miranda did but you can be sure he's still very upset with her," the source reportedly said. "Blake refused to take a trial separation like Miranda wanted and he refused to do couples counseling. Something about Miranda upset him so much he just wanted the marriage to be over as fast as possible."
After photos surfaced showing Lambert's belongings thrown out of their house, some sources close to the couple said that the move does not indicate that Shelton has a problem with Lambert. The items were discarded by Lambert and kept on the porch as she did not want them anymore, TMZ reported.
However, according to the latest report, Shelton is upset with his 31-year-old former wife.
"Blake just wants her stuff off his property and all of their ties to be severed. The sooner they do that the sooner he can move on. Until then he will continue to smile for the cameras and pretend like everything is fine between them," the source told Hollywood Life.
Shelton and the "Over You" singer announced their divorce on July 20, the day it was finalized. The couple, who met in 2005, had been married for four years. The two did not have any children together and reportedly signed a prenuptial agreement before their wedding.
On Tuesday night, Lambert participated at a special acoustic performance along with some friends in Nashville, Tennessee. The concert was held to raise money for the Miranda Lambert Women Creators Fund, which will provide scholarship to women studying at the Belmont University's Mike Curb College of Entertainment and Music Business, People magazine reported.
"The theme of this concert was very much women's empowerment," concertgoer Alexa Beyer told People magazine, adding that Lambert "looked so strong and together ... that's the way to go through a breakup -- she just bounced back."
After the news of the divorce, rumors circulated that the reason behind the split was an extramarital affair between Lambert and country singer Chris Young. However, Young denied any involvement in Shelton and Lambert's troubled marriage.
Lambert also reportedly accused Shelton of cheating on her and said she was faithful to her husband all along.
© Copyright IBTimes 2023. All rights reserved.