With Boko Haram 'Technically Defeated,' Nigeria Advises Displaced Victims To Return Home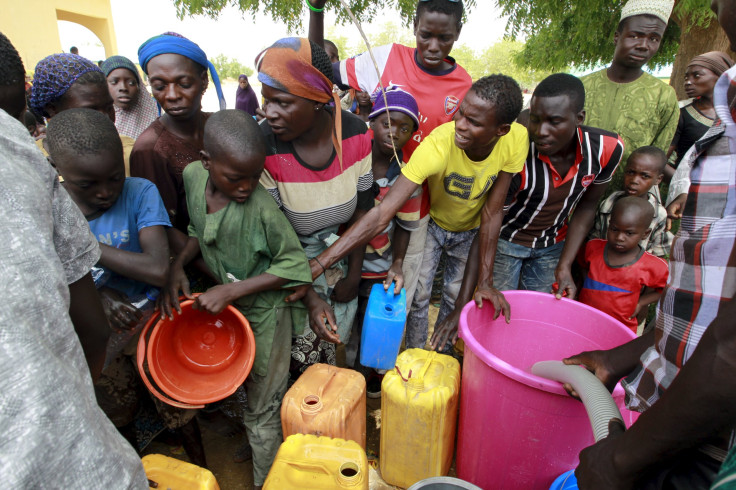 The Nigerian government is pushing for people who fled violence in their villages in the northeastern region to head back home, proclaiming a Boko Haram insurgency "technically defeated." But some in the region say they fear the move could be premature and ultimately put people's lives at risk, IRIN News reported earlier this week.
"From a protection standpoint, I'm really concerned about possible coerced relocation out of Maiduguri into the rest of Borno," Sarah Ndikumana, Nigeria director of the International Rescue Committee, told the news website.
Nearly 2 million people in the West African nation have been displaced in six years of violence inflicted by Boko Haram, but a recent military offensive has seen the militant group, whose members have pledged allegiance to the Islamic State group, lose significant territory. A few weeks ago, Nigeria announced major roads in the conflict-ridden Borno State would be reopened after three years of closure.
"The roads are safe and those who left can return," army chief of staff General Buratai Tukur said.
A vast majority of internally displaced persons are staying with relatives or friends in Maiduguri, the provincial capital, but others are staying in camps. The conditions in camps are bleak and Ndikumana said they were only getting worse. However, she feared the displaced people might be even worse off if they were to return home.
"They'll be heading back to their homes that have been destroyed, but the humanitarian community will not be able to go with them and provide assistance because we can't consider it safe enough," she said.
While violence has diminished, it has yet to disappear. And some think the government is downplaying it because they're eager to see people return home in time for the farming season in May.
"People will go back to their villages if the government can provide some security guarantees," said Suleiman Aliyu, the head of a school that takes in children from both Boko Haram and security forces families, IRIN reported. "The number of Boko Haram has been reduced. They are few, but they are still in the bush."
Boko Haram has waged a brutal six-year insurgency. When Muhammadu Buhari was elected president last year, he shook up the military and ordered newly sworn-in chiefs to end the bloody conflict in just three months — a deadline that was not met. But the group has been weakened.
Pushing back, militants have stretched their campaign beyond the traditional stronghold, now staging attacks in neighboring countries. Military officials have recently proposed plans to send advisers to the front-lines of the battle against Boko Haram to support Nigeria's military.
© Copyright IBTimes 2023. All rights reserved.