'Bold And The Beautiful' Spoilers: Thomas And RJ Stand Up For Sally And Coco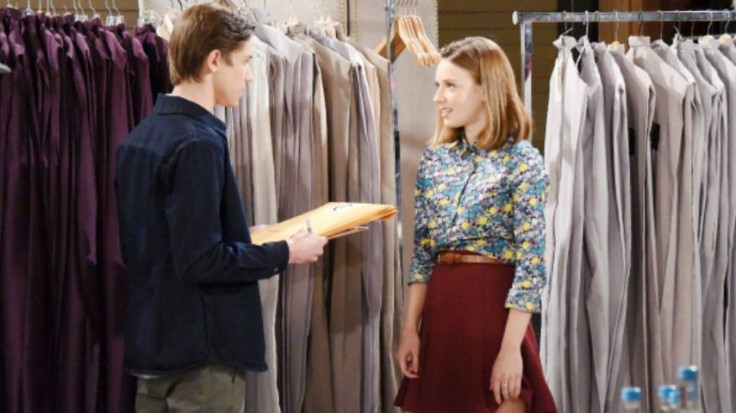 Various members of the Forrester family have been wary of them since they revived their family's fashion house, but Thomas and RJ will continue trying to stick up for Sally and Coco as doubts about them continue to arise on the Thursday, March 30 episode of "The Bold and the Beautiful."
On the CBS soap, no one in the Forrester family has been overly welcoming to Coco Spectra (Courtney Grosbeck) being an intern in their company, and they certainly haven't been happy that Thomas (Pierson Fode) has been romancing her sister, Sally (Courtney Hope). Now, as Thomas recounts what went down between Sally and Steffy (Jacqueline MacInnes Wood) in Australia, concerns will continue to be brought up about why Sally was there in the first place.
"Steffy was escorting her off the premises, and Sally pulled back," he says in a preview clip for the episode. "She slipped, and into the water she went."
Read: Brooke Confronts Quinn On "The Bold and the Beautiful"
However, there will be doubts about why she came to Australia in the first place, despite Thomas insisting he invited her as his date and that nothing else happened to make him think she was up to no good. He's unaware that Sally did sneak photos of Steffy walking down the aisle in her wedding dress and eventually deleted the image. And while they don't know she had done that either, Zende (Rome Flynn) and other members of the family will wonder if Thomas can trust Sally considering the history between Spectra and Forrester.
"Look, Spectra, they've stolen our designs before," Zende says. "What makes you think they won't do it again?"
Thomas will remain adamant however that Sally won't continue in the grand tradition of the relatives before her.
"Whatever antics years ago, the knock-offs, the stealing, it's over," he says.
Meanwhile, RJ (Anthony Turpel) is with Coco as they handle the newest designs Forrester plans to put out, and he will express regret to her that she doesn't get the same good treatment other interns have gotten solely because of her last name.
"It's not fair that you get treated differently just because you're a Spectra," he says.
"The Bold and the Beautiful" airs weekdays at 1:30 p.m. EDT on CBS.
© Copyright IBTimes 2023. All rights reserved.