Book Releases 2016: 11 New Titles To Look Forward To In The New Year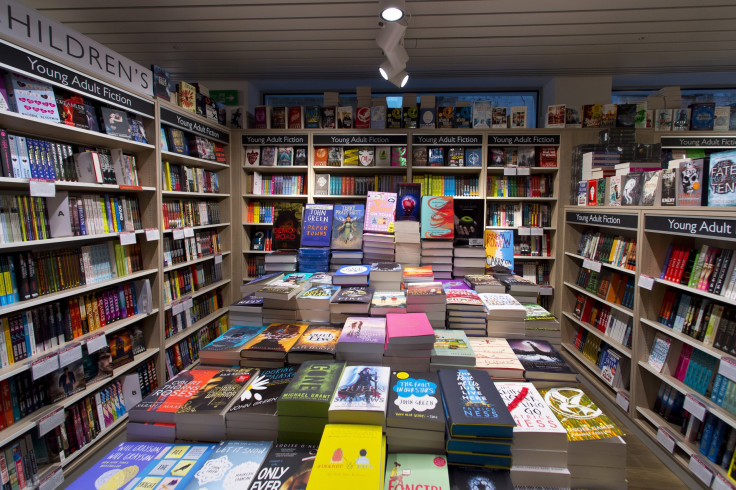 There's nothing better than being able to escape from reality for a little bit with a good book, and there are several new novels coming out in 2016 we can't wait to read. From murder mysteries to crime dramas, check out 11 upcoming titles everyone should have one their reading list next year.
1. The Guest Room by Chris Bohjalian
What happens when Kristin Chapman lets her husband throw a friend's bachelor party in their home? Two women who were abducted as teens and sold into sexual slavery kill their Russian bodyguards and leave the bodies in the living room, and Kristin's husband has a fling with a woman named Alexandra. The novel follows Alexandra as she tries to keep from getting caught from the police and hide from gangsters who are trying to murder her. The bachelor party craziness goes down Jan. 5, 2016.
2. The Bitter Season by Tami Hoag
Things aren't going well for detective Nikki Liska. She misses her partner Sam Kovac and is stuck on a boring cold case about the murder of a sex crimes detective. Meanwhile, Kovac is busy trying to solve a double homicide involving a well-known university professor and his wife. There is also Evi Burke, a resident living in Minneapolis, who is determined to live the life of her dreams. Everything she's worked so hard for, however, is jeopardized when old dangers from her past start to resurface. Suddenly, Liska and Kovac's paths cross again when they realize their cases could somehow be connected. The Bitter Season will be released Jan. 12, 2016.
3. NYPD Red 4 by James Patterson
James Patterson is back with another crime suspense novel about detectives Zach Jordan and his partner Kylie MacDonald. They work for NYPD Red, an elite task force that only investigates crimes involving the rich and famous. In the book they have to stop a killer who turned a star-studded movie premiere into a bloody crime scene. Patterson's new novel will be released Jan. 25, 2016.
4. Brotherhood In Death by J.D. Robb
Dennis Mira is annoyed when he finds out his cousin Edward is secretly meeting with real estate agents about their grandmother's brownstone, when they both promised to keep the condo in the family. When Dennis goes to the house to confront Edward, he finds his cousin bloody and bruised in a chair. Suddenly, Dennis is hit in the back of the head with a sharp object and when he awakes Edward is gone. With the help of his wife Charlotte Mira, the NYPSD's top profiler, and Lieutenant Eve Dallas, they start to unravel the mysteries surrounding Edward's disappearance. Brotherhood In Death will be released Feb. 2, 2016.
5. One More Day by Kelly Simmons
Carrie Morgan's word is shattered when her young son Ben goes missing. More than a year after his abduction, Ben suddenly returns but vanishes again 24-hours later. As Carrie's neighbors and friends learn of Ben's disappearance again, they start to poke holes in her alibi and question whether she has been involved with her son's abduction the whole time. One More Day will be released Feb. 2, 2016.
6. Breakdown: An Alex Delaware Novel by Jonathan Kellerman
Psychologist Dr. Alex Delaware is back. In this suspense novel, he's asked to meet five-year-old Ovid, the son of actress Zelda Chase. Fast forward a few years, and Dr. Alex runs into Zelda again after she suffers a psychotic break. Shortly after she's released from the mental hospital, Zelda is found dead at her Bel Air home. As Alex works with the LAPD to try and figure out who killed Zelda, they start to unravel dark secrets about the troubled actress, her family and her missing son. Breakdown hits stores Feb. 2, 2016.
7. The Fall by Emily Hainsworth
In this mystery novel, Gretchen Meyer and her best friend Sonia Feldman are walking through the woods of their hometown Hidden Falls when they are suddenly attacked. Gretchen is killed and Sonia has to help track down the attacker even though she has no idea who it could be. Things get weird when the number one suspect – Gretchen's ex-boyfriend – asks Sonia to help him prove his innocence. Is Gretchen's ex really as innocent as he says he is, or is he tricking Sonia? Find out what happens when the book hits stores on Feb. 16, 2016.
8. The Shadow Queen by C.J. Redwine
Princess Lorelai Diederich is a fugitive who's on a mission to kill the wicked queen who took over the Ravenspire throne and killed her father. In order for Princess Lorelai to take out the queen she has to use her magic. Meanwhile, Prince Kol is also on a mission of his own and needs the queen to give him some magical powers so he can avenge his father and brother's death, and save his kingdom. The only way Prince Kol can get the queen to give him magic is by agreeing to be her personal huntsman and kill Princess Lorelai. The Shadow Queen will be released Feb. 16, 2016.
9. On The Edge Of Gone by Corinne Duyvis
This book tells the story of Denise, an autistic girl, who is desperately trying to get her drug-addicted mother and sister to safety before a huge comet destroys the Earth. However, there are two major problems for Denise: her mother is slowing them down and there is a chance they may not make it to the shelter in time, and Denise's sister has run off and is missing. During the journey, Denise is told about a generation ship that will take a group of skilled people away from Earth to start a new life somewhere else. Denise has a chance to get her family on the ship, but she worries her autism and her mother's addiction may keep them from being allowed to get on the ship. On The Edge of Gone will be released March 8, 2016.
10. Tell the Wind & Fire by Sarah Rees Brennan
This young-adult novel tells the story of Lucie, a girl living in a New York City very different than the one we know today. It's been divided in half by magic – the Light half and Dark half –and Lucie's family was torn apart in the process. The only positive thing in Lucie's life is her boyfriend Ethan, but he's been keeping a dark secret from her. Tell the Wind & Fire hits shelves April 5, 2016.
11. 15th Affair by James Patterson
Lindsay Boxer's life is going great. She's enjoying motherhood and her marriage to Joe but things quickly start to fall apart after a mystery blonde woman with ties to the CIA goes missing from a triple murder scene at a luxury hotel. Things go from bad to worse when a plane crashes sparking chaos throughout San Francisco and her husband suddenly goes missing. As Lindsay investigates Joe's disappearance she starts to suspect that he may have had a secret past with the missing blonde woman. The book hits shelves May 2, 2016.
Tell us in the comments section which books you're looking forward to reading in 2016.
FOR FREE to continue reading
✔️ Unlock the full content of International Business Times UK for free
offer available for a limited time only
✔️ Easily manage your Newsletters subscriptions and save your favourite articles
✔️ No payment method required
Already have an account?
Log in
© Copyright IBTimes 2023. All rights reserved.