Brazil Clean Energy Dreams Dashed As Country's Recession Deepens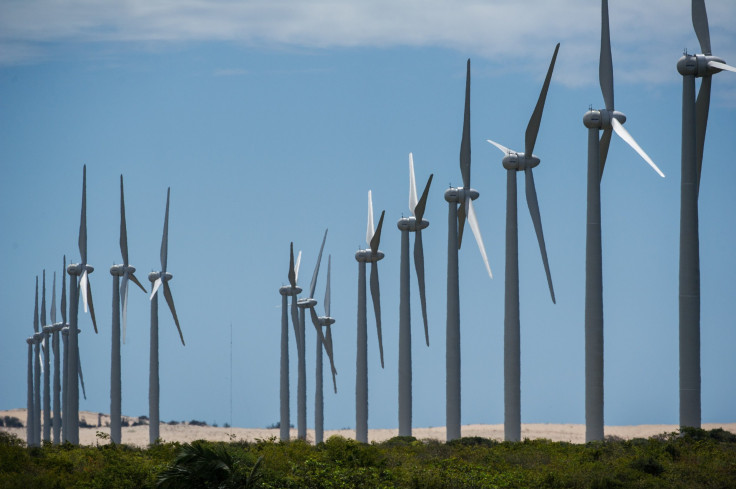 Brazil's spirited push to develop cleaner energy supplies was among the few remaining bright spots in the country's economic growth story. But as the Brazilian economy crumbles and investors grow increasingly wary, progress on new wind, solar and hydropower projects is expected to slow.
That could make it harder for Brazil to meet its ambitious climate change goals, at least in the short run, analysts said.
The Brazilian government set a goal last year to get nearly one-fourth of the country's energy from renewable sources — excluding hydropower — within 15 years, up from about 9 percent in 2014. Reaching that target will require building more massive wind farms in Brazil's breezy northeast and installing multimillion-dollar transmission lines to connect turbines, solar panels and biomass facilities to urban centers.
"It's a challenging environment" for energy developers, said Jose Soares, a Moody's energy analyst in Sao Paulo.
Brazil Annual GDP Growth | FindTheData
Brazil's economy shrank by 3.8 percent in 2015 — the country's worst performance in 25 years, the national statistics agency IBGE reported Thursday. Latin America's largest economy is suffering from slumping commodity prices, a weakening currency and a slowdown in demand from China.
At the same time, wide-reaching corruption scandals have ensnared dozens of business executives and politicians, including most recently former President Luis Inácio Lula da Silva. Police detained Silva Friday and brought him in for questioning related to a long-running inquiry known as Operation Car Wash. Corruption concerns have left the country in political gridlock, delaying progress on broader fiscal measures that could help boost Brazil's currency, the real, or reduce its spiraling inflation of 10.8 percent.
Brazil's economic woes mean manufacturers and households are using less electricity, diminishing the demand for new energy projects of any stripe.
Nationwide electricity consumption tumbled 2.5 percent last year and is expected to slide even further this year, Soares said. State-run distribution companies, which transfer the bulk of Brazil's electricity from power plants to buildings, are over-contracted by 7 percent, meaning they're buying more power than they actually need under existing contracts.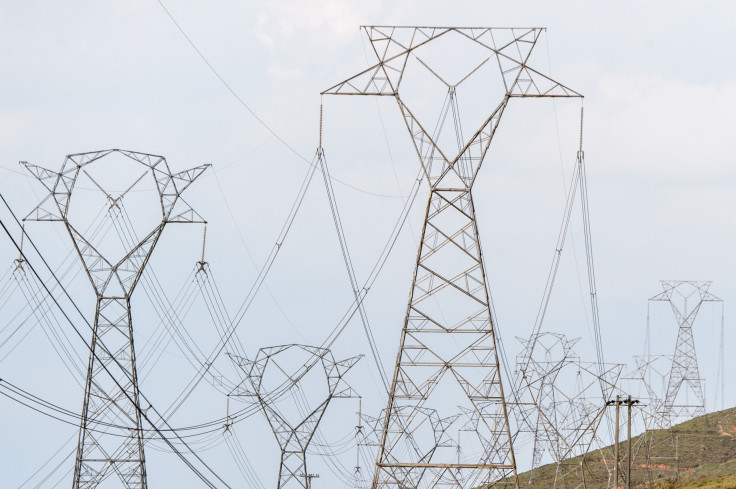 In response to this oversupply and sluggish demand, the Brazilian government is holding fewer power auctions this year or postponing existing ones. During auctions, developers compete for long-term contracts, under which the government agrees to purchase power from projects like wind or hydro plants over 20 to 30 years. Last year Brazil's Energy Research Agency (EPE) held seven power auctions. This year it's planning just three.
"There is no way you can keep organizing auctions. There is no consumer," Soares said. "This could have a tremendous impact on the sector."
Brazil's weak currency is also hampering interest in new large-scale solar power projects, said Daniel Rosende, the South American manager for SMA Solar Technology AG, a German solar firm that recently opened a subsidiary in Brazil.
"With the devaluation of the real, you have projects that are very difficult to finance," said Rosende, who is based in Santiago, Chile. "There's going to be a delay of some projects."
The real has plunged roughly 40 percent over the past year against the U.S. dollar and could continue sliding if the economy worsens and if lawmakers succeed in an effort to impeach President Dilma Rousseff. The real was trading at 3.73 reals to the dollar early Friday.
Government contracts for clean energy aren't expected to top 2,000 megawatts this year, Helena Chung, an analyst with Bloomberg New Energy Finance in Sao Paulo, told Bloomberg this week. That would show growth stabilizing over the last two years and would be less than half the 4,600 megawatts in new wind contracts signed three years ago.
The slowdown arrives after years of stellar growth in Brazil's renewable energy market.
The country is now the world's 10th-biggest wind market, with about 8,715 megawatts in total installed capacity at the end of 2015 — about 2 percent of total wind capacity, the Global Wind Energy Council found in its annual report. China and the United States, the first- and second-largest markets, comprised roughly 33.5 percent and 17.2 percent of total wind capacity, respectively.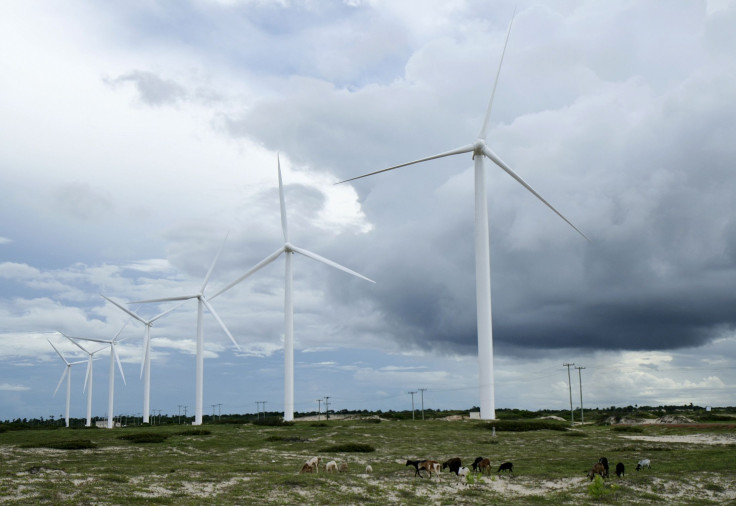 Brazil's solar power sector is smaller but has gained steam recently. About a million photovoltaic (PV) systems are installed across the country, totaling only 30 megawatts of installed capacity, although the government has signed contracts for around 3,000 megawatts in new solar projects to come online by 2018.
Rosende said he still expects the Brazilian solar market to grow, albeit at a slower pace than it would have in a stronger economy. He said demand is rising for rooftop solar projects on houses and office buildings, in particular, as Brazilian families and businesses seek cheaper alternatives to expensive grid electricity. A handful of solar-rich states in Brazil, including Minas Gerais and Bahia, are actively pushing local auctions and may adjust contracts with power developers to reflect a more attractive price, given the weaker real.
"There are going to be a lot of players investing for the medium term in Brazil," he said.
Renata Ferreira Chagas, a spokeswoman for the Spanish wind giant Iberdrola SA, said she similarly expected Brazil's clean energy rush to continue despite the current financial fracas. Iberdrola is building six wind farms in Brazil's northeast that will add over 1,500 megawatts to its existing portfolio of 2,830 megawatts.
Ferreira Chagas said it was too early to say how Brazil's economic downturn was affecting the business. But she said the company is "optimistic about the potential of Brazil, and that the current recession will give way soon to a recovery."
© Copyright IBTimes 2023. All rights reserved.