'Breaking Bad's' Imaginary Star Trek Script Gets The Animated Treatment [VIDEO]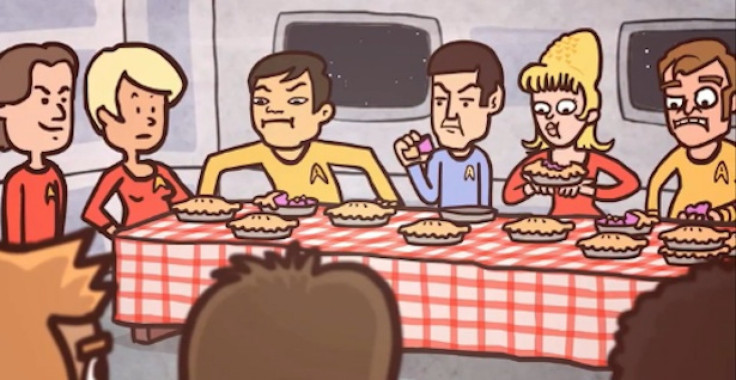 Sunday night's "Breaking Bad" season premiere contained plenty of amazing moments, but the weirdest and most hilarious came when Jesse Pinkman's stoner friends Badger and Skinny Pete began discussing their ideas for a speculative episode of "Star Trek" involving the most violent use of the transporter across all "Trek" series. And of course, thanks to the Internet, someone went and animated the proposed "Star Trek" episode.
Eat that Toast's Matt Czap created the two-minute animation for Vulture, which released it remarkably fast Monday. The "Star Trek" sketch debuted online only 12 hours after "Breaking Bad" aired its season premiere. Despite the quick turnaround, the video perfectly captures Badger's stoned "Stark Trek" spec script.
In the video, Badger describes his idea for an episode of "Star Trek" (the original series, of course) that he's planning on writing. On an off day, the Enterprise crew decides to hold a pie-eating contest. The final round comes down to Spock and Chekhov, who is cheating by having Scotty transport the eaten pies from his stomach into outer space. After Uhura distracts Scotty, however, "Chekhov screams and prays blood out of his mouth. Scotty beamed his guts into space!" as Badger so eloquently puts it.
Badger's script contains a few notable "Trek" errors (replicators, for instance, didn't debut until "The Next Generation"), but it's still hilarious, especially when animated.
Watch Badger's animated "Star Trek" script below:
© Copyright IBTimes 2023. All rights reserved.